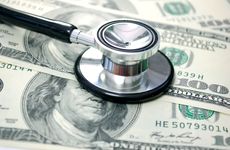 LAS VEGAS (GenomeWeb) – US hospitals are increasingly investing in genomic technologies, but the activity largely remains concentrated in academic medical centers and large health systems, according to researchers from a major health IT industry group.
HIMSS Analytics, the research division of the Healthcare Information and Management Systems Society, put molecular diagnostics technology as No. 5 on its list of 10 technologies that hospitals are most likely to make a first-time investment in this year. Transfusion management topped the list, followed by patient acuity systems.
As of November, about 21 percent of US hospitals had invested in MDx systems, according to HIMSS Analytics. That should grow to 24 percent by the end of 2018, the group said at the 2018 HIMSS conference last week in Las Vegas, though that would still leave more than three-quarters of US hospitals without genomics technology.
Given the cost of implementing a genomics program, more than a few provider organizations are taking a hub-and-spoke approach to expanding the reach of their precision medicine capabilities, according to Blain Newton, executive vice president of HIMSS Analytics. The trend of consolidation among health systems is also helping to accelerate that expansion.
"There are 450 health systems in the US with some kind of precision medicine program in place, representing 1,300 hospitals," Newton told GenomeWeb.
In most cases, a single academic medical center within a large, urban hospital system pushes out the technology to others within its network, Newton explained. "It's either where there [are resources] available or where there's a large research center. It seems to be still driven out of the research centers," he said.
For example, MD Anderson Cancer Center in Houston is sharing its precision cancer technology with other University of Texas hospitals, Newton said.
This distributed model makes sense, given that health insurers still are reluctant to pay for DNA screening, Newton explained, though that is not the only reason. "To do this right, you need a couple hundred PhD-level data scientists," he said.
Consolidation through mergers and acquisitions is helping to create more capacity for genomic analysis.
"You see the megatrend of M&A happening in this space among hospitals and health systems," Newton said. "There's a lot of activity going on in which scale is necessary, whether it be to defend against changing reimbursement models, or more often to deploy advanced analytics capabilities."
Some larger academic health systems are sharing their algorithms with smaller organizations for a fee under a similar, federated model, Newton added. "This will lower costs to the small systems exponentially," he said.
This spring, HIMSS Analytics will release the 2018 version of its annual report on the health IT industry, culled from its database of thousands of US hospitals. In the 2017 report, adoption of precision medicine technologies slowed, but, based on recent analysis, adoption has begun to accelerate again, Newton said, offering a preview of the forthcoming study.
Notably MDx adoption flattened in 2017, after having grown steadily from 6.5 percent in 2009 to 21.2 percent in 2016.
The top barrier to starting a precision medicine program in 2017 was financing such an effort, cited by more than 61 percent of respondents in the report; only a quarter said clinical barriers were prevalent. "The cost of new software, little to no clarity around reimbursement, and overall financial limitations for required resources were specific examples of cost as a barrier," the report stated.
Last year also saw a growth in precision medicine processes, including genomic sequencing analysis, brought in-house rather than outsourced. In the 2017 survey, 42.9 percent of respondents said they had plans to internalize at least some of the sequencing processes, up from 30.4 percent in 2016. Nearly the same level, close to 43 percent, said they would stick with outsourcing.
"There's always going to be expertise that's appropriate to have managed outside, but I think you'll probably see a continuation of moving in-house," Newton said.
Given that healthcare organizations are relying on a patchwork of vendors for their precision medicine technology, many are blending internal and external sources. "Anecdotally, we're definitely seeing more people talking about a hybrid approach," said HIMSS Analytics Chief Revenue Officer Mitch Icenhower.
As precision medicine gains prominence, IT departments within health systems are struggling to integrate genomic information and related biological specimens with clinical, environmental, and patient lifestyle data to inform clinical decisions.
"[Genomics] was long a research activity, and now it's about how do you create appropriate and efficient workflows to put the information at the point of care," Newton noted.
HIMSS Analytics had cautioned in its 2017 report that computing and data requirements "could be a substantial barrier" to expansion of precision medicine. Indeed, nearly 35 percent of those surveyed had not begun integrating clinical and genomics data, that report indicated.