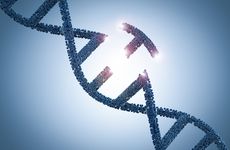 CHICAGO – Now in its second and final 18-month funding phase, members of Israel's CRISPR-IL consortium are refining an artificial intelligence platform that they believe will enhance the accuracy of gene editing and potentially inform the development of new gene therapies.
The consortium, a group of companies and research institutes tasked with developing AI technologies to improve the accuracy and efficiency of gene editing, recently received about NIS 45 million ($14.4 million) for its second phase from the Israel Innovation Authority, an investment arm of the government. The new funding runs through June 2023 and follows IIA funding of about NIS 36 million ($11.6 million) for an 18-month first phase that began in June 2020.
The initial funding phase produced a technology platform called Go-Genome that enabled the design of several thousand pieces of guide RNA for multispecies gene editing experiments. In phase 2, the consortium is looking to improve AI learning to refine Go-Genome's editing specificity.
According to Chana Rothmann Scherz, who manages CRISPR-IL on behalf of the Israel Innovation Authority, consortium participants integrate AI with CRISPR technology to develop advanced computational tools that can enhance the efficiency of both on-target and off-target editing. "The main goal is the development of a novel AI platform, with novel features for predicting the guide RNA for specific targets," Scherz said.
The industrial and academic partners of CRISPR-IL cover the fields of biotechnology, pharmaceuticals, computational biology, agriculture, and aquaculture, and include individuals and companies involved in both gene editing and computational support.
Lead researchers that are part of CRISPR-IL represent Tel Aviv University, Ben Gurion University, Weizmann Institute of Science, Hebrew University, Reichman University (known as Interdisciplinary Center Herzliya until August 2021), Sheba Medical Center, Schneider Medical Center, and Bar-Ilan University.
Corporate participants include Evogene, NRGene, Hazera Seeds, TargetGene Biotechnologies, Pluristem Therapeutics, agro-biotech firm Rahan Meristem, Colors Farm, Bio-Technology General, BetterSeeds, insect farming firm FreezeM, and molecular biology specialist Hy Laboratories. TargetGene took part only in the first round of funding, while Hylabs came on board during the second 18-month period that began late last year.
Scherz said that the authority's mission is to encourage industrial R&D to support technological innovation and create jobs across multiple industries.
CRISPR-IL is funded through an IIA program for precompetitive R&D called Magnet, according to Moshe Avrahami, senior director for industry in the government agency's technological infrastructure division. Magnet is a mechanism for transferring know-how from academia to industry through cooperative consortia like this one.
"We see CRISPR as an innovation engine," Scherz said, explaining why the IIA funded the consortium. "We think that CRISPR is actually interesting to many industries, and we'll see more and more products in the future in many fields that use CRISPR."
This is among the largest projects the IIA has funded.
Avrahami said that the authority is taking a bottom-up approach toward CRISPR-IL, preferring to let the academic and commercial partners steer the direction of the consortium.
Indeed, Eyal Emmanuel, VP of new directions for plant-focused computational biology firm Evogene and chair of CRISPR-IL, said that while IIA leads the consortium, the idea grew out of a collaboration between Evogene, NRGene, and Ayal Hendel, a CRISPR-Cas9 researcher at Bar-Ilan University.
Emmanuel called Go-Genome a platform for managing cell-editing experiments, including through the design of guide RNA; Evogene leads the guide RNA design for CRISPR-IL.
He said that CRISPR precision is "mainly limited by the quality of the data out there." Go-Genome is trying to improve gene editing by creating higher-quality datasets.
"We were aiming … to develop a system that will enable and support diverse workflows," Emmanuel said. "This was the cornerstone of what we proposed to the Israel Innovation Authority, and with their support, now we are conducting the process."
Emmanuel said the development of the first version of Go-Genome "closed the loop" on the work of the initial 18-month period. He said that consortium members have already achieved "editing efficiencies" for human cells with the help of Go-Genome, though there is no published, peer-reviewed literature about CRISPR-IL yet.
Scherz said that the challenge with developing and refining any AI system is getting enough high-quality data to train the algorithms. When the CRISPR-IL consortium got together, the IIA noticed that the participants were collecting data in different formats, without much standardization.
"The big question was: 'Can we use data that was produced on different systems for the AI system and get good results?'" Scherz said. "The thing that we discovered during the first period of the consortium is that, yes, we can."
CRISPR-IL collaborated with the US government's National Institute of Standards and Technology to work toward standardizing gene-editing protocols, starting with lexicon adopted by NIST as a baseline.
The consortium includes working groups for development of guide RNA prediction, another for terminology, information management, and analysis, and a third that features subgroups focusing on human, plant, and animal DNA editing, respectively.
Emmanuel said that consortium members will continue to contribute to and use Go-Genome in the second phase of CRISPR-IL.
Many participants are looking to incorporate Go-Genome into their own technology and processes. For example, Emmanuel said that Evogene is in the process of connecting its GeneRator AI genomics platform with Go-Genome.
After its NIS 100 million initial public offering in February 2021, NRGene said that it would dedicate some of the proceeds to integrating CRISPR-IL work into its own technology to create CRISPR-based products. Those integration plans are typical of consortium participants.
Pluristem Therapeutics, which leads the consortium's pharma work group, is turning to Go-Genome to continue previous work on a new generation of placental expanded cells that the Haifa-based biotech firm expects to result in a new generation of allogeneic cell therapies.
Racheli Ofir, VP of research and intellectual property at Pluristem, said that the company has created a platform for cell manufacturing under tightly controlled conditions. For gene editing to move from academia to an approved pharmaceutical product, Pluristem needs the computational capability of a platform like Go-Genome to assure safety, effectiveness, and precision, she said.
While CRISPR technology is integral to future plans, the firm had not yet entered into gene editing prior to joining the consortium. After CRISPR-IL launched, Pluristem established a gene-editing laboratory.
"CRISPR-IL was a great opportunity for us, of course, because of the funding, but also because of the [multidisciplinary] capabilities that it brings," Ofir said. Pluristem is well-versed in cell growth but lacks some of the bioinformatics and AI expertise that participating in the consortium has brought.
Since the CRISPR-IL program began in mid-2020, Pluristem has been able to examine hundreds of gene-editing targets to calibrate its own systems and feed the Go-Genome AI engine. In the nascent second funding phase, the firm and other consortium partners are beginning to measure the precision of gene entries.
"Now we need to develop the methods to make sure that only the target area which we plan to edit is being modified and we don't have genetic changes in other areas in the DNA," Ofir said.
This, she said, will help Pluristem develop its androgen receptor targeting technology, identify future targets for gene editing, and upgrade its CRISPR platform for large-scale manufacturing of its cell products.
While it may take more than the three years of the CRISPR-IL funding period for Pluristem to bring a product to market, Ofir said that the support affords the company "a very big step forward" toward that end goal.
Another task for the second phase of CRISPR-IL is to determine how to bring Go-Genome to a wider audience. Even though the Israeli government has funded development of Go-Genome, the consortium is leaning more toward commercializing the software than putting it in the public domain.
"The whole process is being led by these different companies," Emmanuel said. "We are all focused on eventually taking the platform and utilizing it for commercial purposes."
Scherz said that the consortium has already discussed potential regulatory issues with Israel's Ministry of Health and the Ministry of Agriculture and Rural Development. CRISPR-IL is also looking at regulatory paths in US and European markets.