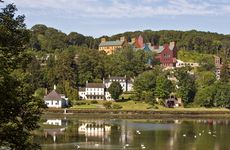 COLD SPRING HARBOR, NY (GenomeWeb) – At the Biology of Genomes meeting here yesterday, ethics and policy experts weighed in on the state of past and present guidelines for sharing data produced through large-scale genomics projects.
Lawrence Brody, director of the National Human Genome Research Institute's genomics and society division, moderated an Ethical, Legal, and Social Implications (ELSI) panel that looked at everything from the history and uptake of data sharing in genomics to the recently updated genomics data sharing policy from the National Institutes of Health.
The panelists — Laura Rodriguez, director of NHGRI's policy, communications, and education division; Eric Campbell, a sociologist with the Mongan Institute for Health Policy at Massachusetts General Hospital and Harvard Medical School; and Daniel O'Connor, head of medical humanities at the Wellcome Trust — also led a discussion that touched on the privacy and ethical issues that continue to bubble up around participant data sharing.
The Bermuda Principles, adopted by members of the International Human Genome Sequence consortium following a meeting in 1996, mandated the rapid, automatic release of sequence assemblies greater than a kilobase followed by sharing of full, annotated sequences.
Since the completion of the Human Genome Project, the genomics field has continued to make a concerted effort to promote sharing and unfettered access to its data — a move that has made it possible to externally validate studies using large data sets such as those generated by the 1000 Genomes Project or The Cancer Genome Atlas.
The National Institutes of Health codified data sharing practices in genomics with the introduction of a its initial Genomic Data Sharing Policy, which was issued in 2008 to encourage researchers to share data from genome-wide association studies supported by the NIH.
That policy, which was accompanied by the creation of the Genotypes and Phenotypes, or dbGaP, database was recently updated following a draft policy proposal completed last summer, alongside a Nature Genetics analysis of dbGaP usage under the original guidelines.
The new Genomic Data Sharing Policy, which came into effect in January, is intended to provide an overarching framework that's not limited to any particular data type, NHGRI's Rodriguez said, providing flexibility to deal with changes in technology and data analysis approaches for human and non-human genomes.
As in the earlier version of the policy, the plan includes an open-access arm and a controlled-access arm available for research purposes only, with each of the access levels adhering to the level of informed consent obtained for the samples used to generate the data.
Data in the controlled-access arm are still meant for approved research purposes, given appropriate measures to maintain participant privacy. But the new policy also emphasizes conditions when human-derived data sets should not be shared.
In particular, Rodriguez explained, the original GWAS-focused guidelines suggested that data could be shared when such sharing was "not inconsistent with consent." Under the latest version of the policy, though, consent for research applications and data sharing is more clearly spelled out during the consent process.
Consequently, from here on out the agency is encouraging researchers to seek the broadest level of consent possible under the circumstances when generating data that will make its way into public databases such as dbGaP.
A grandfather clause allows for data sharing with prior consent guidelines for samples collected prior to the introduction of the new Genomic Data Sharing Policy in late January 2015, Rodriguez explained.
Though NIH-funded researchers are expected to deposit their data into open- or controlled-access repositories, there is also the possibility of exceptions when data deposit is not appropriate — for example, in vulnerable individuals or localized populations.
And genomic data sharing has implications for the genetics field, as well. Campbell provided a peek at research that he and his team have done to examine the impact data sharing has on investigators in genomics and other disciplines.
For that soon-to-be-published study, the group looked at factors such as data sharing requests between individual researchers, data repository use, perceptions of data sharing helpfulness, and so on at several American universities and medical schools in 2000 and again in 2013.
Finally, O'Connor brought an international view on the ethics of data sharing, touching on the social and personal benefits of data sharing for participants and researchers, as well as potential privacy, stigmatization, and personal ownership concerns that could arise from it.
Both the presentations and discussion that followed highlighted the need for remaining transparent, maintaining the public's trust and participant privacy, and balancing autonomy with benefits to the individual, research community, and population at large.