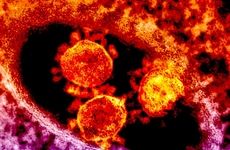 NEW YORK (GenomeWeb) – The Middle Eastern respiratory syndrome coronavirus (MERS-CoV) appears to have recombined prior to being introduced to China earlier this year, according to a genomic and phylogenetic analysis published in mBio this week.
A team led by investigators at the Chinese Center for Disease Control and Prevention sequenced the genome of a MERS-CoV strain dubbed ChinaGD01 that was introduced to China in May after first reaching South Korea, where a Korean man returned home ill after visiting four Middle Eastern countries. A handful of his relatives subsequently contracted the virus, as did an individual who visited the man's father in the hospital before traveling to China later that month.
Based on the genome sequence data and phylogenetic comparisons with other characterized MERS-CoV strains, the researchers concluded that the Chinese and South Korean MERS-CoV strain resulted from recombination between MERS viruses from two clade B groups, which likely took place in mid to late 2014.
"Based on the latest genome sequences from South Korea and the Kingdom of Saudi Arabia, our research indicated that a novel type of genetic recombination has occurred in the MERS-CoV strain prevalent in South Korea," senior authors Wenjie Tan and George Gao, at the Chinese Center for Disease Control and Prevention, and their colleagues wrote.
Since its discovery in 2012, MERS-CoV has been linked to often deadly respiratory tract infections in Saudi Arabia and beyond, affecting more than 1,300 people. And over the past several months, the team noted, South Korea has experienced the largest MERS-CoV outbreak outside of the Middle East so far, with nearly 200 infections and at least 36 deaths.
Using a combination of Ion Torrent and Sanger sequencing technology, the researchers analyzed the RNA found in nasopharyngeal swabs from a 44-year-old Korean man who had been in contact with some of the first infected individuals in South Korea and was diagnosed with MERS-CoV at a hospital in Guangdong province in China.
After tossing out human reads, they used a CLC Genomic workflow to put together a 30,144-base viral genome assembly that is believed to span the full length of the Chinese MERS-CoV strain ChinaGD01.
The team then compared this sequence to previously sequenced MERS-CoV strains, uncovering variants that differentiate it from strains in South Korea and Saudi Arabia.
The researchers' initial phylogenetic analysis, based on whole-genome sequences for the available strains, suggested ChinaGD01 fits into group 3 in the MERS-CoV clade, known as clade B. So, too, did an analysis focused on the MERS-CoV open reading frames ORF1a and ORF1b.
Nevertheless, when the team focused on S gene segment similarities, it saw signs of clustering with clade B's group 5, suggesting ChinaGD01 is the product of recombination between group 3 and group 5 MERS viruses — a notion confirmed through subsequent SNP and other analyses.
The recombination in question appears to have occurred sometime in the second half of 2014, the researchers reported, producing a strain that resembles those found recently in Saudi Arabia and South Korea.
"We note that six MERS-CoV isolates from 2015 (ChinaGD01, the first MERS-CoV strain from South Korea, and the four latest strains from Saudi Arabia) had high levels of nucleotide identity … and showed the same recombination signal in our analyses," the authors of the study concluded.
"However, more studies are needed to understand the relationship between genetic recombination of MERS-CoV, the biological properties it conveys, and its relevance to the recent high rate of transmission," they explained.
In a related mBio commentary, Columbia University's Ian Lipkin noted that coronaviruses such as MERS-CoV are known for their recombination capabilities and said it "would not be surprising … if recombination were to occur in MERS-CoV and to result in enhanced transmission or virulence."