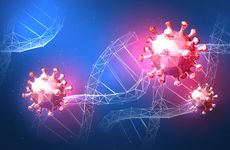 NEW YORK — The Rockefeller Foundation said on Wednesday that it has committed over $20 million in research funding and formed a number of collaborations to boost pathogen sequencing capabilities and data sharing worldwide to combat future pandemics.
The foundation said the initiative kicks off its efforts to establish a pandemic prevention institute, which will collaborate with groups including the WHO Hub for Pandemic and Epidemic Intelligence and the UK's Global Pandemic Radar to identify disease outbreaks early and stop their spread within 100 days.
The funding and alliances will specifically focus on expanding the capacity for sequencing pathogen genomes in sub-Saharan Africa, India, and the United States. As part of this effort, the Rockefeller Foundation is working with the GISAID Initiative to accelerate the development of its pathogen sharing platform and boost outbreak data sharing. It is also collaborating with the CSIR-Center for Cellular and Molecular Biology to develop targeted sampling strategies, optimize bioinformatics tools, and enable real-time viral evolution analysis, as well as to build a pathogen genomics and surveillance platform across India.
In addition, the New York City-based foundation is working with Stellenbosch University to refine sampling, expand bioinformatics pipelines, speed surveillance-informed public health decision-making, and establish fellowships and workforce development programs throughout Africa. Moreover, it is teaming up with US Regional Accelerators for Genomic Surveillance to improve regional surveillance efforts across institutions including the Broad Institute, Louisiana State University Health Shreveport, and the University of Florida in collaboration with the University of Central Florida and the University of Wisconsin-Madison.
The Rockefeller Foundation is also leading a working group with the World Health Organization on genomic surveillance within the ACT-A Diagnostics pillar of the Access to COVID-19 Tools Accelerator.
To improve pathogen sequencing data technologies, the foundation is working with Concentric by Ginkgo and data.org in collaboration with the Wellcome Trust, the Development Data Partnership, and FIND. It is also collaborating on various projects with Global.health, a research network that includes the University of Oxford, Harvard University, Northeastern University, Boston Children's Hospital, Georgetown University, the University of Washington, Johns Hopkins Center for Health Security, and Google; the Global Fund; Illumina; Oxford Nanopore Technologies; Scripps Research; Thermo Fisher Scientific; Qiagen; and Verily.
Lastly, the Rockefeller Foundation is working with the Milken Institute's FasterCures to build support around the creation of an early warning system for pandemics and with Viridae on the development, validation, and adoption of standards for genomic surveillance.