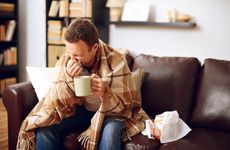 NEW YORK (GenomeWeb) – A rare genetic mutation can increase susceptibility to the common cold, according to a US National Institute of Allergy and Infectious Diseases-led team of researchers.
The NIAID-led team homed in on this variant by sequencing the whole exome of a young girl who began experiencing life-threatening respiratory infections shortly after birth. As the team reported today in the Journal of Experimental Medicine, the girl has a homozygous missense mutation in the IFIH1 gene that led her to make dysfunctional MDA5 proteins and prevented her immune system from mounting a response against human rhinoviruses.
"The human immune response to common cold viruses is poorly understood," NIAID Director Anthony Fauci said in a statement. "By investigating this unique case, our researchers not only helped this child, but also helped answer some important scientific questions about these ubiquitous infections that affect nearly everyone."
There are some 18 billion upper respiratory infections worldwide each year, many of which are caused by the human rhinovirus.
NIAID's Helen Su and her colleagues examined a five-year-old girl who had been hospitalized multiple times due to recurrent viral respiratory infections. Forty days after being born, the girl experienced respiratory failure due to concurrent human rhinovirus/enterovirus and influenza B virus infections. She has since experienced additional infections and requires supplemental oxygen, the researchers noted.
RT-PCR and sequencing analysis of viral samples from the patient indicated that she has been frequently infected with unrelated serotypes of human rhinovirus.
The researchers also performed whole-exome sequencing on the patient and her healthy immediate relatives. Through this, they uncovered a single homozygous missense mutation in her IFIH1 gene. They confirmed the mutation through Sanger sequencing.
This variant, which leads to a substitution of glutamate for lysine, is extremely rare, the researchers reported, noting that it has an average minor allele frequency of 0.06 percent and is found mainly in East and South Asian populations. The proband is of Burmese descent, and her parents and a brother are also carriers of the variant.
Su and her colleagues also reported that the girl harbored 14 other homozygous missense mutations, but that the IFIH1 mutation was predicted to be the most deleterious.
IFIH1 encodes the MDA5 protein, which, when defective in mice, prevents them from detecting viral genetic material, the researchers said. In a series of functional analyses, the researchers likewise found that the IFIH1 mutation the girl has prevents her from making functional MDA5 proteins.
Those dysfunctional MDA5 proteins then cannot recognize human rhinoviruses, which prevents her immune system from producing interferon. That, in turn, leads to increased human rhinovirus replication and disease, the researchers reported.
It also, they added, indicates that MDA5 has a key role in preventing human rhinovirus infections.
However, the researchers also reported that the girl's MDA5 genotype did not appear to influence influenza virus or respiratory syncytial virus susceptibility. This suggested to Su and her colleagues that those infections might be secondary complications.
"When people have other disease factors, [human rhinovirus] infection can become a tipping point and lead to severe illness, disability or even death," Su said in a statement. "Now that we better understand the pathway, we can investigate more targeted ways to intervene."