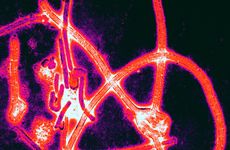 NEW YORK (GenomeWeb) – An international team of researchers has evaluated changes in plasma molecules and peripheral immune cells of Ebola virus disease (EVD) patients, highlighting new mechanisms of EVD pathogenesis and uncovering putative biomarkers for predicting EVD outcomes.
In the study, published last week in Cell Host & Microbe, researchers from the University of Wisconsin-Madison, Pacific Northwest National Laboratory, the University of Tokyo, the University of Sierra Leone and elsewhere performed a multi-platform omics analysis of multiple peripheral blood mononuclear cells and plasma from EVD patients to detect biomarkers for fatal ebola cases.
The researchers collected samples from EVD patients after initial diagnosis, including serial samples from survivors; initial samples from patients with fatal EVD before they died; and healthy control samples. In total, the group obtained 29 samples from 11 EVD survivors and 9 samples from 9 EVD fatalities.
The team initially found that EVD survivors demonstrated significantly elevated levels of interleukin-6 (IL-6), tumor necrosis factor (TNF), and interleukin-10, which diminished at later time points. In fatal EVD cases, plasma IL-6 and TNF were higher than EVD survivors. The researchers believe that EVD fatalities can be "differentiated from survivors by both viral loads and plasma cytokine levels upon admission."
The researchers next examined a plasma metabolomics dataset to identify metabolic signatures associated with clinical outcome in EVD patients. They saw exclusively among  EVD fatalities an acute reduction in plasma free amino acids (PFAAs), in addition to glucose and fructose. The drop in PFAA levels among the fatalities suggest immune cell activation in these cases.
Plasma lipidomics analyses highlighted alterations in lipid subclasses that defined both general EVD and fatal EVD. In fatalities, certain lipids and ceramide species increased compared with survivors, while LPC species significantly dropped.
The team then explored a plasma proteomics dataset using pathway enrichment analysis. They found that macrophages and neutrophils in hosts activate in response to EVD, and are much more pronounced in fatal cases. In addition, they observed an increase in soluble VSIG4, a "costimulatory molecule expressed on macrophages, only in fatalities."
In addition, the researchers identified significant changes in transcripts for myeloid cell chemokine receptors (CCR1 and CCRL2) and other macrophage-specific receptors. They therefore suggest that myeloid cells may be sensitized to necroptosis in fatal EVD, due to abundant levels of TNF in circulation, increased expression of the pro-caspase-8 cleavage inhibitor CFLAR, and increased expression of the necroptosis regulator MLKL.
The researchers also found that that low density neutrophils (LDN), which appear during EVD, contribute to EVD-induced dysregulation of adaptive immunity and enhance EVD-associated tissue damage. LDNs release neutrophil extracellular traps (NETs), which contribute to host defense by trapping microorganisms and limiting their spread. Excess NET formation, however, can lead to tissue damage. Releasing a higher proportion of five core histone proteins (MPO, CTSG, PRTN3, and AZU1) may lead to inflammatory conditions and eventually death in EVD patients.
In addition, the researchers found that the levels of several factors secreted by pancreatic acinar cells increased in the plasma of EVD fatalities. Because symptoms of severe EVD and acute pancreatitis are similar in behavior, the team believes that ebola-induced pancreatic tissue damage and release of pancreatic enzymes may have a role in EVD pathogenesis.   
"The results suggest that a combination of redundant biomarkers may be useful to ensure accurate outcome prediction in real-life scenarios, which in turn may improve outcomes for the most at-risk patients," the authors said.