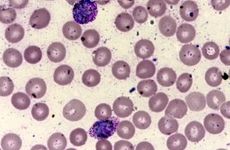 NEW YORK (GenomeWeb) – A pair of studies has linked gene amplifications on chromosome 14 to drug resistance among malaria parasites.
Some 200 million people are infected and half a million die each year from malaria. In Southeast Asia, first-line treatment for malaria is typically a combination therapy of artemisinin and piperaquine. While resistance to artemisinin began to emerge there more than seven years ago, resistance to piperaquine in the malaria-causing parasite Plasmodium falciparum has developed more recently.
Two independent teams of researchers, one from Institut Pasteur in Cambodia and the other from the US National Institutes of Health and the Wellcome Trust Sanger Center examined genetic links to piperaquine resistance among P. falciparum in Cambodia. From this, both groups homed in on increased copy numbers of the plasmepsin 2 and plasmepsin 3 genes as resistance markers, as they reported in The Lancet Infectious Diseases last night.
"The converging results of these studies make plasmepsin 2-3 amplification a robust marker for piperaquine resistance in the region," Oxford University's Arjen Dondorp wrote in an accompanying commentary.
In one paper, researchers led by the Pasteur's Didier Ménard sequenced the exomes of 31 artemisinin-resistant Cambodian P. falciparum lines to search for SNPs and CNVs associated with piperaquine susceptibility or resistance, as defined by their piperaquine survival assay curves. In these, the researchers uncovered two SNPs linked to drug susceptibility or resistance, but they deemed these positions and sequences to be ambiguous.
They also linked a copy-number variant on chromosome 14 to piperaquine resistance. This region includes two hemoglobin-digesting proteins known as plasmepsins. No matter the resistance or susceptibility status of the line, the researchers noted that the plasmepsin 2 sequence was wild-type and the plasmepsin 3 sequence contained a known polymorphism. There was, though, a significant correlation between the copy number of these genes and in vitro PSA survival rates, the researchers said.
For a set of 725 malaria patients, the researchers obtained samples before they underwent treatment with artemisinin and piperaquine. The patients were then followed for some six weeks. For this cohort, plasmepsin 2 copy number could predict treatment failure with 94 percent sensitivity and 77 percent specificity. At the same time, multiple copies of plasmepsin 2 was associated with a treatment failure by 42 days with an adjusted hazard ratio of 20.4, meaning that they were at much greater risk of treatment failure than patients without multiple copies of the gene.
This, Ménard and his colleagues said, suggests that plasmepsin 2 could serve as a molecular marker for piperaquine resistance.
In a separate paper, researchers led by NIH's Rick Fairhurst conducted a genome-wide association study that drew upon 297 P. falciparum isolates from patients from three different Cambodian provinces. They interrogated whether 11,630 SNPs and 43 CNVs were associated with in vitro piperaquine 50 percent inhibitory concentrations (IC50s) — the concentration at which the drug is half as effective — and treatment failure.
Their analyses likewise highlighted amplifications of plasmepsin 2 and plasmepsin 3 as associated with piperaquine resistance.
For a subset of 133 samples, for which the researchers had 63 days of clinical outcome data, Fairhurst and his colleagues found that plasmepsin 2 and plasmepsin 3 amplifications was highly enriched among samples from people who experienced recrudescence and decreased treatment efficacy. Patients with plasmepsin 2 and plasmepsin 3 amplification experienced a treatment success rate of 41 percent, while patients lacking the amplification had a treatment success rate of 95 percent.
The researchers also noted an association between a SNP, exo‐E415G, and piperaquine resistance and treatment failure.
Both groups of researchers argued that plasmepsin 2 and plasmepsin 3 copy numbers could be used as a molecular marker for piperaquine resistance.
"A genetic toolkit combining this new marker with markers of artemisinin and mefloquine resistance could be used to track the spread of resistance and provide timely information for containment policies," the Pasteur's Ménard said in a statement.
In addition, the researchers said that these markers also could help investigators study how far drug resistance has spread in the region, untangle the biology of the parasite, and recommend alternative therapies.
"These findings provide the tools needed to map how far this resistance has spread, looking for these molecular markers in parasites in Cambodia and neighboring countries," Sanger's Dominic Kwiatkowski added in a statement. "This will allow national malaria control programs to rapidly recommend alternative therapies where possible and where needed, enhancing treatment for patients, and helping towards the ultimate goal of eliminating malaria."