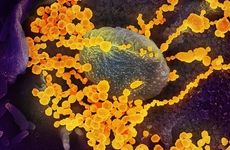 NEW YORK – Host factors rather than viral genetic differences appear to influence disease outcomes among COVID-19 patients, according to a new study from China.
Researchers in Shanghai examined clinical, molecular, and immunological data from more than 300 people with confirmed COVID-19. While infection with SARS-CoV-2 can lead to severe respiratory disease and death, it also can result in more mild pneumonia in some patients. 
As they reported Wednesday in Nature, researchers led by Hongzhou Lu at Fudan University uncovered two different SARS-CoV-2 strains within their patient cohort, but found these genetic viral variations did not significantly affect patient outcomes. Instead, having low levels of lymphocytes appeared to predict disease severity.
"The determinants of disease severity seemed to stem mostly from host factors such as age, lymphocytopenia, and its associated cytokine storm, whereas viral genetic variation did not significantly affect the outcomes," Lu and his colleagues wrote in their paper.
The researchers analyzed data collected from 326 individuals. Of these, five were asymptomatic and had no fever, respiratory symptoms, or radiological evidence of disease, though they had confirmed SARS-CoV-2 infections. Most of the cohort, though, 293 individuals, had mild disease, defined as having a fever and radiological evidence of pneumonia. Twelve patients had severe disease with shortness of breath and ground-glass opacity in their lungs, and 16 patients had critical disease, developed acute respiratory distress syndrome, and needed a ventilator or extracorporeal membrane oxygenation. As of the beginning of April, almost all of these patients had been discharged, but six had died.
Viral sequencing data was available for 112 samples. When the researchers compared their viral genome data from patients in Shanghai to the initially reported SARS-CoV-2 virus from Wuhan, they identified 66 synonymous and 103 non-synonymous variants in nine protein-coding regions.
Using the viral genomes from 94 cases and 221 other SARS-CoV-2 sequences in the GISAID database, the researchers conducted a phylogenetic analysis of their samples. They separated into two major clades and indicated the earliest zoonotic spillover event may have occurred in late November, which the researchers noted was in line with others' findings.
However, viruses from both clades led to similar disease among patients. The researchers uncovered no statistical differences in disease severity, lymphocyte count, CD3 T cell count, C-reactive protein, D-dimer, or viral shedding duration. 
Instead, host factors appeared to affect disease severity. In particular, leukocytopenia was more common among severe and critically ill patients, which the researchers said confirmed prior reports. CD3+ T cells were most severely affected and were suppressed in severe and critical patients. They also noted that CD4+ and CD8+ cell counts were reduced in these patients.
Additionally, patients with critical and severe COVID-19 had high levels of the cytokines IL-6 and IL-8 upon admission and treatment. These levels correlated with decreased lymphocyte count and suggested a link between inflammatory cytokines and COVID-19 severity. 
"[B]y closely monitoring the molecular and immunological data in 326 cases of COVID-19 patients, we suggest that adverse outcome is associated with depletion of CD3+ T lymphocytes that is tightly linked to bursts of cytokines such as IL-6 and IL-8," Lu and his colleagues wrote.
Age, the presence of pre-existing conditions, and gender also influenced disease severity, they noted.