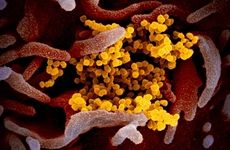 NEW YORK — Researchers in Qatar have uncovered an mRNA and lncRNA signature in blood that appears to be associated with COVID-19 severity.
There have been nearly 145 million cases of COVID-19 and about 3 million deaths, according to the Johns Hopkins Coronavirus Resource. But the disease course differs between people, with some remaining asymptomatic, some developing a sore throat or loss of taste or smell, and others experiencing severe symptoms, including difficulty breathing, that require intensive care.
These differences underscore the need for biomarkers to stratify COVID-19 severity risk, according to Hibah Shaath and Nehad Alajez from Hamad Bin Khalifa University in Qatar. In a new study appearing this week in the journal Heliyon, they uncovered mRNAs and lncRNAs whose levels seemed to differ between blood samples from COVID-19 patients who were admitted to an intensive care unit versus COVID-19 patients who did not require ICU admission. Their expression further appeared to implicate immune, interferon, and antiviral responses in disease severity.
"Expanding our understanding on what causes severe [disease] upon SARS-Cov-2 infection, and which factors differentiate these individuals from milder cases, is highly important for more personalized, tailored prevention, and treatment measures," Shaath and Alajez wrote in their paper. "The convenience of blood-based biomarkers associated with severity is valuable in identifying those at risk of severe symptoms leading to fatality."
The researchers analyzed previously published transcriptomic data on peripheral blood mononuclear cell (PBMC) samples obtained from 126 patients at Albany Medical Center in New York. Of these patients, 50 had COVID-19 and were admitted to the ICU and 50 had COVID-19 but were not admitted to the ICU. Sixteen patients did not have COVID-19 but were admitted to the ICU, and 10 did not have COVID-19 and were not admitted to the ICU.
When they compared the different patient groups, the researchers noted that patients with COVID-19 who were admitted to the ICU had aberrantly expressed mRNAs and lncRNAs.
Based on these profiles, the researchers determined what biological functions might be affected in the different patient populations using Ingenuity Pathway Analysis. They found that a number of key pathways like natural killer cell and interferon signaling were downregulated in the ICU COVID-19 patients, as compared to those who were not admitted to the ICU.
As natural killer cells have a key role in immune response to infection, the researchers suggested that therapies that restore the function of NK cells could represent potential treatment approaches.
Their analysis also found interferon-gamma was downregulated in patients with COVID-19 in the ICU compared to those with COVID-19 not admitted to the ICU. They noted, though, that too low an interferon response could lead to an inability to fight off the virus, but that levels too high could tip off cytokine storms.
Additional research into these specific biomarkers is needed, they wrote. "Delving further into these biomarkers, [their] roles, and their implications on the onset and disease severity of COVID-19 could play a crucial role in patient stratification and identifying varied therapeutic options with diverse clinical implications," Shaath and Alajez added.