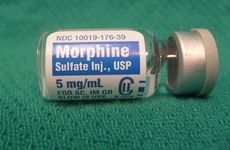 NEW YORK (GenomeWeb) – The University of Michigan's Genomics Initiative last week recruited the 50,000th patient who will contribute a biological sample for genomic analysis and phenotypic data to a growing repository for longitudinal research.
The milestone coincided with an announcement from University of Michigan President Mark Schlissel that the institute was embarking on a Precision Health initiative that would utilize the institution's expertise in biology, genetics, engineering, machine learning, and social sciences to make new discoveries; translate those discoveries into treatment and prevention strategies; and implement them into the communities the institution serves.
The initiative's first project will investigate the many characteristics, including genomics, that can contribute to a person's ability to respond to opioids, make them more likely to abuse these drugs, or become addicted to them.
The initiative is being supported by the Office of the Provost, Medical School, School of Public Health, and College of Engineering, but it will involve the university's 19 schools. The Precision Health initiative will be co-directed by Goncalo Abecasis, chair of the University of Michigan's department of biostatistics; Sachin Kheterpal, associate dean for research information technology at the university's medical school; and Eric Michielssen, associate VP for advanced research computing for the university's office of research.
The initiative's initial focus on opioids comes as over-prescribing and misuse of these drugs has resulted in a national crisis. Today, more than 90 Americans die daily from overdosing on opioids, which include prescription pain relievers and heroin.
The management of this crisis is a nationwide priority, but more so in states like Michigan, where it has had a significant toll. In 2015, doctors in the state wrote more than 11 million prescriptions for opioid painkillers (oxycodone, hydrocodone, morphine, methadone, and codeine), which amounts to 115 scripts per 100 people. And between 1999 to 2016, opioid-related overdose deaths increased by 17 times, from 99 to 1,689, according to the Michigan Department of Health & Human Services.
Within the University of Michigan effort, researchers will initially study and compare the genetic and phenotypic characteristics of those using and not using opioids among the 50,000 patients who have donated their blood samples to the Genomics Initiative. Samples in the repository are being genotyped on an Illumina HumanCoreExome array. Within the initiative, participants are also asked to complete questionnaires and share data from electronic medical records.
"Like most, we will analyze the genes and SNPs that have previously been implicated or associated with opioid-related outcomes or pain-related outcomes, but then we will also do genome-wide association studies and continue discovery," said Chad Brummett, director of the division of pain research at the University of Michigan, who is also leading the opioid project.
But Michigan's Precision Health initiative aims to go beyond genetics.
"When you say 'precision medicine,' everyone says 'genetics,' but the truth is there is a lot to be learned about phenotype, and the characteristics in these bigger models that subsume the variants explained by genetics findings," said Brummett. "We believe there is lower-hanging fruit in terms of understanding these characteristics, but genetics is going to be important in understanding mechanism and potentially in discovering new medications."
In a study published earlier this year, Brummett and colleagues reported that 6 percent of surgery patients, who previously weren't on prescription painkillers were still on them beyond the normal recovery time. Patients who had alcohol or substance abuse problems, mood disorders, anxiety, or preoperative pain, were more likely to extend their use of painkillers, they wrote in the Journal of the American Medical Association Surgery.
Within the opioid project, Brummett said researchers will to explore these types of associations by looking at, for example, the genetic, environmental, and societal factors that play into how many pills patients take after surgery. Researchers will also investigate the various characteristics that may hinder a patient from responding to painkillers or predispose them to experiencing side effects like nausea, which deters some from taking opioids after surgery or a visit to the dentist.
As far as the role of genetics specifically, Brummett said there is still a lot to learn.
Companies selling genetic tests that claim to predict response or risk of addiction to opioids have come under fire for exploiting a national crisis by peddling products based on shoddy science. Proove Biosciences, for example, sold genetic tests that it claimed could predict whether a patient was at risk for opioid addiction, but experts raised serious doubts about the company's tests. And this past summer, the Federal Bureau of Investigation raided the company's Irvine, California offices to look into whether the company had violated anti-kickback laws.
When it comes to genetic testing for assessing predisposition to opioid addiction or tailoring medications, "I haven't seen anything that was convincing enough that I would act on that or have patients spend the significant amount of money that these tests require," said Brummett, who isn't a geneticist, but as a clinical researcher is skilled at recruiting, phenotyping, and assessing outcomes in large studies.
"If I looked and asked what do we know about the patients, then [considered] previous history of addiction, history of medication abuse, mood disorders, there's just a lot of things outside of genetics where the associations are far higher," he added.
There have been some advances in the genetics realm, however. For example, it's largely accepted that CYP2D6 allelic variations impact people's ability metabolize codeine, where poor metabolizers don't derive adequate benefit from normal doses and rapid metabolizers experience sleepiness or confusion. GWAS studies have also found SNPs and genes associated with opioid addiction or abuse, though the effect sizes are small. 
"The bigger question is do opioids work for chronic pain?" posited Brummett. "I don't believe there is anything from genetic literature so far that's shown that one person is going to be more or less likely to derive benefit from the medication."
As such, the University of Michigan decided to kick off its Precision Health initiative by focusing on the opioid crisis, because "we feel like there is a lot of room to contribute to this literature," he said. In the future, there will be other Precision Health efforts in cancer, depression, and metabolic diseases, he added.