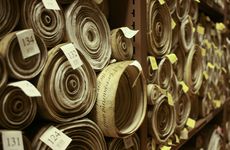 NEW YORK (GenomeWeb) – Sequencing the animal DNA present in parchment could help scientists trace the history of livestock agriculture, a study published on Monday said.
In the study in the Philosophical Transactions of the Royal Society B, a team of scientists led by Matthew Teasdale and Daniel Bradley at Trinity College, Dublin showed how next-generation sequencing of parchment samples could help researchers uncover geographic and temporal variety in animal husbandry practices.
"This pilot project suggests that parchments are an amazing resource for genetic studies that consider agricultural development over the centuries," Bradley said in a statement.
Before the mass production of paper, parchment, which is made from the skins of animals such as cattle, sheep, and goats, was the preferred medium for written documents and records. The manufacturing process produced durable artifacts, which were well-cared-for because of the important information stored on them.
Though a prior PCR-based study had suggested that DNA from multiple animal species could be found in a given parchment sample, indicating cross-contamination during manufacture, the authors said that using NGS helped resolve those issues, establishing a proof-of-concept for using parchment samples to elucidate the genetic history of livestock species.
The researchers extracted DNA from two parchments from Britain, dated to the 17th and 18th centuries. After PCR amplification, the samples were visualized on an Agilent 2100 Bioanalyzer using a DNA 1000 chip and sequenced on the Illumina HiSeq2000 platform.
The scientists identified both parchment samples as coming from sheep by comparing the sequences to reference genomes of modern animals, including cattle and goats. Chromosomal analysis showed that both parchments came from ewes, specifically.
Further analysis of alleles shared with modern European sheep breeds allowed the scientists to home in on which regional varieties of sheep the samples came from. The 17th century parchment likely came from black-faced sheep found in northern Britain, while the 18th century sample likely came from southern Britain, a region that saw livestock breeding improvements during that time.
"We want to understand the history of agriculture in [the British Isles] over the last 1,000 years and, with this breathtaking resource, we can," study co-author Matthew Collins, professor of archeology at the University of York, said.