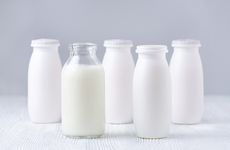 NEW YORK (GenomeWeb) – Probiotics may have a limited influence on the gut microbiome and, when taken to offset the effects of antibiotics, might even delay the return of the microbiome to its pre-treatment state.
About 3.9 million adults in the US take either prebiotic or probiotic supplements, often for the purpose of easing symptoms affecting their gastrointestinal tracts or to promote health. At the same time, others take supplements to offset the effects of antibiotics on the gut microbiota.
But two studies of the gut microbiome appearing today in Cell have found that probiotics might not be effective.
"People have thrown a lot of support to probiotics, even though the literature underlying our understanding of them is very controversial; we wanted to determine whether probiotics such as the ones you buy in the supermarket do colonize the gastrointestinal tract like they're supposed to, and then whether these probiotics are having any impact on the human host," senior author Eran Elinav from the Weizmann Institute of Science said in a statement.
In the first study, he and his colleagues examined the effect of a commercial probiotic on the mouse and human gut microbiomes using a multi-omic approach.
After determining that the probiotic supplement contained the 11 bacterial strains it was supposed to and that these strains were largely viable, the researchers dosed both wild-type and germ-free mice with it. They collected not only stool samples, but also samples from within the gastrointestinal tract, both before and during treatment for 16S rDNA and qPCR analysis.
The wild-type mice, the researchers found, were largely resistant to colonization by the probiotic strains, while germ-free mice were readily colonized. This indicated to the researchers that indigenous strains help resist colonization.
They similarly treated 15 healthy people — who have greater variation in the makeup of their gut microbiomes — with the probiotic or placebo and collected stool and gastrointestinal samples via colonoscopy and endoscopy for analysis. After an initial increased shedding of probiotic strains in stool, the human participants had varied colonization patterns, the researchers found: some resisted colonization and some did not.
"Although all of our probiotic ­consuming volunteers showed probiotics in their stool, only some of them showed them in their gut, which is where they need to be," co-author Eran Segal from Weizmann added. "If some people resist and only some people permit them, the benefits of the standard probiotics we all take can't be as universal as we once thought.
In a separate paper, the same team sought to assess how probiotics affect the gut microbiome following antibiotic treatment.
The researchers treated mice with a broad-spectrum antibiotic and followed that treatment with a probiotic, an autologous fecal microbiome transplant, or watchful waiting. The antibiotic, they reported, drastically reduced the alpha diversity of the murine gut microbiomes, which they again sampled for 16S rDNA and qPCR analysis.
In mice, autologous fecal microbiome transplant was the most efficient means of restoring bacterial diversity, the researchers reported. They added that neither probiotic treatment nor watchful waiting restored diversity to pre-treatment levels. The probiotic, however, appeared to further delay its return to pre-antibiotic treatment levels.
The researchers similarly examined how these approaches fared in 21 humans treated with antibiotics. Of those, seven were followed by watchful waiting, six received an autologous fecal microbiome transplant, and eight were given probiotics. These individuals' gut microbiomes were sampled using colonoscopies and endoscopies, and stool samples were also collected.
As in the mice, antibiotic treatment depleted the fecal and gut microbiome. And, similarly to mice, autologous fecal microbiome transplant could quickly reconstitute the pre-antibiotic microbiome. But, again, probiotic treatment appeared to slow the return to baseline and extend the timeframe of dysbiosis, the researchers reported.
This indicated, they added, that any protection from probiotics might not be risk-free.
"Contrary to the current dogma that probiotics are harmless and benefit everyone, these results reveal a new potential adverse side effect of probiotic use with antibiotics that might even bring long-term consequences," Elinav said.