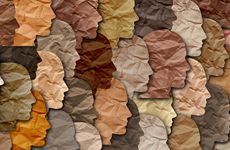 NEW YORK – Polygenic risk scores have the potential to impact cancer screening, autoimmune disease testing, and therapeutics development, but more diverse data is needed, according to several experts active in the field.
"There are still substantial challenges to implementation of polygenic risk scores in clinical settings that need to be addressed before we can be confident and move ahead in this space," Mark Daly, director of the Institute for Molecular Medicine Finland, said during the building bridges session on polygenic risk scores at the European Society of Human Genetics meeting, which was webcast this week.
"The key challenge emanates from the fact that genomics continues to have a huge diversity problem," said Daly. In order to have "truly equitable polygenic risk scores" and see the approach make a greater difference clinically, researchers need to invest in genome-wide association studies in non-European cohorts, Daly said, as well as improve existing methods.
Michael Inouye, a principal researcher in the department of public health and primary care at the University of Cambridge, agreed that existing data sets favor European populations and create a "major challenge" in applying polygenic risk scores in other populations.
"European ancestry bias, ingrained in cohorts decades ago, has subsequently made its way into GWAS and polygenic risk scores and has been particularly pernicious," said Inouye, who also took part in the ESHG session. He also suggested that issues of bias can be solved by genotyping more non-European cohorts.
Amit Khera, a cardiologist at Massachusetts General Hospital who also spoke during the same session, said that bias can impact application of polygenic risk scores in nuanced ways. While such scores can on average predict risk for certain conditions across all ethnicities, he said. They become less effective when you look across many scores. Like the other panelists, he said that more diverse data cohorts are the answer.
"We as a genetics community have an important responsibility to improve the quantity of genetic data in non-European ancestries," said Khera. While those data are generated, however, he suggested that other researchers use different approaches to overcome implicit data bias. Such approaches include fine mapping of causal variants, which are more likely to transfer effectively across populations, as well as weighting a person's ancestry when calculating a polygenic score. "I think these solutions will help level the playing field," said Khera.
But there are other challenges beyond data diversity. Inouye noted that the community needs to establish standards for calculating and implementing polygenic risk scores. Inouye cited a medRxiv preprint published last month, of which he is a coauthor, that set out a 33-item reporting framework for interpreting and evaluating a polygenic risk score, especially for downstream clinical applications.
"One thing we can address right now is the poor reporting of polygenic risk score studies," noted Inouye. He also said that comparability is an issue, and referenced the Polygenic Score Catalog, which he helped to establish and was described in a separate medRxiv preprint last month.
Inouye also called for the generation of more external validation data to buttress the adoption of polygenic risk scores in the clinic. "External validation data is critical," said Inouye. "We need more genotyped cohorts with comparable phenotypes."
There is also the question of methods, and if there is an optimal tool set for calculating scores. But Krista Fischer, a senior researcher at the Estonian Genome Center in Tartu, Estonia, cautioned against the idea that any one tool was superior to another.
"We have used PRSice, we have used LDpred, but there is no one-size-fits-all approach," said Fischer. "Computationally, calculating a PRS is not very demanding," Fischer noted. "You could even do it on your laptop," she said. "You don't need very sophisticated tools. It's more important to know what method to use to get the score than the tool set." Indeed, users should instead do a considerable amount of homework before deciding on a certain approach, Fischer noted. "There is no universal best solution, so one would always need to consider alternatives and compare them," she said.
Despite these challenges and obstacles, speakers remained positive about the application of polygenic risk scores in the clinic. FIMM's Daly said that the application of polygenic risk scores toward cancer screening seems to be the "most obvious and impactful opportunity," while use in clinical trial populations that have a high prospective conversion rate could "be another near-term win."
Inouye said that polygenic risk scores are a "particularly promising approach" for autoimmune diseases, which seem to follow a more common disease-common variant architecture. He cited type 1 diabetes, celiac disease, and juvenile idiopathic arthritis as three conditions that could benefit from the use of polygenic risk scores.