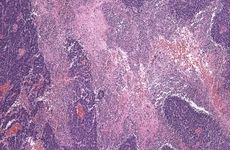 NEW YORK – A team led by researchers at St. Jude Children's Research Hospital, the European Molecular Biology Laboratory, and the German Cancer Research Center have identified a novel inherited gene that predisposes children to developing the sonic hedgehog subgroup of pediatric medulloblastoma (MBSHH). 
In a study published in Nature on Wednesday, the researchers said they analyzed all protein-coding genes in medulloblastoma, and identified rare germline loss-of-function variants across the ELP1 gene in 14 percent of pediatric patients with MBSHH. They found that ELP1 was the most common medulloblastoma predisposition gene, and increased the prevalence of genetic predisposition among pediatric patients with that particular subgroup to 40 percent.
"The scientific evidence and the experiences of patients and families suggested to us that inherited mutations might play a bigger role than previously thought," co-senior author Paul Northcott, a researcher in the St. Jude department of developmental neurobiology, said in a statement. "By searching for genes beyond the usual suspects, we showed that a significant portion of SHH medulloblastoma with inherited mutations wasn't being recognized."
Co-first author Giles Robinson, a St. Jude oncologist, added, "ELP1 has not been part of routine genetic testing offered to patients and families, but this work suggests that it should be included for medulloblastoma." 
To determine the genetic predisposition to medulloblastoma beyond established cancer predisposition genes, the researchers investigated germline loss-of-function variation across all autosomal protein-coding genes in a cohort of 713 pediatric patients with medulloblastoma, 288 cancer-free children from the CEFALO study, and 118,479 cancer-free adults from the gnomAD database.
They found that germline ELP1 LOF variants in patients with MBSHH were heterozygous, distributed across the full gene sequence, and very rare in the general population. In the discovery cohort, germline ELP1 variants accounted for 13 percent of patients with MBSHH. However, only .18 percent (1 out of 542) of patients with a WNT, Group 3, or Group 4 medulloblastoma also exhibited germline ELP1 variants.
"The latter frequency is consistent with the low burden of germline ELP1 LOF variants in cancer-free adults (.10 percent, 114 out of 118,479) and thus further suggests that ELP1 is a MBSHH-specific predisposition gene," the authors wrote.
Further analyses of two large series of 514 pediatric cancer patients and 2,272 adult cancer patients further confirmed that germline ELP1 LOF variants are strongly associated with MBSHH, the researcher said. They also replicated the association between germline ELP1 LOF variation and pediatric MBSHH based on 31 patients from two prospective patient series.
"Overall, germline ELP1 LOF variants accounted for 14.4 percent (29 out of 202) of all pediatric patients with MBSHH, which considerably exceeds the burden of pathogenic germline variants in known MBSHH predisposition genes," the authors wrote. "Inheritance of pathogenic germline ELP1 LOF variants was confirmed in three parent-offspring trios based on whole-exome sequencing."
These findings further substantiate a high prevalence of genetic predisposition among pediatric patients with MBSHH and provide a basis for implementation of genetic testing and surveillance programs for affected patients and families, the researchers concluded.
"Broadly, we provide a strong rationale for expanding genetic studies beyond known cancer predisposition genes and motivate continued investigations into the contribution of translational deregulation in cancer and its potential utility as a target for molecularly guided intervention," they added.