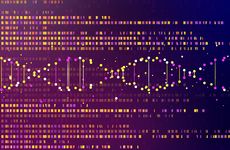 NEW YORK – A research project in Canada has helped diagnose more than a dozen Indigenous patients with genetic conditions that they were previously only suspected of having.
Patients learned that they had these genetic conditions as participants in the Precision Diagnosis Study, within which researchers hope to better identify childhood-onset monogenic conditions among Indigenous patients who remained undiagnosed after available clinical testing. The study is part of a broader effort to improve healthcare equity among Canada's Indigenous populations, dubbed the Silent Genomes Project.
The Precision Diagnosis Study, which kicked off in 2018, has enrolled nearly 90 families. Of the 70 families who have received genomic analyses, about one-quarter have received probable or definite diagnoses of a genetic condition, said Anna Lehman, co-lead of the study and an associate professor of medical genetics at the University of British Columbia.
To enroll, participants must self-report as having Indigenous ancestry — First Nations, Métis, or Inuit — and be referred by a medical specialist treating their condition, such as a geneticist or pediatrician. Patients can enroll through a network of genetic health centers in a dozen cities in Canada, and participants submit a blood sample for whole-genome sequencing.
From there, researchers identify variants through a three-step process. First, a genomic analyst prioritizes potentially clinically significant variants from the sequencing data. A medical geneticist then reviews the flagged variants and selects a subset to present to a variant committee composed of the patient's referring physician, the enrollment site's principal investigator, medical geneticists, and genetic counselors. The committee discusses whether there's enough evidence to link the variants to a patient's disorder.
The committee focuses on classifying likely pathogenic and pathogenic variants that are causing a patient's condition, but in some cases, the committee has reported variants of uncertain significance, where it felt "there was a significant possibility that [a variant] could be the cause" of a patient's condition but lacked sufficient evidence to make a more definitive call, Lehman said. "This required a group discussion to come to consensus, rather than having specific criteria in making those decisions," she explained.
When researchers identify possible disease-causing genetic variants, results are returned to the patient's referring physician, who is primarily responsible for sharing the results with the family. In cases where the referring physician is not a geneticist, a genetic counselor from the study team helps communicate the results, too. When possible, the Precision Diagnosis Study organizers coordinate confirmatory genetic testing for participants, the cost of which was covered by the study, Lehman said.
Anecdotally, "families have expressed relief at ending their diagnostic odyssey," she added.
The overarching Silent Genomes Project, which also launched in 2018, was born out of a desire to improve precision and genomic diagnoses for Indigenous patients with rare diseases. The project is funded by Genome Canada, Genome British Columbia, Canadian Institutes of Health Research, Illumina, Michael Smith Foundation for Health Research, BC Children's Hospital Foundation, and British Columbia's Provincial Health Services Authority.
This project fits into Genome Canada's mission to address disparities in precision medicine implementation. "We're very committed … [to] the absolute imperative that good science and good biomedicine has to be based in an equity agenda," said Pari Johnston, VP of policy and public affairs at Genome Canada, during a summit hosted by the Personalized Medicine Coalition late last year. 
Genome Canada, an independent and federally funded nonprofit organization, is focused on developing genomics research capacity in the country and coordinates a network of genome centers. "Given Canada's historic and ongoing discrimination of our First Nations, Métis, and Inuit peoples, there is a particular responsibility for funders like us to advance diversity, equity, and Indigenous truth and reconciliation in our precision medicine work," Johnston said.
Recognizing that Indigenous groups often have to overcome significant geographic barriers to participate in research, the researchers made sure that patients could enroll and provide consent for the Precision Diagnosis Study over the phone. They also didn't limit patient eligibility based on gene discovery goals and got most genomics clinics in Canada to participate in the study. "We lowered barriers to participation every possible way that we could," Lehman said. "We wanted, foremost, to make sure that any child who … might benefit from this test would have access to it."
The Silent Genomes Project also recruited a steering committee composed entirely of Indigenous stakeholders from across Canada, including those with a family history of rare diseases, for cultural oversight and guidance in providing equitable access to clinical diagnoses. And every care team member who interacts with study participants must complete a curriculum on providing genetic counseling to Indigenous patients, which involves an online course created by Indigenous healthcare leaders, dubbed the San'yas Indigenous Cultural Safety Program, and a set of required readings. Thirty genetics healthcare providers across Canada have completed the curriculum through their participation in the Precision Diagnosis Study.
Through this study, researchers have already identified at least one condition that has high incidence in an Indigenous population, knowledge of which may be helpful for diagnosing patients in the future, according to Lehman. She declined to name the condition and genetic variant, since her group is in the last stages of publishing on this finding in a journal. 
Overall, Indigenous populations tend to be underrepresented in variant databases, according to Lehman. This disparity results in a lack of knowledge about the prevalence of various conditions in these groups and makes it less likely that patients with Indigenous ancestry will receive actionable genetic testing results.
To address this disparity in research, efforts are underway within the Silent Genomes Project to develop a library of allele frequencies, dubbed the Indigenous Background Variant Library (IBVL), which can be used as a reference for genetic variation in Indigenous populations to be used for clinical care. Such a resource can help researchers determine which variants are common in healthy Indigenous people and therefore unlikely to be responsible for rare disease. Researchers are aiming to include data from at least 1,500 Indigenous Canadians in the library, according to the Silent Genomes Project's website.
The IBVL will show variant frequencies at the population level, which then can be used to aid clinical diagnoses. For example, as information on variant frequency is uncovered as part of the IBVL program, Lehman hopes to use it to more definitively classify variants of uncertain significance seen in participants in the Precision Diagnosis Study.
"When we know how frequent a variant is, we can have confidence both in deciding that it is indeed rare … or deciding that it is too common to be causing an extremely rare and serious phenotype," she said.