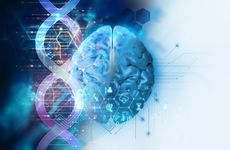 NEW YORK – Julie Kauer described her brother's manic symptoms as "almost a blessing," because they were the final piece of a puzzle ending in a diagnosis of bipolar disorder.
Arriving at that diagnosis proved a significant undertaking.
With so many of bipolar disorder's symptoms overlapping those of other psychiatric conditions such as depression and schizophrenia, physicians must sometimes wait for an individual's condition to develop, delaying appropriate care.
"It was just horrifying because he had to sit around in a psychiatric hospital until they figured it out by throwing drugs at it," Kauer said.
Kauer is now a professor of psychiatry and behavioral sciences at Stanford University and is leading one part of a multiyear initiative to decode the genetic underpinnings of bipolar disorder, develop more targeted tools with which to treat and diagnose it, and ensure that the tools and knowledge generated are equitably distributed among all who need them.
The initiative is funded by Breakthrough Discoveries for Thriving with Bipolar Disorder, or BD², an organization founded in 2022 by the Milken Institute in collaboration with the Sergey Brin Family Foundation, the Dauten Family Foundation, and the Baszucki Family Foundation.
"These tools could give a more precise and molecular definition for psychiatric analysis," said Jenny Tam, principal scientist at the Wyss Institute, who leads a team combining in silico drug prediction with data from in vitro and omics technologies to identify promising bipolar disorder treatments and treatment targets. "Right now, a conventional diagnosis is based on psychiatric analysis and medical history, but does not take into account proteins, targets, and the molecular mechanisms associated with each psychiatric disorder." 
Over the past year, the organization has awarded $33 million in research grants aimed at untangling bipolar disorder's genetic circuitry and diversifying the genomic datasets available for research into it. On Wednesday, BD² announced the first six institutions involved in launching its BD² Integrated Network, a deep phenotyping initiative meant to link electronic health record data to primary and translational research data.
These institutions are Brigham and Women's Hospital-McLean Hospital, University of California Los Angeles (UCLA), Johns Hopkins University, Mayo Clinic, University of Michigan, and UTHealth Houston.
Cara Altimus, managing director for BD², said that bringing basic and clinical research projects into alignment and facilitating data between all participants should create a "positive feedback loop."
"Patients will have deep phenotyping done in their care setting, and we'll be able to do the genomic sequencing of those individuals using the same protocols as in the genomics studies," she said. "This creates an important link between the genetics work that's happening and the initiative that's designed to improve care for patients."
An initial grant cycle saw $15 million divvied up among the Broad Institute, UCLA, and the New York Genome Center (NYGC), who together will sequence over 30,000 samples from people with bipolar disorder from Africa, Central and South America, and Asia; and the CommonMind Consortium, consisting of the Icahn School of Medicine at Mount Sinai, the University of Pittsburgh, and the California Institute of Technology, who will create a brain atlas for bipolar disorder.
Another $18 million was distributed among the NYGC, Stanford, the Wyss Institute, and Yale.
Both Kauer and Altimus said that bipolar disorder needs more research funding. The National Institute of Mental Health currently evaluates mental health research applications via a framework called Research Domain Criteria (RDoC). The guiding principle of RDoC is that we'll learn more about biology by breaking serious mental illnesses such as schizophrenia into their constituent diagnostic domains, such as psychosis, mania, depression, and cognitive differences.
"There's a lot of validity to this approach," Altimus said, "[but] bipolar doesn't really fit that framework well."
Many government grants, Altimus said, have gone to study psychosis, which is more prominent in schizophrenia, and mood instability, which is more common in depression.
"The hallmark of bipolar, [though]," said Daniel Pham, program director for BD², "is really mania."
Pham said that by BD²'s estimates, grants to research mania amounted to approximately $200 million between 2010 and 2019, compared to some $1.8 billion for psychosis and $4.5 billion for depression.
Altimus commented that scientists who might otherwise study bipolar disorder have understandably followed the funding.
BD² hopes to narrow the funding gap and stem the resulting brain drain.
For Stanford's Kauer, this means a chance to reduce the likelihood that others with bipolar disorder experience situations similar to that of her brother.
Her team plans to dig into the genetic architecture of sleep-wake cycles, which are characteristically disrupted in bipolar disorder. Traveling to a different time zone or simply missing some sleep, she explained, can shift a bipolar person from a normal state into a disordered one.
"That's terrible and fascinating because it suggests that there's something critical going on there that provides stability and that can be pushed out of balance relatively easily," she said.
To investigate this, Kauer and her team will use CRISPR to engineer mice with mutations in sleep cycle-related genes.
"Sleep has been really well studied in rodents," she said, "so we have a lot of understanding of the circuitry underlying sleep, and it seems to translate really well into people."
Although Kauer is beginning with three genes — CLOCK, SHANK, and NCAN — known to affect sleep cycles, she anticipates adding other genes of interest identified by the teams working to diversify and expand bipolar-related genomic databases.
BD² has made the sequencing of people of non-European genetic ancestries a key point of focus in the projects it funds.
"We've completely missed the boat on diversity as a field," Altimus said.
Within the US, people of African descent are less likely to receive a diagnosis or treatment for bipolar disorder, despite an approximately equivalent occurrence of the disorder, compared to other populations. Those who do receive treatment are more frequently given antipsychotic medication, which, while often effective in treating acute mania, carry greater risk of side effects such as depression and involuntary facial tics.
Two teams are addressing the lack of diversity directly. The Broad Institute, UCLA, and NYGC team will sequence over 30,000 samples from people with bipolar disorder from Africa, Central America, South America, and Asia, including from individuals enrolled in the Integrated Network.
Another, led by Thomas Lehner, scientific director of neuropsychiatric disease genomics at the NYGC, plans to evaluate the biological effects of bipolar-related genetic risk variants using stem cells derived from donors of African ancestry in the Genomic Psychiatry Cohort (GPC). Lehner's team will take stem cells from 70 people with the highest calculated risk for bipolar disorder and 70 with the lowest estimated risk and turn these into excitatory and inhibitory neurons, which have been shown to play roles in most psychiatric diseases.
"It doesn't sound like a lot," Lehner said, "but this is the largest of [this kind of] study I believe has ever been done."
Lehner hopes that the genetic differences between the high- and low-risk populations will reveal biological pathways relevant to bipolar disorder.
"While this is not a translational study per se," he said, "the findings potentially could be used in a translational study to help identify clinically relevant polygenic risk scores."
BD² recently opened a second grant cycle, whose awardees will be announced next summer, and plans to open a third cycle at a later date.
"We are building a network of teams to really share with each other," Pham said, "and we are implementing what's called a collaboration grant, [which provides] additional funding for people within the network to form new collaborations with each other as their research matures."