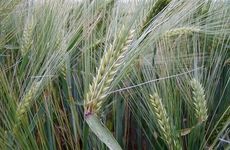 SAN DIEGO (GenomeWeb) – Despite the size and complexity of the barley (Hordeum vulgare sub-species vulgare) genome, the possibility of barley pan-genome studies are increasingly becoming possible, according to research presented at the Plant and Animal Genomes conference on Sunday.
Martin Mascher, head of domestication genomics at the Leibnitz Institute of Plant Genetics and Crop Plant Research (IPK), put forth a strategy for teasing out the core and dispensable parts of the barley pan-genome — from SNPs and sequences to copy number and structural variants — across barley haplotypes.
"Now that a [barley] reference genome is available, computational pipelines for high-quality sequence assembly are in place, and sequence costs continue to drop, investigations into the structural diversity of the barley genome seem within reach," Mascher and his co-authors wrote in the talk's abstract.
The team proposed a pan-genomics approach based on high-quality de novo genome assemblies for a set of representative barley genotypes, combined with short read, medium-coverage sequencing on broader and complementary approaches such as k-mer-based association studies and chromosome-conformation capture sequencing (Hi-C).
Mascher and co-authors from the IPK and the Georg-August-University Gottingen's Center for Integrated Breeding Research proposed a similar approach in a review article published online in Theoretical and Applied Genetics late last year.
"Studies of genome-wide genetic diversity in barley have so far mainly focused on single nucleotide polymorphisms and short insertions and deletions in genic regions," authors of that study explained, concluding that a "multi-tiered strategy encompassing sequence assembly, read alignment, and [structural variant] proxies will enable the construction of a first-generation pan-genome representation of species-wide diversity in barley."
The use of chromosome-conformation capture mapping as a means of teasing out the order and organization of barley sequencing was further detailed in a Nature in 2017.
That study featured a high-quality barley reference genome assembled by the International Barley Genome Sequencing Consortium — one of the several fleshed-out genomes established since the IBGSC reported the draft genome, physical map, RNA sequences, and other resources for barley in Nature in 2012.
That genome was annotated with the help of new and available RNA sequence data from 16 barley tissues, Pacific BioSciences Iso-Seq reads, and previously published complementary DNA data and protein predictions for barley and other plants.
In his PAG presentation, meanwhile, Masher outlined a pipeline developed at IPK to sequence and assemble the genomes of barley and other Triticeae tribe plants with Illumina short reads, error correction, mapping, 10X Chromium super-scaffolding, Hi-C-based pseudomolecule construction, and other data. They have reportedly applied the approach to inbred barley genotypes as well as selected wheat representatives.
The researchers hope to assess 10 to 20 barley genomes in the coming year, Mascher said, noting that those representatives will be selected from the more than 22,000 barley accessions in a German Federal ex situ genebank. Many of those accessions have already been assessed with genotyping-by-sequencing to identify global clusters within the genebank collection.
"The selection of barley genotypes for pan-genome analysis will be based on the genome-wide genotypic data for the entire genebank collection of the German Federal ex situ genebank comprising more than 20,000 accessions representative of global barley diversity," the authors wrote in their PAG abstract.
In November, Murdoch University announced that Australia's Grains Research and Development Corporation had committed $1.2 million to support barley research at that center, including investigators participating in the International Barley Pan Genome Sequencing Consortium.