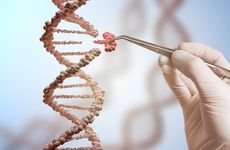 NEW YORK (GenomeWeb) – Kevin Ness has a vision: the CEO of gene editing company Inscripta wants to make CRISPR technology as ubiquitous as DNA sequencing. He believes there's just one problem — too many researchers can't get their hands on the basic tools they need.
"All the CRISPR research that could be done isn't being done because people don't have access to the enzymes, and that's a problem that we're looking to solve — getting complete, unrestricted, open access to these enzymes immediately," he said.
Inscripta made a splash in December when it announced that it was releasing a new CRISPR enzyme it had developed free of charge to the research community. The enzyme, called MAD7, is part of the so-called Madagascar family of novel RNA-guided nucleases that Inscripta is developing. MAD7 was initially characterized in Saccharomyces cerevisiae and Escherichia coli. It is now available for all research with no upfront licensing fees, and Inscripta also said it will not charge any reach-through royalties on products made using this technology. The firm will charge a single-digit royalty for use of MAD7 for non-R&D purposes such as manufacturing, inclusion of the enzyme in therapeutics, or for resale.
Ness said the response from researchers has been "overwhelming," adding that he's even heard from other companies, venture capital firms, and early startups, who've told him they want to utilize genome editing technology in different applications, and that Inscripta's decision to practically give away MAD7 has allowed them to do that.
"There are many fields that have been exclusively licensed, so you can't get access to the enzymes. And if you do have opportunity to get access, a lot of times, you have to pay a high, upfront licensing fee or you have to pay a reach-through payment on the backend where the products you develop have some royalty on them," Ness said.
"And that's unfortunate, because it causes strategics to stand on the sidelines and not get involved in the CRISPR space," he added. "What we're trying to do is liberate the scientific community as a whole — not just academics, but also the commercial sector — and really spur innovations. And so instead of hoarding this technology, we decided to put it out there for full open access."
A business strategy
But it's not just a generosity of spirit that drove Inscripta's decision on MAD7 — it's part of a carefully crafted business strategy, the purpose of which, Ness noted, is to "create more genome editors. We want to help nurture and foster this market by allowing anyone who's got a great idea to get into the genome editing space."
Of course, Inscripta is creating tools, products, and services, just as any other company does. But it's also creating a market and a customer base for those tools and products. And while the firm started with the release of one enzyme, and plans to release more of them within the same family, the end goal is to create an enzyme engineering offering where researchers or other companies can come to Inscripta with specific applications in mind and hire the company to design specific CRISPR enzymes to fulfill those applications. It's a bespoke enzyme program.
"So, it's a full solution of instruments, software, and reagents that kind of automate the genome editing process," Ness said. "If we can spark and create more genome editors now, later we can launch our full tool set and solution, and there'll be a market and more customers."
It's a business plan that seems to have some support. In January 2016, the firm (then known as Muse Bio) raised $6 million in a Series A funding round, and a year later raised $23 million in a Series B funding round led by Venrock. A week ago, the firm again raked in millions, this time raising $55.5 million in a Series C round that was led by Mérieux Développement and Paladin Capital Group, and that also included Venrock.
And the company's officers aren't exactly new at this. Ness himself cofounded QuantaLife (which was later acquired by Bio-Rad) and 10x Genomics. And the chairman of the board is John Stuelpnagel, cofounder and first CEO of Illumina. In fact, it sound like Ness's ultimate vision for Inscripta is to make it the Illumina of CRISPR companies.
"We want to be the best tool provider for the genome writing community to custom write single cells. This is why I've been able to get John Stuelpnagel to come be the chairman of the board for Inscripta," he said. "He saw this vision that we could create best-in-class for genome writing just like he was able to do for genome reading with the sequencer. And I believe writing is worth more than reading. We'll build the best tools for writing, and a sound business model of being a tool provider for a space that's still growing."
What is MAD7?
But even the best business idea needs a solid base to start from. For Inscripta, MAD7 is part of that base. The enzyme is from a different organism of origin than Cas9, and only has a 25 percent similarity to the more ubiquitous CRISPR enzyme in terms of sequence, Ness said, so it's divergent enough that the firm feels confident in filing a patent on it. The function is very similar to a restriction endonuclease. It requires a guide RNA that is homologous to the DNA location where you'd want to induce a double-stranded break and needs a PAM site to lock on to.  
The full breadth of its performance, however, is still being characterized. "We're an emerging company, and we have this really important asset, and we had a choice — are we going to hoard this internally and spend a while fully characterizing it across the literature for three or four years? Are we going to build that capability in-house and then get it out? Or can we work with the research community to get this out in this unrestricted manner and get people working with it immediately, use it, test it, improve it, and feed the features back to us that they want improved?" Ness said. Inscripta chose option two, deciding to not only build a customer base, but to also use the expertise of that customer base to improve its own product and give the customers what they want.
"As the field does further characterization and as they start to work with MAD7, we'll use that information and continue to release [versions of] it over time," Ness said. "It's kind of like a beta program in software where you release an early version to a small group in the community. You're leveraging the community as part of the research arm for these early candidates."
In fact, he noted, Inscripta's expertise is mostly in microbes, and the firm's researchers have characterized MAD7 in E. coli and yeast. Other researchers, meanwhile, are working in other cell lines related to agriculture, plants, and even mammalian systems — tests which Inscripta may not have gotten to for many years. The business strategy has accelerated the research process as well. The firm is also performing characterization studies with outside partners, though Ness said they're not ready to release the data yet.
"We want to continue to evolve performance by engineering in specific features. Right now we have our internal single-cell writing platform that we're creating as customers are driving requirements to the enzyme engineering," he said, adding that there are already several customers who've expressed interest in getting into the firm's bespoke enzyme engineering program.
And as far as other enzymes go, though there will be others in the Madagascar family, Ness didn't commit to a timeline for their release, and wouldn't say whether Inscripta will follow the same business model of releasing them for free or selling them more traditionally. "I will say it's going to be an exciting year," he added.
All about the patents
In order to make all this effort worthwhile, the company has also been hard at work protecting its intellectual property. Ness emphasized his belief that MAD7 is patentable and, more importantly, protectable. But the CRISPR patent space is nothing if not fraught.
"We know the two big players [the Broad Institute and the University of California, Berkeley] have a long track record of litigation, but we have a very experienced team of experts and we take IP very seriously," he said, noting that former Venrock attorney Dianna DeVore has recently joined Inscripta to lead its efforts in securing and defending CRISPR-related patents. "We've been meticulously ensuring that what we do is very correct, and we think we have a very strong position," he said.
Duke University Law Professor Arti Rai believes Inscripta may see some challenges anyway. "[The MAD7 release] is a positive step for purposes of getting the technology of CRISPR-related gene editing developed," she said in an interview. "I do think that the battle between UC and the Broad has not been useful in that regard because it has created a lot of uncertainty."
Where she sees a possible problem is in how similar the function of MAD7 is to Cas9. "There's this doctrine in patent law called equivalence which can raise its ugly head if either the Broad or UC decides to be very aggressive and assert it," she said. "What it means is that even if your enzyme is not covered by the patent, if it does the same thing, has the same function and implements that function in the same way than something that is in someone else's patent, then maybe they get to say that your own patented stuff is infringing their patents."
Though this doctrine is rather "fuzzy" and has not been asserted successfully in recent years, she added, the fact that it still exists could be a concern for Inscripta, depending on how similar the functions of MAD7 and Cas9 really are. "The idea would be that basically they're not literally infringing, but they're essentially trying to do a bit of a workaround, and it's not enough to take it outside the scope of the patent," Rai said.
However, she noted, it would be unlikely that either UC or the Broad would "engage in more legal warfare" before they resolve their own particular battle.
Either way, Rai added, Inscripta may have already edged out any potential competitors. "They've seen the market niche and they're trying very aggressively to fill it. Presumably, they don't want other firms filling that niche. And other firms, even if they could fill that niche, already have competition whereas Inscripta has first mover advantage. Another company would have to find another set of enzymes, and so on," she said. "It's a very clever strategy for Inscripta, it seems to me, to take what's a level of uncertainty in the area and try to take advantage of it by doing something that's also going to advance the field."