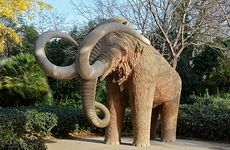 NEW YORK – Bioscience and genetics company Colossal launched on Monday with $15 million in seed funding and the self-appointed mission of advancing the field of species de-extinction, starting with restoring the long-extinct woolly mammoth to the Arctic tundra.
The company — which was cofounded by geneticist George Church and emerging technology and software entrepreneur Ben Lamm — said it is aiming to fight the effects of climate change through the restoration of the ecosystem. Through the use of CRISPR technology, Colossal plans to develop a practical, working model of de-extinction, with the goal of returning extinct species to their original habitats so they can revitalize lost ecosystems for a healthier planet.
With respect to the mammoth, the company said that restoring the prehistoric beast to its long-ago habitat has the potential of revitalizing the Arctic grasslands, which would have properties to combat climate change, including carbon sequestering, methane suppression, and light reflection.
Through a sponsored research agreement, Colossal will support research in Church's lab at Harvard Medical School, with the aim of creating an elephant-mammoth hybrid that is genetically engineered with traits to help it survive in the Arctic. The partners are hoping that the project will also yield technological advances in multiplexed genetic engineering, synthetic biology, and other emerging areas of research.
Further, the company also has an exclusive license agreement coordinated by the Harvard Office of Technology Development to commercialize the technologies developed during the course of the research collaboration with the Church lab.
Colossal's oversubscribed $15 million seed round was led by investor Thomas Tull, and included participation by Breyer Capital, Draper Associates, Animal Capital, At One Ventures, Jazz Ventures, Jeff Wilke, Bold Capital, Global Space Ventures, Climate Capital, Winklevoss Capital, Liquid2 Ventures, Capital Factory, Tony Robbins, and First Light Capital.
Lamm will serve as CEO; internet entrepreneur Andrew Busey will serve as chief product officer; former cofounder and president of Integral Ad Science Kent Wakeford will serve as chief operating officer; former managing partner of Wilson Sonsini Goodrich Rosati, Brian Beard, will serve as chief legal officer; former executive VP and general manager of Interactive and Distribution at Marvel Entertainment Peter Phillips will serve as chief business officer; and Eriona Hysolli, a former postdoctoral fellow in the Church lab from 2015 to 2021, will serve as head of biological sciences. Hysolli focused on developing and optimizing novel genetic tools for multiplex mammalian genome engineering when she worked in Church's lab, including mammoth de-extinction and building a virus-resistant human cell line.
"Never before has humanity been able to harness the power of this technology to rebuild ecosystems, heal our Earth, and preserve its future through the repopulation of extinct animals," Lamm said in a statement. "In addition to bringing back ancient extinct species like the woolly mammoth, we will be able to leverage our technologies to help preserve critically endangered species that are on the verge of extinction and restore animals where humankind had a hand in their demise."