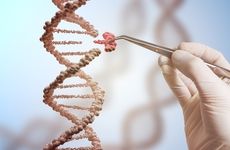 NEW YORK (GenomeWeb) – Researchers in Canada used CRISPR genome editing to induce mutations in the human TRIM5 gene with the goal of conferring innate antiviral function to human cells.
Their study, published in PLOS One on Friday, identified the main challenges that cropped up when they tried to use this method to confer protection from HIV-1, and represented the first attempt at using genome editing to mutate a restriction factor with the specific aim of giving human cells an innate antiviral function.
"The type I interferon (IFN-I)-inducible human restriction factor TRIM5α inhibits the infection of human cells by specific nonhuman retroviruses, such as N-MLV and EIAV, but does not generally target HIV-1," the Université du Québec à Trois-Rivières team wrote. "However, the introduction of two amino acid substitutions, R332G and R355G, in the human TRIM5α (huTRIM5α) domain responsible for retroviral capsid recognition leads to efficient HIV-1 restriction upon stable over-expression. CRISPR-Cas-based approaches to precisely edit DNA could be employed to modify TRIM5 in human cells."
The researchers began by using a DNA transfection-based CRISPR-Cas9 genome editing protocol to successfully mutate TRIM5 to its potentially HIV-1-restrictive version by homology-directed repair (HDR) in HEK293T cells. To evaluate the potential of HEK293T cells as a cellular model for R332G-R335G huTRIM5α-mediated HIV-1 restriction, they retrovirally transduced the gene in this cell line, and also used the monocytic cell line THP-1 as a control.
They found that the over-expression of R332G-R335G huTRIM5α reduced permissiveness to HIV-1 by  about 100-fold in the THP-1 cells. However, the magnitude of restriction was much smaller (about threefold) in HEK293T cells. "These results suggest that HEK293T cells provide a suboptimal environment for HIV-1 restriction by over-expressed TRIM5α," the authors wrote. "We conclude that the potential for TRIM5α-mediated restriction is abnormally low in HEK293T cells, irrespective of whether TRIM5α is expressed endogenously or exogenously and irrespective of the targeted virus."
Despite the less than optimal nature of the restriction by TRIM5α in HEK293T cells, the researchers said they decided nonetheless to attempt genome editing in this cell line, "reasoning that this would provide valuable information on the efficiency and accuracy of the editing procedure itself."
In doing so, they found that challenges remain, both for the modification of both alleles of the gene in diploid cells, and for the elimination of indels and other off-target effects. "In all but one of the clones in which the two therapeutic mutations were present, they were found on only one allele. In almost all cases, the non-HDR-corrected allele(s) contained indels, a clear sign of NHEJ-mediated repair," the authors wrote.
They noted that such indels would result in SPRY-truncated TRIM5α proteins, which interact with the full-length TRIM5α and could interfere with its targeting of incoming retroviruses. The researchers also observed unwanted on-target indels in three out of nine alleles bearing the two therapeutic mutations in the study. "We did not observe HIV-1 restriction activity in any of the nine cell clones, which likely resulted from a combination of causes including the suboptimal cellular environment and allelic heterogeneity," they added.
The team did note, however, that certain challenges could be addressed by recent technological advances, such as the development of a marker-free system to enrich cells in which HDR occurred. Such a system could enhance editing efficiency as well as bi-allelic editing. Further, the use of Cpf1 instead of Cas9 as the enzyme to generate double-strand DNA breaks might also increase the frequency of bi-allelic modifications.