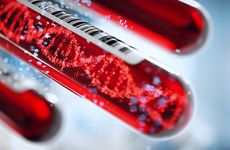 NEW YORK – An analysis of 37 early-phase immunotherapy studies has provided more evidence that circulating tumor DNA (ctDNA) could serve as an alternative endpoint to radiographic response in cancer clinical trials.
In a JCO Precision Oncology paper published last month, researchers reported that a decrease in patients' ctDNA levels from baseline within four weeks of treatment was associated with radiological response, clinical benefit, and longer survival in these early-phase studies.
"That [finding] is similar to other studies that have been published, but this is a pan-tumor cohort, and it is the first time, as far as we know, that this has been done with different Phase I studies with immunotherapy," said Enrique Sanz-Garcia, first author of the study and a researcher at Princess Margaret Cancer Center in Ontario, Canada. "We were able to extrapolate the data to all tumor types and with different kinds of immunotherapy compounds."
He and his colleagues analyzed data from patients with advanced solid tumors who were enrolled in Phase I/II clinical trials at Princess Margaret Cancer Center. Patients were treated with investigational immunotherapies, including immune checkpoint inhibitors, bispecific antibodies, vaccines, or cytokines, either as a monotherapy or in combination with other immunomodulatory agents or targeted therapies.
The analysis included blood samples from 81 patients with 27 different tumor types taken at baseline and before the second treatment cycle; these patients had been previously enrolled in about three dozen clinical trials. Most patients (71.6 percent) received a PD-1 or PD-L1 inhibitor, and the median follow-up across the study was 10.3 months.
Of the 81 patients, 64 had ctDNA detected at baseline, before the start of their second treatment cycle, or at both time points. Patients who experienced a decrease in ctDNA four weeks after treatment had a longer median overall survival, 10.8 months, compared with those whose ctDNA levels increased (9.1 months).
Those who had a ctDNA decrease of greater than 50 percent from baseline at four weeks had even better outcomes. In this group, the median overall survival was not reached at a follow-up of 10.3 months. These patients also had better median progression-free survival, 3.5 months, versus 1.8 months for those whose ctDNA increased.
All patients who achieved a radiological response saw their ctDNA decrease. However, 32.2 percent of patients who had stable or progressive disease also saw a decrease in ctDNA. Of the patients whose ctDNA decreased by more than 50 percent, only six patients (10 percent) did not respond to immunotherapy.
Based on this data, the authors concluded that patients whose ctDNA levels decrease by more than 50 percent on treatment compared to baseline should be considered as having a molecular response in early-phase immunotherapy trials.
"We wanted to see whether [ctDNA measurements] at an early time point of three or four weeks, which is what we call the dose-limiting toxicity period in a Phase I trial, would be good enough to discriminate which patients will have response versus those who are not going to have response," Sanz-Garcia said.
The latest findings build upon previous research at Princess Margaret Cancer Center where investigators used bespoke panels developed by Geneseeq Technology to measure ctDNA in patients treated with Merck's Keytruda (pembrolizumab). Sanz-Garcia and colleagues used a fixed 425-gene panel from Geneseeq in their research and aimed to prove that the fixed-gene panel could adequately measure ctDNA in patients with different tumor types and treated with various immunotherapies. They used this panel, which looks for mutations in cancer-related genes, because it did not require tumor tissue sequencing to identify specific genetic mutations prior to ctDNA analysis, and they found they were able to gauge ctDNA for most patients.
"We were able to detect ctDNA using this fixed panel assay in around 85 percent of the patients, so that's very good," Sanz-Garcia said, noting that ctDNA was difficult to measure in samples from two tumor types, sarcoma and mesothelioma.
The paper "provides more insight into … data that show ctDNA could be a surrogate biomarker of survival and progression-free survival," Sanz-Garcia said, adding that several ongoing prospective studies are aiming to validate retrospective findings like these, including studies in melanoma and lung cancer.
He noted that researchers are also exploring whether ctDNA testing can be used to escalate treatment for those who don't have a ctDNA decrease or de-escalate therapy for patients who do see a decrease.
"Knowing whether patients' ctDNA [levels] are dropping or increasing is good [for assessing] what their outcomes might be, but the most important thing would be if we could act before [cancer] progression based on ctDNA," Sanz-Garcia said.
The US Food and Drug Administration is also mulling whether ctDNA could serve as an early endpoint in cancer therapy trials and published a draft guidance on the topic last year. While the agency recognized in the draft guidance that ctDNA "may have the potential to be used as an early endpoint to support drug approval in the early-stage cancer setting," it also said that further evidence is needed to prove ctDNA is able to predict long-term outcomes.
Many stakeholders are working on gathering that evidence and conducting research to validate ctDNA as a biomarker of response, including cancer research advocacy groups, diagnostics firms, and pharma companies. A study from Foundation Medicine, Genentech, and other groups published last month, for example, described a machine learning model that combines ctDNA assessments to predict treatment response and survival in advanced lung cancer patients. Guardant Health is also evaluating the ability of its Reveal ctDNA liquid biopsy test to predict cancer recurrence.
Many clinical trials already include ctDNA as a secondary endpoint. In one report on whether HER2-targeted drugs can benefit metastatic colorectal cancer patients, ctDNA decreases were associated with both progression-free and overall survival.
Sanz-Garcia and his team are continuing to explore ctDNA within several ongoing studies. In one study, they are looking at whether even earlier ctDNA measurements can predict treatment outcomes. Early results from 15 patients suggest that a decrease in ctDNA levels eight days after immunotherapy treatment could predict response. His team is also looking at patients who have reached minimal residual disease after treatment, evaluating whether ctDNA could help predict relapse.
"We are still not at the point of being able to use ctDNA monitoring in clinical practice, but we are soon coming to that," Sanz-Garcia said. "With the data we have so far, we can be quite confident that ctDNA can be a surrogate biomarker of response in metastatic patients treated with immunotherapy, targeted therapy, or chemotherapy."