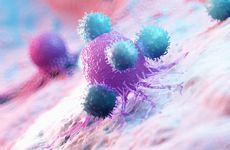 Immunotherapies such as checkpoint inhibitors and CAR T-cell therapies, which seek to boost the immune system's ability to attack cancer cells, have demonstrated impressive outcomes in some cancers, but they do not work in all patients because the tumor microenvironment often excludes T cells and can harbor other factors that drive immune evasion.
It is estimated that at present, fewer than 13 percent of cancer patients benefit from checkpoint inhibitors. This is not an indictment of immunotherapies — their use as treatment in the fight against cancer is very important. Rather, it's a recognition that the research community must aggressively pursue novel approaches that maximize the effectiveness of existing therapies and fully leverage immune cell biology to help more patients.
To accomplish this, the biotech community has developed several novel therapeutic platforms; however, platform-centric approaches can be limiting, as technologies that show efficacy against one tumor type, molecular target, or pathway may be less effective against another, given the heterogeneous nature of cancer. Efforts to shoehorn a single platform into multiple, diverse targets or mechanisms may not produce the best results.
Platform- or modality-agnostic approaches may offer more promise. Rather than deploying a single strategy, researchers can allow the biology to dictate therapeutic design.
One company that has diversified its therapeutic strategies is Cullinan Oncology. Its pipeline is focused on two major cancer biology pillars: oncogenic drivers and immune-directed approaches.
In terms of immune-directed approaches, the company is developing an array of agents with diverse modalities, including T cell-engaging bispecific antibodies (CLN-049 and CLN-978); monoclonal antibodies that leverage a unique mode of action to engage natural killer (NK) cells (CLN-619); cytokine fusion proteins (CLN-617); and others. The goal is to target unique tumor-immune system axes to create new standards of treatment for cancer care.
Deploying a Diverse Pipeline
Checkpoint inhibitors and CAR T-cell therapies largely focus on cells of the adaptive immune system, specifically T cells. While checkpoint inhibitors have shown impressive outcomes, they have only been effective in some patients. Likewise, CAR T-cell therapies have been effective, but they are challenging to produce and deploy, and they can generate significant toxicities.
One way to harness adaptive immunity is through T cell-engaging antibodies, which redirect T cells to target specific tumor antigens. CLN-049 is a bispecific antibody that binds to FLT3 – which is expressed in more than 80 percent of AML patients — and the CD3 receptor on T cells. It is designed to activate T cells only when directly engaged with FLT3-expressing AML cells, which creates the potential to mitigate side effects.
CLN-049 is also being explored in high-risk myelodysplastic syndrome (MDS), an AML precursor disease. AML and MDS patients desperately need better treatments. Currently, the most effective options include intensive chemotherapy and stem cell transplants, which can be too toxic for many AML patients, who tend to be elderly.
Another T-cell engager, CLN-978, targets CD19, which is expressed in non-Hodgkin lymphoma (NHL) and acute lymphocytic leukemia (ALL), and CD3, which is expressed on T cells. Both indications have significant unmet medical needs, and this therapeutic approach has the potential to close that gap.
In preclinical studies, CLN-978 demonstrated extended serum half-life, which could translate into less frequent infusions and prolonged activity. Research also showed CLN-978 potently eliminates target cells that express very low CD19 levels.
T cells are just one component in a rich immune cell system, offering opportunities for new drug discovery. CLN-619 is a monoclonal antibody that targets MICA and MICB to engage both innate and adaptive immune cells. MICA and MICB are typically expressed on the surface of damaged, cancerous or stressed cells, tagging them for detection by NKG2D – an activating receptor expressed on NK cells and on certain T cells — triggering destruction. MICA and MICB are rarely expressed on the surface of normal cells.
Tumor cells can evade immune surveillance by shedding MICA/MICB from their cell surface. In pre-clinical research, CLN-619 prevented shedding and thereby restored MICA/MICB expression on tumor cells, enhancing NKG2D-mediated target cell killing, and also mediated tumor cell killing via additional modes of action, including antibody-dependent cellular cytotoxicity (ADCC) and antibody-dependent cellular phagocytosis (ADCP). In other words, CLN-619 made tumor cells become visible again to the immune system's NK and T cells and marked them for destruction.
Cytokines have the potential to "heat up" so-called "cold" tumors, which lack T-cell infiltration, but this approach has been limited by significant toxicity when cytokines are administered systemically. Cullinan Oncology's CLN-617 is a fusion protein and potentially the first therapy to combine two potent cytokines, namely IL-2 and IL-12, into a single agent. IL-2 supports T cell proliferation; IL-12 expands CD8 T cells and helps them find their targets. While this drug prioritizes an adaptive immune strategy, it can also stimulate NK cells.
CLN-617 is designed for intra-tumoral injection and tumor retention via binding to collagen, a universal component of tumors. This potentially mitigates the toxicity observed with the historical systemic administration of cytokines. Pre-clinical studies have shown anti-tumor effects in both injected and distant, uninjected tumors, indicating that CLN-617 can induce a systemic immune response.
Each of these therapeutics, as well as Cullinan Oncology agents that target oncogenic drivers, are being developed to precisely target specific aspects of tumor biology or the tumor microenvironment. This specificity is essential. Tumors are unnervingly resilient, and glancing blows from poorly targeted agents may not stop them. The key is to identify molecular weaknesses and develop therapies that hit those vulnerabilities hard.
Developing a More Diverse Toolbox
Taking a modality-agnostic approach offers incredible freedom to develop the most effective cancer therapies. It recognizes that each tumor has unique targets and biology and that the most effective therapeutic solutions can come from a range of different modalities and mechanisms of action.
Companies must make a long-term commitment to identify the most impactful cancer targets. In many ways, this is a team sport. Cullinan Oncology excels at identifying mechanisms for immune targeting and has engaged academic and industry partners to assist in developing the most effective therapies to directly pinpoint the relevant tumor-immune axis.
Cancer patients are the ultimate beneficiaries. By embracing novel therapeutic approaches, oncology companies can give clinicians a more diverse therapeutic toolbox to improve care.
Cullinan Oncology is committed to developing more and better therapeutic options to improve the cancer treatment landscape for clinicians and patients. For more information, visit www.cullinanoncology.com.