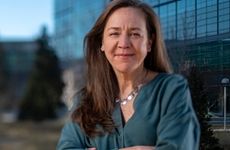 Epigenetic analysis of patient blood samples may help diagnose SARS-CoV-2 infection and predict the severity of disease, according to a preprint of new research. Infection leaves a specific DNA methylation signature in hosts, wrote the scientists behind the finding, which can be used to provide insights for COVID-19 diagnosis and prognosis.
Traditional COVID-19 testing performed using PCR-based techniques provides diagnostic information but not prognostic information. However, epigenetic tests have the potential to diagnose patients, triage them, and help clinicians manage patient care, said Kathleen Barnes, director of the Colorado Center for Personalized Medicine (CCPM) and senior author on the preprinted paper.
"The relationship between methylation patterns in the presence or absence of a disease is potentially as informa­tive as other diagnostics platforms, and we imagined that this could be scaled to address the pandemic," said Barnes. She and her team found that, in conjunction with machine learning techniques, DNA methylation profiling can identify a SARS-CoV-2-specific epigenetic signature.
"We've been able to demonstrate high sensitivity and specificity in predicting an infection, and also in-hospital clinical deterioration," said Barnes. "Our findings suggest that measuring methylation signatures during and after SARS-CoV-2 infection can provide clinicians with the ability to detect viral infection, as well as predict that patient's clinical course."
Barnes said she developed and leads the CCPM to "disentangle the genetic underpin­nings that contribute to health disparities." One of the center's goals is to link extensive electronic medical records with multiomics information to accelerate discoveries that will improve human health and change the way medicine is practiced. To this end, CCPM established a CLIA- and CAP-cer­tified biobank in collaboration with UCHealth at the University of Colorado.
Prior to the pandemic, the CCPM team had partnered with Illumina to explore options for introducing clinical methylation-based testing for tumor classification and diagnostics into the CCPM Biobank. When the COVID-19 pandemic began, this biobank allowed Barnes and her col­leagues to continue their research efforts while looking for ways to battle the SARS-CoV-2 virus. On the day shutdowns began in earnest, Barnes read an article about the epigenetics of COVID-19 and immediately shifted her research to focus on methylation and infectious disease.
"There was a mad scramble to access biospecimens from COVID patients," said Barnes, noting that one of the biggest challenges to this study was obtaining samples. With a biobank-fueled collaboration, the team theorized that it could use blood samples for its purposes. Acquiring blood turned out to be easier than capturing leftover nasal pharyngeal samples. The team also had a reliable health data warehouse through which it could track whether sample donors were tested for COVID-19 and, if so, whether they were positive or negative for the virus.
As experienced Illumina microarray users, Barnes' team began its COVID-19 studies by customizing the Infinium MethylationEPIC BeadChip Kit, which allows researchers to investigate methylation at over 850,000 sites across the genome at single-nucleotide resolution.
To customize the kit, Barnes and her team added about 7,800 additional CpG sites representing genes they thought were relevant not just for COVID-19 infection, but for infectious disease in general. They called the resulting BeadChip "EPIC+."
"Even though there's been a lot of work to study infectious disease, we felt like the methylome hadn't been fully exploited," Barnes said, "… and meth­ylation quantification using the EPIC+ BeadChip is actually pretty affordable at scale." This customized BeadChip enabled the classification of differential host DNA methylation patterns of SAR-CoV-2, which Barnes said she hopes can inform diagnosis and prognosis in clinical settings.
The next step for the CCPM is to use the EPIC+ chip throughout the entire biobank population, looking for additional prognostic and diagnostic signatures across infectious disease, said Barnes. "We think this is something feasible and novel, and we have existing GWAS data on the population already," she said. "We'd been having discussions about how we could implement MethylationEPIC into our clinical biobank in the space of oncology, but now we're thinking much bigger."
Learn more
Details of the Infinium MethylationEPIC BeadChip are available here.
An interview with Kathleen Barnes with further details of this work is available here.