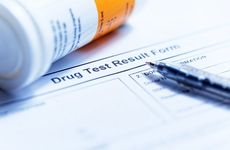 NEW YORK (360Dx) – New drug testing guidelines issued by the American Association of Clinical Chemistry seek to take an evidence-based approach to determining which drug tests should be included in drug testing panels.
Drug testing panels vary widely in size, the authors of the guidelines said, and the types of drug tests included in panels are not always appropriate for all patients.
"If you do a search and look at different laboratories, you will see people are placed into panels of 10 drugs or 100 drugs. If you look at reimbursement, the cost of these tests can be in the hundreds or in the thousands of dollars," said Paul Jannetto, codirector of the clinical and forensic toxicology lab and of the clinical mass spectrometry lab at Mayo Clinic and one of the authors of the guidelines. "As a cost to our health system there is all this excess testing going on. Why? Because the guidelines say you should do it, but they don't say what tests you should do."
The AACC guidelines create three tiers of drug testing. The first is for routine monitoring and the second is for monitoring higher risk patients, such as patients with a known history of abuse for certain medications, or patients who use a large number of medications or who might be using multiple providers. This category can also apply if abuse of a certain drug is endemic to a local region, according to the guidelines.
A third category of testing includes tests for drugs that are clinically indicated either because of a history of use or a very high probability of misuse in a specific patient. In total, 19 drug classes are assigned to the three different drug testing categories.
Jannetto and Loralie Langman, another author of the study who is also codirector of the clinical and forensic toxicology lab and the clinical mass spectrometry lab at Mayo, said that previous guidelines from other professional organizations and from the US Centers for Disease Control and Prevention have recommended urine drug testing but have not attempted to define which drug tests should be included.
"You hear all the media hype around everything from bath salts to synthetic cannabinoids to fentanyl analogs, so we are trying to get to when and where those fit in. Do you order tests for synthetic cannabinoids on every single patient including the 90-year-old grandma who is probably not using it and add cost with no value?" Jannetto said.
Langman noted that the drugs were assigned to the different categories based on a combination of scientific literature, including a review of more than 7,000 articles, as well as prevalence data, and a consensus of opinions from committee members involved in the project. The committee was made up of a combination of laboratorians and pain management physicians, she said.
In addition to recommendations related to which tests to include in drug panels, the AACC guidelines also advocate the use of mass spectrometry and chromatography as preferable methods for frontline testing over immunoassays, the current frontline screening method, because immunoassay testing has a higher rate of incorrect response and sometimes only reveals the drug class present in a patient's urine rather than the specific drug.
"Qualitative definitive tests should be used when possible over immunoassays for monitoring use (compliance) to relevant over-the-counter medications, prescribed and non-prescribed drugs, and illicit substances in pain management patients due to their superior sensitivity and specificity," the guidelines state.
While many labs have begun to move to this "targeted screening" approach, Langman and Jannetto said, they acknowledged that many hospitals and clinics currently screen for drugs initially with immunoassays because of the quick turnaround, lower cost, and wide availability of immunoassay urine drug testing.
"If you go to the average hospital or pain clinic, you are likely going to start off with immunoassays first. Why? Because they are available; they are FDA-approved assays; they are on automated chemistry analyzers. Yoou have the first screen, and if they can't do the definitive or confirmatory mass spectrometry test in house, they will send that piece out," Jannetto said. "The guidelines are now saying there are so many limitations with those immunoassays, and unless a physician or laboratory fully understands that, it could lead to inappropriate or incorrect interpretations and additional questions."
Some of the areas addressed by the guidelines include specimen validity testing and genetic testing. Specimen validity testing, or testing urine samples to ensure that they haven't been substituted or adulterated or diluted, is significant, because the Centers for Medicare & Medicaid Services stopped reimbursing for specimen validity testing, deeming it a laboratory quality control process rather than a clinical test, according to Langman.
"We are disagreeing with that. It is not a quality control process in the laboratory, it's actually clinically valid and clinically useful testing," she said.
The guidelines also offer recommendations related to genetic drug testing, which is costly, but can be useful in particular situations, Langman said.
"Genetic testing is very expensive, so doing routine genetic testing on everybody does not provide a lot of useful information. As the recommendation implies, it is useful in specific cases such as a treatment failure, adverse drug toxicity, or other unusual presentations," she said.
Pharmacogenetic testing, for example, can determine whether genetic factors may be the reason a drug does not have an effect on a specific patient.
The more than 100-page document includes 26 evidence-based recommendations and seven consensus-based expert opinions in cases where the evidence was limited. While AACC represents the laboratory community, Langman and Jannetto noted that the AACC guidelines were also officially endorsed by the American Academy of Pain Medicine, representing practitioners.
"This guideline was made for clinical laboratories, [and] practicing physicians, as well as policymakers on the insurance side and on the government side, to help provide guidance on what we should be doing in drug testing for appropriate use," Jannetto said.