Foundation Medicine and Flatiron Health are introducing a novel capability for supporting companion diagnostic (CDx) regulatory filings with real-world data from the Flatiron Health-Foundation Medicine Clinico-Genomic Database (CGDB). CGDB integrates de-identified clinical data from electronic health records with comprehensive genomic profiling data.
Foundation Medicine believes that traditional CDx filings based on clinical trial data may be complemented by incorporating fit-for-purpose real-world data from the CGDB. This approach aims to offer a strong, real-world-informed clinical validation package for precision oncology companion diagnostics. As an indicator of the potential utility of this approach, the company points to the success of the CDx filing for the drug entrectinib, which was FDA approved in 2022. As a condition of this approval, Foundation Medicine will conduct a post-approval study powered by the CGDB to further demonstrate FoundationOne CDx's ability to identify NSCLC patients with ROS1 fusions who may respond to entrectinib. This milestone highlights the potential for use of fit-for-purpose real-world data from CGDB in CDx filings.
Towards Fit-For-Purpose Real-World Evidence for CDx Filings
The new capability, called CGDB powered CDx, has been built to address the company's Fit-for-Purpose Real-World Evidence for CDx Filings Checklist (see figures 1 and 2). The CGDB powered CDx capability includes access to traceable clinical data, linked genomics data traceable back to their controlled systems of record at Foundation Medicine, validated real-world endpoints including real-world response rate (rwRR), and radiology scans where available. With 60 percent of all approved US companion diagnostic (CDx) indications for NGS testing, the capability also includes Foundation Medicine's regulatory experience in navigating CDx submissions. As the only genomics laboratory with a robust, pan-tumor clinico-genomic dataset developed in partnership with Flatiron Health, Foundation Medicine believes CGDB powered CDx to be a unique capability in the companion diagnostics industry.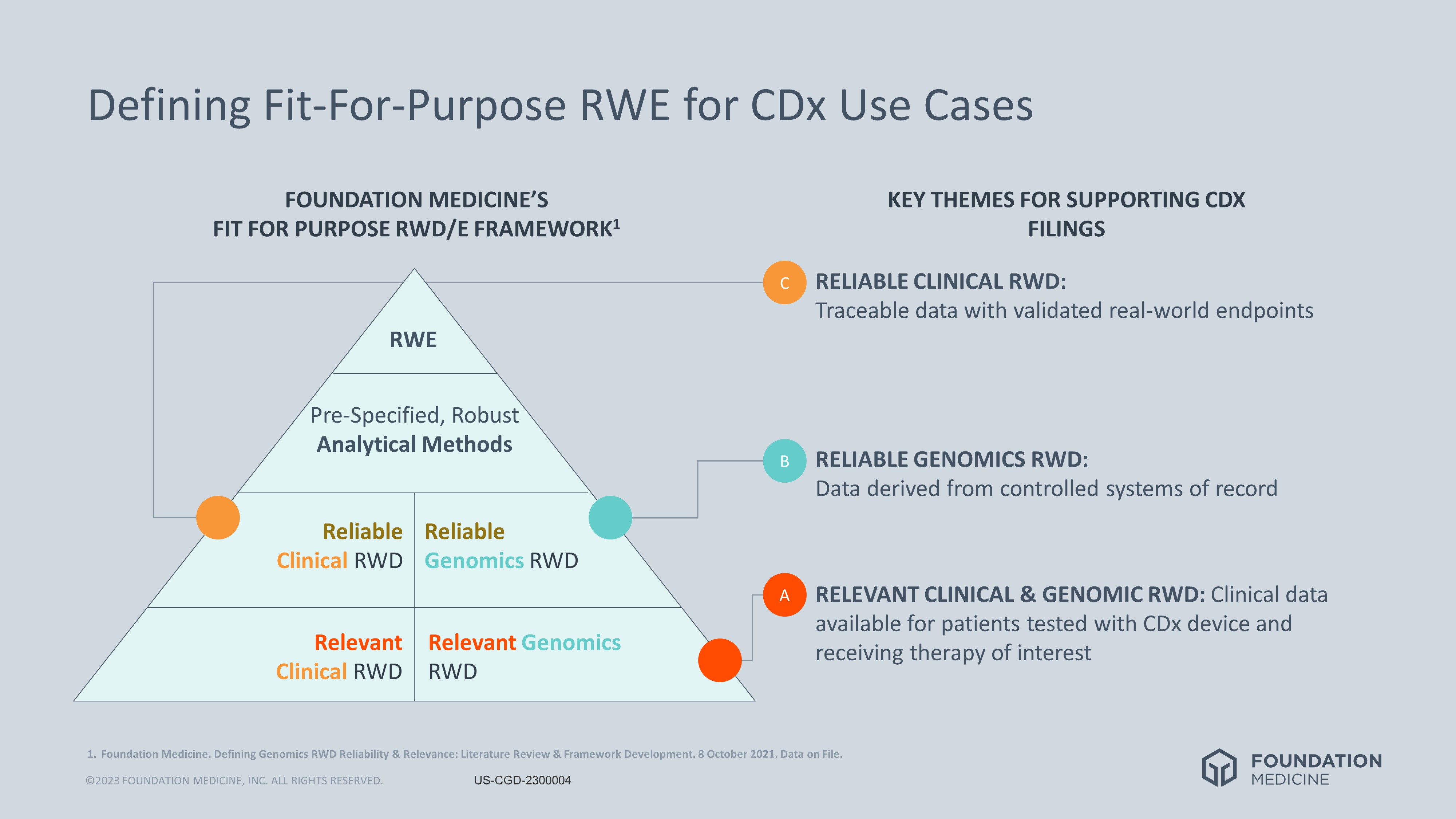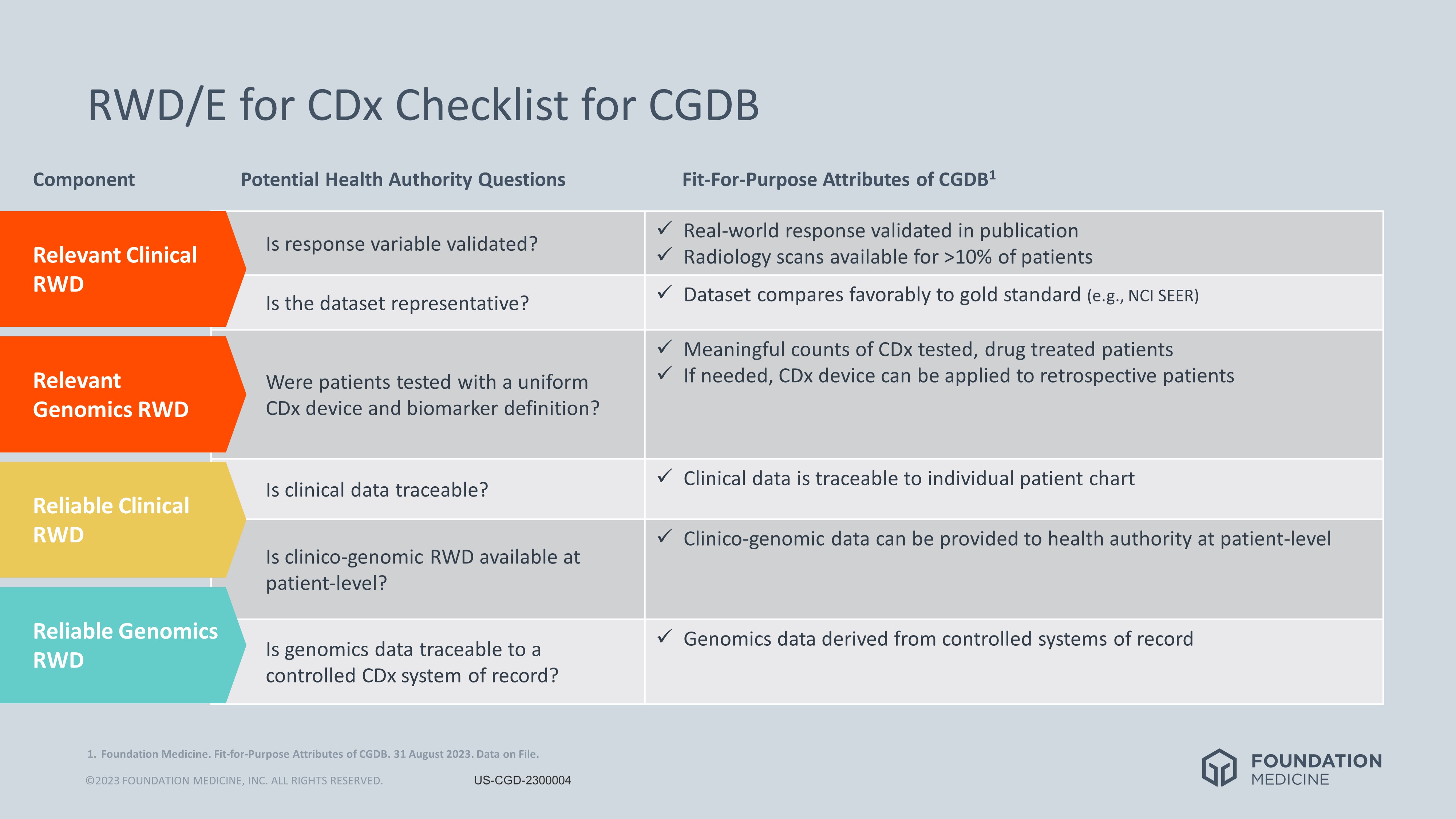 Contextualizing the Move
After the 21st Century Cures Act was passed in 2016, the FDA's Oncology Center of Excellence has observed a significant increase in the number of drug filings leveraging real-world data, including support for effectiveness (see figure 3). This momentum has led Foundation Medicine to consider how real-world data might support their device filings. Foundation Medicine has highlighted several potential use cases, ranging from contextualizing patient populations as well as providing evidence of efficacy and effectiveness in the supplemental pre-market approval (sPMA) submission setting, the post-marketing setting, or potential label-expansion settings (see figure 4).
Foundation Medicine also sees potential in adding new molecular alterations to already approved companion diagnostics that fit within the FDA-approved drug label, using RWE as evidence. For example, including additional molecular alterations to a given CDx' biomarker definition may be appropriate as real-world evidence on additional alterations becomes available. For example, in a manuscript published in Clinical Cancer Research, Foundation Medicine and University of California San Francisco (UCSF) researchers leveraged CGDB to demonstrate the real-world effectiveness of alpelisib in a broader array of PIK3CA mutations than indicated in the product's initial CDx label and associated biomarker definition. A CGDB-powered CDx approach could help optimize CDx labels over time to promote the most up-to-date treatment recommendations.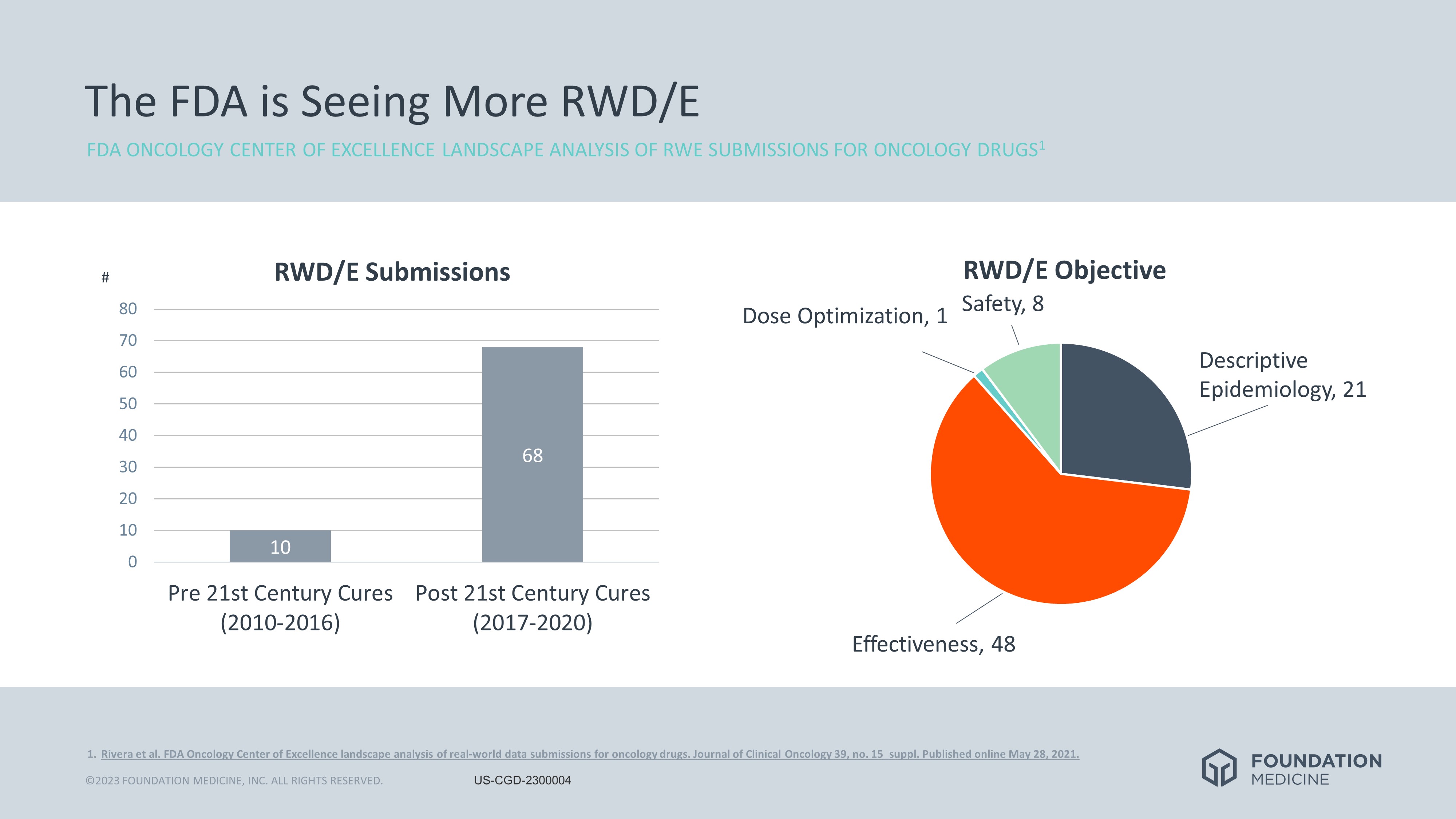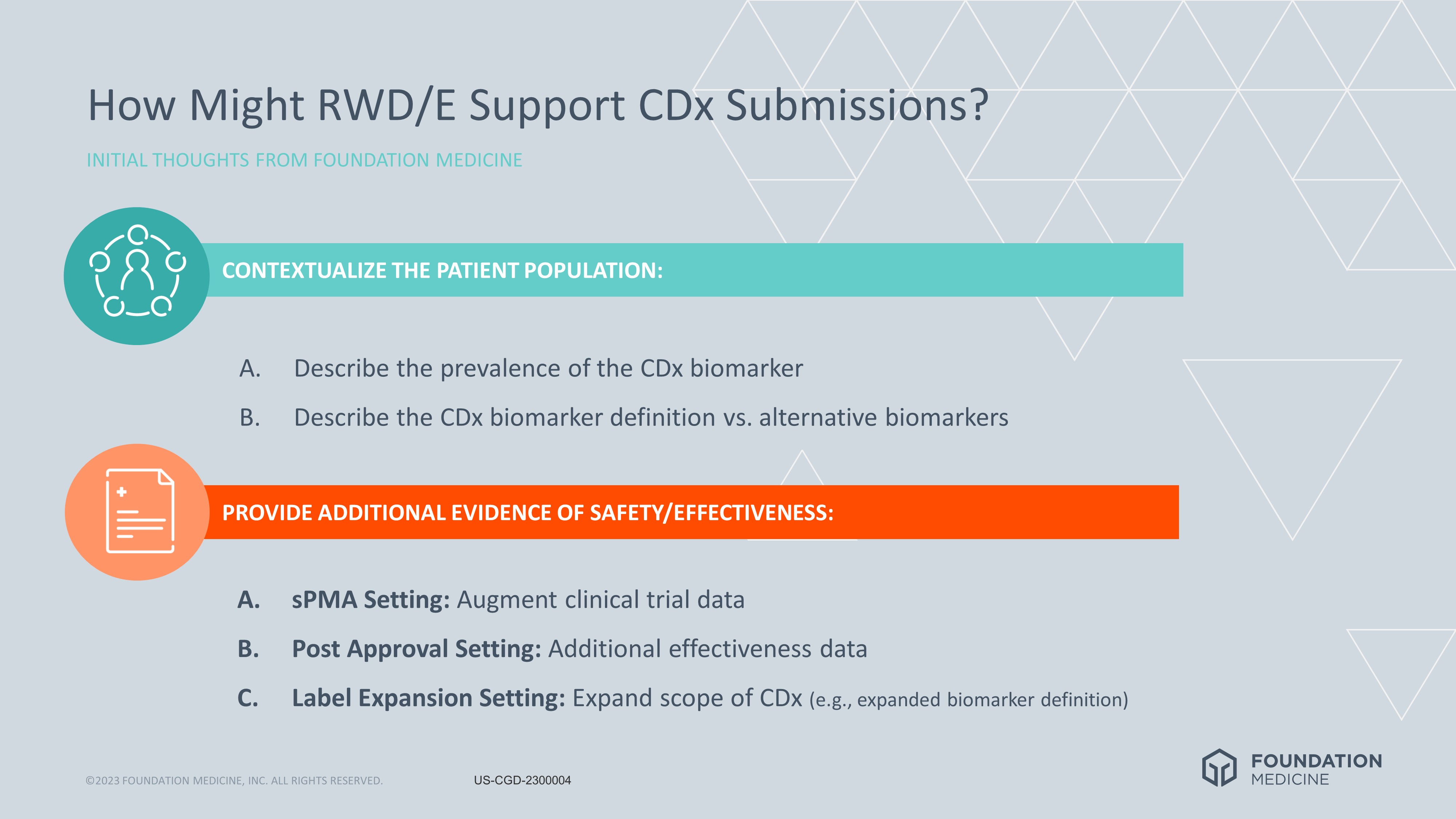 Background on CGDB
In 2016, Flatiron Health and Foundation Medicine began collaborating on the Clinico-Genomic Database (CGDB) which combines genomic data with clinical data, resulting in a more complete picture of patients living with cancer. Foundation Medicine contributes data from its comprehensive genomic profiling tests, which provides information on more than 300 cancer-relevant genes and complex signatures to support treatment decisions. The clinical data comes from Flatiron's EHR database — de-identified datasets that include patients' demographic information, treatments, and clinical outcomes — all curated with three-month recency. The de-identified CGDB dataset has been used to support over 100 publications and/or abstracts, including several oral abstract sessions at the American Society of Clinical Oncology annual meeting, including this year's "Tumor mutational burden (TMB) measurement from an FDA-approved assay and real-world overall survival (rwOS) on single-agent immune checkpoint inhibitors (ICI) in over 8,000 patients across 24 cancer types," presented by David Gandara.