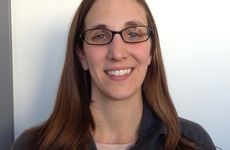 Postdoctoral researcher, Massachusetts General Hospital and the Broad Institute
Recommended by Chris O'Donnell, National Heart, Lung, and Blood Institute
NEW YORK (GenomeWeb) – Though she was a biology major as an undergraduate, Gina Peloso just kept on taking math classes, which she then combined for a biostatistics PhD. Biostatistics, she said, brought together both the math she was good at and the biological questions she was interested in answering.
As a grad student, she became involved with the Framingham Heart Study, the long-running project examining heart and other diseases. Peloso, in particular, has been studying lipids and tying certain gene variants to blood lipid levels and cardiovascular disease.
"Lipids are a great trait to study. They are easily measured in the plasma and the blood," she told GenomeWeb. "You can get a lot of data on them, and for what I do, you need a lot of data to make accurate insights."
At first, she was doing genome-wide association studies and candidate gene studies, but now as a postdoc, she's turned to exome sequencing studies. There's a bit to learn, she said, in making that shift. "There [are] different things you need to take into account, different nuances of the data, different ways of looking at the data that you just don't do with genome-wide association studies," Peloso said.
It's easier, she added, to determine how a gene modification found in an exome study could affect the encoded protein, as compared to the list of hits provided by GWAS. "With exomes, there's a clear readout of what would happen, especially if you are looking at certain types of variants that disrupt protein function and in which case, we can make good [guesses] about: What if we knocked down that protein in a human, what will be the consequences?" she said. "And that has a lot of therapeutic implications. It's been really exciting."
Paper of note
In the New England Journal of Medicine this past summer, Peloso and her colleagues reported how they sequenced the exomes of 3,734 people of European or African descent to look for rare gene variants that affect plasma triglyceride levels. They homed in on variants in the APOC3 gene, which had previously been linked to triglyceride levels. 
People with the nonsense, splice-site mutations, or missense mutations that Peloso and her colleagues identified had lower triglyceride levels. This, Peloso said, suggested that the gene could be a therapeutic target.
In a cohort of more 110,000 people, she and her colleagues then searched for a link between these APOC3 variants, triglyceride levels, and risk of cardiovascular disease. From that, they found that carriers had triglyceride levels nearly 40 percent lower than non-carriers and circulating APOC3 protein levels 46 percent lower than non-carriers. Carriers also had a 40 percent lower risk of coronary heart disease than non-carriers had.
"I think that was really cool because it actually has really good therapeutic implications for drug companies targeting this gene and drugs targeting this gene that they could potentially work for the ultimate outcome," Peloso said.
Looking ahead
As more and more studies rely on exome sequencing, Peloso predicted that datasets would get larger and larger. With this increase in sample size, she said that new methods are going to be needed to sift through the data to make biological insights. And as more whole-genome data is also folded in, researchers will also have to learn how to interpret data gathered from the non-coding section of the genome.
And the Nobel goes to…
Cardiovascular disease is the number one cause of death in the United States, and if Peloso were to win the Nobel Prize, she'd like it to be for changing how people are treated for disease.
Right now, she noted that nearly everyone takes statins, which largely work and reduce disease risk. But not everyone can take them and others still have a high disease risk despite taking them. She'd like to find the genetic underpinnings for how to best treat cardiovascular disease.
"Maybe we could make it to number two or number three [cause of death], that would be awesome," she said.
---
This is the third in a series of Young Investigator Profiles for 2015 that will appear on GenomeWeb over the next few months.