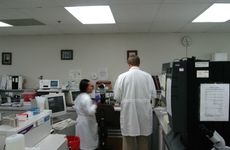 NEW YORK (360Dx) – A new registry service launched by the American Society for Clinical Pathology aims to collect broad data on lab processes to feed analytics aimed at helping labs benchmark their performance against their peers and eventually better quantify lab impact on patient outcomes.
Called the National Pathology Quality Registry, the new registry has been approved by the Centers for Medicare & Medicaid Services for reporting physician quality metrics required for performance-based payment under the Merit-based Incentive Payment System, or MIPS, but creators of the registry insist MIPS reporting is only a small component of the new system.
"For ASCP, our membership is the entire laboratory team, and what we found when we turned to our membership was that the number one need they foresaw was performance improvement above that of CMS reporting," said Ali Brown, medical director for the ASCP.
The initial impetus for the project was a recognition that many quality reporting metrics, such as the ones used for MIPS, did not really apply broadly to pathologists, according to Steven Kroft, chair of the National Pathology Quality Registry Steering Committee for ASCP and professor and executive vice chair of clinical pathology and hematopathology at the Medical College of Wisconsin.
"We quickly realized that was not a viable business model for building a quality registry," Kroft said.
Instead, ASCP members were more interested in data aggregation, data analytics, and tools for quality improvement related to the whole lab, including pathologists, lab technicians, quality managers, and IT personnel.
"People function in their little silos, and they try to do quality improvement programs, but other than some fairly limited snapshot survey data, it is hard to understand where you are relative to your peers," Kroft said. "A lot of people don't have the facility to do the kind of analysis they need to do in an efficient fashion to drive improvement."
Additionally, although MIPS is only for physicians, intended to award compensation bonuses or levy penalties based on physicians' performance metrics, the final form of the rule remains a moving target. Earlier this month The Medicare Payment Advisory Commission voted to recommend to Congress that MIPS be scrapped in favor of an alternative program. While MedPAC's recommendations would require legislative approval, a CMS spokesperson noted that CMS is reviewing recommendations and looking to smooth the transition to MIPS reporting as the program continues to mature. Moving forward CMS says it hopes to develop more outcome-based measures, and it's developing new "episode-based cost measures" with stakeholder feedback for potential inclusion in 2019.
While the main goal of NPQR is helping labs better measure themselves, Kroft noted it can also help prepare labs for how performance reporting may evolve.
"One can assume that there are going to be additional essentially institution-based metrics that will drive penalties or bonuses that more directly touch the laboratory. That's an assumption right now, but this is an already-built infrastructure and platform for any kind of lab-wide reporting," Kroft said.
Other registries have been launched targeting the lab industry. The College of American Pathologists launched the Pathologists Quality Registry in the fall and the non-profit CureOne recently launched the N1 registry specific to MIPS-related metrics around cancer molecular testing. The ASCP aims to differentiate the NPQR by focusing on the whole lab.
The NPQR collects metrics related to preanalytical, analytical, and postanalytical processes, according to Brown and Kroft. Specifically, it focuses on four core topic areas: monitoring appropriate use of lab testing; improving preanalytical process; optimizing turnaround time and critical value reporting; and assessing analytical and diagnostic accuracy.
The registry can, for example, pull date and time stamp information from the laboratory information system to look at metrics related to turnaround time, such as how quickly critical values are reported, Brown noted. NPQR covers both anatomical and clinical laboratory issues and can be used to review second readings on new malignancies, or track details such as whether a specimen arrived in the appropriate fixative, she said.
"You can look at these different data elements and slice and dice them down to the patient-level data within your organization," Brown said. "If perhaps there is an area where you see repeated preanalytic issues, like if you are always getting mislabeled specimen from the emergency department, you can drive improvement by being able to show data in an easier way."
The registry's suite of measures on appropriate use of laboratory testing stem in large part from ASCP's involvement as the only pathology organization in the Choosing Wisely, the American Board of Internal Medicine's program to promote dialogue around reducing unnecessary testing and procedures, according to Brown.
"It's looking at things, for example, like using troponins rather than CK-MB and myoglobin. You can look at clinicians that perhaps are ordering inappropriately in a significant portion of their patients, and enable the pathologist to reach out the clinician with educational materials and references on better ways to utilize lab testing," Brown said.
The registry was designed to be broad-based enough to be suable for a full spectrum of labs from independent labs to hospital labs. Ideally, laboratories will be able to use the NPQR to identify their weaknesses in comparison to other labs quickly, and potentially even share best practices.
"There are fairly robust tools inside the registry that allow you to slice and dice the data and instantaneously compare yourself with similar institutions in real-time, to drive improvement," Kroft said.
To build the NPQR, ASCP engaged Halfpenny Technologies, a company specializing in clinical data exchange solutions, as its data aggregator, and ArborMetrix as its analytics vendor. In addition, consulting firm Impaq, which has helped build other quality reporting programs in other specialty areas, helped design and manage the project.
Moving forward, ASCP plans to continue to further build out the registry, by adding more metrics in the areas it has already outlined. Eventually, the goal is to better tie metrics to patient outcomes, according to Kroft. He envisions eventually merging NPQR's database with other clinical data sets or even other registries. The data could be used to inform best practices or could even potentially drive guideline development.
"From the standpoint of our entire profession, we have never been really able to tie what we do to very many outcomes in medicine, and the only way to do that is really to aggregate extremely large datasets and start to talk about how what we do affects outcomes," Kroft said. "We are multiple steps away from that holy grail of tying our lab performance to how patients are doing, but that is the vision or endpoint, after multiple iterations of this registry."
Meanwhile, the registry is available for use for MIPS reporting for 2018, and a free version is available for use for 2017 reporting. The deadline for using the free version for 2017 MIPS reporting is January 24, which is in advance of the March CMS deadline for MIPS reporting in order to give the registry's vendors time to review the submissions and ensure they are complete prior to submission to CMS.