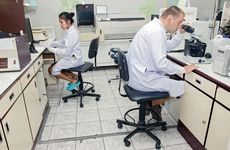 NEW YORK (360Dx) – Recent changes in healthcare, including lower Medicare reimbursements that went into effect in January as a result of the Protecting Access to Medicare Act, are continuing to pressure hospitals to seek new models for more cost-effective management of their laboratories, consultants and lab industry executives said.
With PAMA now in effect, the recent trend of a growing number of hospitals selling or outsourcing their outreach labs is likely to continue, analysts say, but many hospitals are increasingly looking for more creative solutions.
"We expect that there is going to be a continuing acceleration of that trend and that hospitals are going to continue to go into a variety of different partnerships with regard to the outreach lab," said Courtney Midanic, senior vice president in the mergers and acquisitions practice of consulting firm Kaufman Hall. "One structure we have seen is full divestiture, and we have also seen management services contracts with some of the major labs, joint ventures and other arrangements."
Quest Diagnostics and Sonic Healthcare both are seeing sharp increases in the amount of inquires they are receiving from hospitals looking for a partner to manage outreach or inpatient lab services, executives at both companies said. But consultants and executives at smaller companies that provide labs with services such as reducing unnecessary lab testing said they are seeing rises in inquiries, as well.
"We are getting inquiries on a pretty regular basis from hospitals, where a few years ago we would be going out and talking to them," said Noel Maring, vice president of operations for Sonic Healthcare USA.
Quest has seen increased interest from hospitals looking for outreach management services, as well as from hospitals seeking management of their inpatient labs, according to Jon Cohen, Quest's senior vice president and group executive of diagnostics solutions. Cohen did not quantify how much of an increase in demand it is seeing from hospitals, but in the company's fourth quarter conference call, Quest CEO Steve Rusckowski said that revenues from its professional lab services division — which provides lab management services to hospitals — grew in the double digits for full-year 2017 compared to full-year 2016.
Quest's partnerships with hospitals for outreach services involve managing patient service centers and the logistics of transporting patient samples. The company's partnerships with hospitals for outreach lab services take many forms, including full or partial acquisition of outreach labs, according to Cohen.
For hospital impatient labs, Quest lowers costs for supplies through the company's mass purchasing contracts and through consolidating operations and moving higher-cost testing off-site, Cohen said.
"Seventy percent of the volume of most hospital laboratories is fairly routine, quick turnaround work that needs to stay on-site," Cohen said. "What we move is really the higher end testing – not the reference testing that they already send out – but the higher end testing that they run once or twice a week and we run once or twice a day."
The decision on which tests to move off-site is made by clinical and business committees at the hospital, Cohen said.
Quest's inpatient services for hospitals are typically multiyear partnerships. The company offers three models for running an inpatient lab – a full management model in which all lab staff become employees of Quest; a partial-management model in which Quest hires only the lab's senior personnel; or a services model in which the company provides supply chain and lab testing consolidation without hiring any hospital employees.
Both Quest and Sonic estimate that they can save hospitals 10 to 20 percent on their inpatient lab services, according to Quest's Cohen and Sonic's Maring. Both companies also take over management of lab equipment and equipment maintenance as part of their lab management services partnerships, Cohen and Maring said. The buying out of equipment management contracts can also provide a capital infusion for hospitals.
At Sonic, many lab management relationships begin with requests for outreach lab management and expand during negotiations to include inpatient lab management as well, Maring said.
"I would say right now, because of the PAMA fee reductions, there is slightly more interest in outreach solutions – at least initially," Maring said. "The fact is that those heath systems that are looking to stay in the outreach business find that inpatient and outreach testing solutions overlap significantly, particularly since inpatient testing and outreach testing are performed in the same hospital lab."
Through joint venture relationships with hospitals, Sonic has increasingly been pushing a new model for consolidating lab testing. Rather than moving hospital testing off-site, it has increasingly been moving its own lab testing to hospital labs, Maring said.
"Here is the problem for most hospital laboratories: they have to run seven days a week, 24 hours a day and they have to have backup equipment that is frequently not used but is still a capital expense," Sonic's Maring said. "Because that hospital lab operation already has the fixed capacity, rather than move testing out of the hospital, we actually try to move testing into the hospital."
Both Sonic and Quest also provide hospitals with extensive data analytics services, including integrating lab and outreach data directly into hospital electronic medical record systems, and providing population health analytics to help hospitals identify patients who might benefit from preventative healthcare services.
Cost-cutting and "In-reaching"
Not all hospitals seeking cost-savings solutions are looking to larger companies to help manage their labs. Aurora Diagnostics, an anatomical lab company founded in 2006, now provides services to nearly 200 community hospitals and surgical centers, based on helping hospital labs control costs, according to Aurora Diagnostics CEO Michael Walsh and its Executive Vice President and COO Bruce Walton. Services the company provides include test utilization management, evaluations of the speed and accuracy of diagnoses in biopsies and surgical recessions, and population health analytics aimed a reducing healthcare costs through preventative care.
"With the new [PAMA] federal reimbursement schedule, hospitals are very attuned to how to better manage a couple of issues. One is test utilization and ensuring that doctors order the right test at the right time and interpret it correctly so that the expenditure translates into clinical improvement. The second is looking at the speed and accuracy of diagnosis, particularly a biopsy or surgical recession," Walsh said.
Meanwhile, as the healthcare industry experiences increased consolidation, other hospitals are actually looking to strengthen inpatient and outreach lab services, leveraging the economies of scale of their larger size, according to David Nichols, president and founder of Nichols Management Group.
"As hospitals are buying other hospitals, that creates a better math for them to be in the lab business, the business is all about scale, and it's all about high fixed cost low variable cost," Nichols said
In addition, hospitals that acquire physician practices may look to expand their outreach lab services to capture the business of the acquired physician offices, according to Nichols.
"We call that 'in-reach,'" Nichols said. "We are in the business of teaching those hospitals what they need to do in order to reach the practices that the health system has acquired. They need to offer competitive pricing and lab services that are good or better than large lab companies."
The silver lining
Consultants note that the effects of PAMA are industry-wide, not exclusive to hospital labs, and hospitals may find other opportunities in recent shifts in healthcare.
While trends in healthcare have forced labs to cut costs in recent years, changes ushered in by the Affordable Healthcare Act will require hospitals to look for other savings in healthcare that labs, which produce the bulk or medical record data, can help guide, according to Lale White, executive chairman and CEO of health information company Xifin.
"Now that hospitals are past those easier items, they have to actually lower healthcare costs significantly, and one of the ways they see that they can do that is through the lab. They know that targeting the lab properly can reduce healthcare costs," White said.
The Medicare Access and CHIP Reauthorization Act, and the Merit-Based Incentive Payment System that it is ushering in, require physicians to demonstrate that they are meeting certain quality metrics. These requirements may push physicians to more tightly align their practices with hospital lab and data records, to be able to demonstrate the quality of the services they are providing, she suggested.
"In order to improve population health and outcomes, physicians need the rest of the story. In other words, what happens to patients after they see them?" White said. "Hospitals are telling doctors, you need an integrated information solution and we can provide that."
Nichols noted that the lab industry has frequently seen cuts like PAMA over the years and other factors, like the aging of the population, may buffer some of the cuts the industry is facing.
"The business is very dynamic. In a sense it's like a big wooden barrel that is leaking water out of the bottom while more water is pouring in the top," he said. "Routine tests have gotten cheaper and cheaper for 35 years, but on the top of the barrel is more sophisticated testing and more genetic and molecular testing with higher margins."