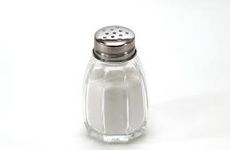 NEW YORK (GenomeWeb) – People armed with genetic information about their risk for developing high blood were more inclined to cut down on their salt intake, researchers from the University of Toronto reported in a study published online today in PLOS One.
The 138-person, double-blind, randomized controlled study looked at variants of four genes that had been shown to negatively affect health when combined with higher intake of those diet components, and found that participants who were told that they have a genetic risk for high blood pressure associated with salt intake were more likely to reduce their consumption of the seasoning.
According to the study's authors, their research is the first to empirically measure the behavioral effects of disclosing genetic risks as part of personalized dietary recommendations.
"Giving people specific information about their genetics related to particular aspects of their diet can motivate them to adhere to recommendations more so than general advice," Ahmed El-Sohemy, an author of the study and a professor at the University of Toronto, told GenomeWeb Daily News. "People can't keep track of what all those general recommendations are," and can be helped if they're given a particular area to focus on.
El-Sohemy and Daiva Nielsen, also of the University of Toronto, conducted the study to determine the short- and long-term effects of disclosing nutrition-related genetic information on dietary intakes of caffeine, vitamin C, added sugars, and sodium.
In the intervention group, the researchers screened participants for variants of genes that have been known to affect caffeine metabolism (CYP1A2), vitamin C utilization (GSTT1 and GSTM1), sweet taste perception (TAS1R2), and salt sensitivity (ACE). Genotyping was done using SNP-based assays.
Previous studies had shown that variants of those genes, combined with higher intake of the related dietary components, could negatively affect health. For example, with some variants of the ACE gene, slight increases in salt are associated with large increases in blood pressure, indicating sodium sensitivity.
All participants in the study received printed reports with dietary recommendations for 12 months, with follow up at three and 12 months. The intervention group received personalized advice based on their genetics while the control group instead received general, population-based recommendations with no genetic advice.
"The only difference between DNA-based dietary advice reports and the general reports is a line that says 'You have this risk variant.' They looked virtually identical," El-Sohemy said.
That small bit of information resulted in people carrying the sodium-sensitivity gene variant to reduce their daily sodium intake by 287 mg after 12 months, a significant decrease compared to the control group.
However, participants who did not carry those gene variants did not significantly reduce their sodium intake, compared to the control. Participants who were informed that they carried genetic susceptibilities to sugar, caffeine, and vitamin C, did not significantly decrease their intake of those dietary components, however.
El-Sohemy suggested that this was because most of the people in the study were already close to meeting the dietary recommendations for caffeine, sugar, and vitamin C, so there was less room for improvement.
Already, he's thinking about trying to get better results pertaining to caffeine intake.
"We want to repeat the study looking at heavy coffee drinkers, to see if genetic motivation would cause those [who] need to cut back" to do so, El-Sohemy said.