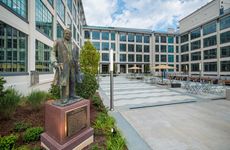 NEW YORK (GenomeWeb) – When Boris Pasche took over as the director of Wake Forest Baptist Comprehensive Cancer Center a few years ago, he wanted to be able to offer all patients there precision medicine.
Currently, Wake Forest offers both solid tumor analysis using Foundation Medicine's FoundationOne CDx test and liquid biopsy genetic testing using Guardant Health's Guardant360. In addition to helping guide patients' treatments, these approaches have also enabled Wake Forest researchers to learn more about genomic alterations present in their patient population and explore how tools like liquid biopsies could be applied to better stage tumors.
When Pasche first began to look into offering precision medicine, he found that third-party payors were in part holding other cancer centers back from offering precision medicine to all. By partnering with Foundation Medicine, Wake Forest was not only able to offer late-stage cancer patients or patients with a high probability of relapse precision oncology care regardless of their ability to pay, as the cost was underwritten, it was also able to use the data generated to examine the genomic alterations present in this broader population.
In particular, Wake Forest's Comprehensive Cancer Center joined Foundation Medicine's Precision Medicine Exchange Consortium. Through it, patients undergo FoundationOne testing of solid tumors, which examines more than 300 genes. 
"And that allowed us to offer precision medicine to everyone, irrespective of whether they were insured or not, their ethnic status, [or] where they came from, so very different from most cancer centers where it was restricted to people with good insurance," he said. "We didn't have that, we were able to get a cross-sectional analysis of precision medicine."
This, he added, also enabled them to conduct research on a wider swath of patients.
The patient population at Wake Forest differs a little from other regions of the country. According to Wei Zhang, a cancer biologist who runs the Center for Cancer Genomics and Precision Oncology at Wake Forest's cancer center, there are higher numbers of smokers and former smokers among their patient population. Additionally, he noted that about 14 percent of the patient population at Wake Forest are African Americans, who have generally been underrepresented in other cancer studies, including The Cancer Genome Atlas.
Using the data generated through Foundation Medicine, Zhang, Pasche, and their colleagues have begun to harness their patient population to being to tease out mutational differences in smoking-related cancers in Caucasian and African Americans. As they reported in Theranostics in 2017, they found that tumors from smokers in their cohort had a high mutational load, just as in the TCGA cohort. 
Additionally, the study uncovered alterations affecting DNA repair genes, and chromatin remodeling genes. But it further reported that tumors from African-American patients in particular had a significantly increased mutation rate in the TP53 gene.
Because of this finding, Zhang said they are now investigating whether menthol cigarettes — which he said have been more heavily advertised to African-American communities — could contribute to this difference in mutational patterns. They have altered the questionnaire that patients receive at enrollment to ask not only whether and how many cigarettes patients smoke, but, if they do, what kind of cigarettes they smoke. Additionally, they are also asking patients about whether they drink alcohol as there is also a suggestion there could be a link there.
"We can generate some hypotheses we can test, and whether those hypotheses are correct or not, that's going to take some time to figure out," Zhang said. He added that that 2017 paper represented the first 500 patients in their study, and that they are continuing their analysis with additional patients, though he does not expect the findings to vary too much.
That solid tumor analysis is only one arm of the precision medicine offerings at Wake Forest. It also also offers liquid biopsies using Guardant Health's Guardant360 test, according to Zhang. This, he said, has enabled them to better determine the stage of patients' disease. Early- and late-stage patients, he noted, are treated differently: early-stage patients receive less chemotherapy or radiation therapy.
But, he and his colleagues have argued that the traditional Tumor, Node, and Metastasis (TNM) staging system is not accurate because it misses key information. Based on liquid biopsy data they have generated, they found patients with early-stage disease based on traditional TNM staging that already harbored mutations that are common in metastatic cancer.
"We think actually metastasis already happened," he said. "So in reality, they're not really early stage, they're already late."
Because of that, he and he colleagues proposed a new typing system — dubbed TNMB, where the 'B' is for 'blood' — in the Annals of Oncology last year. This system incorporates circulating tumor DNA data gleaned from liquid biopsies to help stage patients based on the presence or absence of circulating tumor DNA mutations in the blood.
"We hope liquid biopsy can contribute to more accurate cancer staging," Zhang said. "This will make an impact even for the traditional treatment. Because otherwise, if you think the patient is early stage, you do a surgery, you send them home, and they can recur very fast."
Pasche cautioned, though, that many cancer patients won't benefit from precision oncology. He estimated that between 40 percent and 50 percent of patients have tumors with actionable driver mutations.
But the other 50 percent or so of patients do not have an actionable driver. For these patients, he said, Wake Forest has, in parallel, been growing its group that conducts phase 1 studies to increase their treatment options.
Still, Pasche is grateful for the patients who do respond, and sometimes have enduring responses. "I feel very gratified by these miraculous responses, sometimes very long-term responses [due to precision oncology], recognizing that it is really the needle in the haystack, and the overwhelming majority of patients will not benefit," he said. "[But for] those who benefit at the end of the day, you think all the effort was worth it."