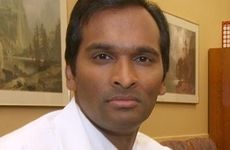 NEW YORK (GenomeWeb) — University of Michigan researcher Arul Chinnaiyan has been awarded a $6.5 million Outstanding Investigator Award from the National Cancer Institute to develop new tools and technologies for identifying biomarkers that may improve cancer diagnosis and treatment.
Chinnaiyan aims to use the seven-year grant to build on his previous work in discovering and developing new molecular targets for cancer prognosis, diagnosis, and treatment. These efforts include the establishment of a comprehensive sequencing program for advanced cancer patients called Mi-Oncoseq, and the identification of a number of cancer-associated long non-coding RNAs (lncRNAs) such as SChLAP1 — a biomarker of prostate cancer aggressiveness — and the potential drug targets THOR1 and ARLNC1.
According to the grant's abstract, Chinnaiyan and his collaborators intend to create new bioinformatic resources, perform high-throughput single-cell sequencing analyses of cancer patient samples, and create cancer-specific lncRNA panels for use with non-invasive clinical isolates. They also plan to investigate the therapeutic targeting of lncRNAs with antisense oligonucleotides and conduct studies on the efficacy of peptidomimetics for gene fusions and undruggable targets.
"We want to further characterize the dark matter of the genome," Chinnaiyan said in a statement. "Some of these lncRNAs will certainly be very useful as cancer biomarkers and we think a subset are important in biological processes. We hope to make it commonplace for patients to have a molecular blueprint of their tumor to guide treatment choices."