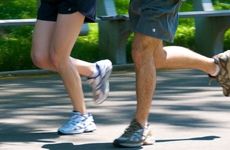 NEW YORK – Healthy lifestyle habits appear to dial down cancer risk in individuals who carry genetic variant profiles linked to elevated risk for one or more cancer types, new research suggests.
"Our findings indicate that everyone should have a healthy lifestyle to decrease overall cancer risk," co-senior and co-corresponding author Guangfu Jin, a professor at Nanjing Medical University, said in a statement. "This is particularly important for individuals with a high genetic risk of cancer."
For a study published in Cancer Research on Wednesday, Jin and his colleagues first came up with incidence-weighted cancer polygenic risk scores, or CPRS, for biological males and females, based on past genome-wide association studies and existing cancer-specific PRS spanning 16 cancer types in men and 18 kinds of cancer in women.
From there, they applied the CPRS to more than 442,500 genotyped participants from the UK Biobank project. Height and weight measurements used to calculate each individual's body mass index were measured directly, Jin explained in an email, while other lifestyle factors related to diet, exercise, alcohol use, and smoking habits were self-reported through questionnaires and interviews.
Based on genotyping data for nearly 239,700 female participants and almost 203,000 men from the UK Biobank project, the team found that men classified in the highest risk group based on CPRS developed cancer at almost double the rate of men in the lowest genetic risk group, while women in the top CPRS quintile were more than 1.6 times as likely to have cancer compared to women in the lowest CPRS group.
That risk jumped in individuals who reported having riskier lifestyle habits such as smoking, high levels of alcohol consumption, poor diet, or lower exercise rates. Within the highest risk CPRS group for men, the researchers found that more than 7 percent of men with an unfavorable lifestyle developed cancer over five years, compared with about 5.5 percent of men with the same level of genetic risk who reported healthier lifestyle habits.
Nearly 5.8 percent of women with the riskiest genotypes developed cancer over the same time frame when the lifestyle they reported was unfavorable, while almost 3.7 percent of women with high cancer risk scores and self-reported favorable lifestyle factors — avoiding alcohol and smoking, exercising regularly, or maintaining a "healthy" weight — had cancer diagnoses over five years.
The cancer risk differences were even more stark when both genetics and lifestyle were taken into account: The team found that men from the top CPRS quintile with unfavorable lifestyle features were roughly three times as likely to have cancer as those with both a low genetic risk of cancer and more favorable lifestyle features. Likewise, women with high genetic and lifestyle risk were slightly more than twice as likely to develop cancer than women with favorable lifestyle features falling in the lowest risk group based on their genotype.
Even so, the authors cautioned that some 97 percent of the UK Biobank participants considered fell into a high-risk classification for one or more kinds of cancer based on their genotypes and the newly established CPRS, highlighting the broad importance of addressing risky lifestyle habits that can be controlled.
"This suggests that almost everyone is susceptible to at least one type of cancer," Jin noted, adding that the CPRS "could be useful to improve a person's awareness of their inherited susceptibility of cancer as a whole and facilitate them to participate in healthy activities."
The authors urged care in extending the results from the UK Biobank participants to the broader population of the UK and beyond, and cautioned that self-reported lifestyle habits from the participants were collected at a single baseline time point.
"[E]ven though the findings were achieved among UK Biobank participants with diverse ethnic backgrounds and re-evaluated among those of unrelated British ancestry in sensitivity analysis," they noted, "the generalizability of our findings should be further assessed in more diverse populations when available."