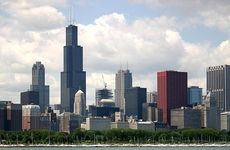 CHICAGO (GenomeWeb) – The National Cancer Institute's Molecular Analysis for Therapy Choice (MATCH) trial, which officially launches today, is set to begin enrolling patients from sites across the US this July.
Representatives from NCI and Eastern Cooperative Oncology Group-American College of Radiology Imaging Network (ECOG-ACRIN) Cancer Research Group provided new details on the effort — a phase II trial aimed at testing targeted therapies against specific tumor alterations across tumor types — at the American Society of Clinical Oncology annual meeting this morning.
The trial is being coordinated by ECOG-ACRIN and supported through internal funding from NCI, though organizers hope the framework established for NCI-MATCH may ultimately allow it to be scaled up as part of broader precision medicine initiatives.
It will initially include 10 sub-studies, each focused on a different targeted treatment, and is expected to expand to include 20 different research arms by this fall. The primary outcome will be patient response rate, as measured by tumor regression.
For example, individuals with tumors carrying ALK rearrangements or ROS1 translocations in their advanced or metastatic tumors would be funneled into an arm of the study focused on crizotinib treatment, while those with activating EGFR or HER2 mutations would likely enter testing with a treatment such as afatinib, and so on.
During the initial stage of enrollment, the researchers plan to screen biopsy samples from some 3,000 patients to search for alterations in driver genes using a custom gene sequencing panel developed for Thermo Fisher Scientific's Ion Torrent PGM sequencing platform.
The 143-gene panel was recently described in a study in the journal Neoplasia by Thermo Fisher and University of Michigan researchers, who validated the panel using cell lines and formalin-fixed, paraffin-embedded tumor samples.
For NCI-MATCH, the assay will be performed using "locked" procedures to ensure accuracy and reproducibility at four centers: Massachusetts General Hospital, Yale University, the University of Texas MD Anderson Cancer Center, and NCI Frederick National Laboratory for Cancer Research's Molecular Characterization Laboratory. The turnaround time for the test is anticipated to be 14 days or less per sample.
Study organizers estimate that the screening efforts will uncover mutations matching one of the available therapies in roughly one of three cases, giving them an initial enrollment of 1,000 individuals who meet the trial eligibility requirements for one arm of the trial.
To participate in the trial, individuals must be at least 18 years old, with solid tumors or lymphomas that have progressed after one or more standard systemic therapies. Individuals with tumors that lack standard treatments will also be included in the trial.
All told, at least one-quarter of those enrolled in the study are expected to have rare cancer types. Each treatment-focused trial arm is designed to assess as many as 35 patients.
In advance of initial patient enrollment, the NCI is sending study information to some 2,400 participating centers across the country through the National Clinical Trial Network.
Novartis, Pfizer, Verastem, Boehringer Ingelheim, and AstraZeneca have been confirmed as pharmaceutical partners for the first 10 sub-studies. Discussions are reportedly underway with other companies, including GlaxoSmithKline, Genentech, Millennium-Takeda, and Bristol-Myers Squibb regarding potential participation in subsequent arms of the trial.
"NCI-MATCH is a unique, ground-breaking trial," Doug Lowy, NCI's acting director, said in a statement. "It is the first study in oncology that incorporates all of the tenets of precision medicine. There are no other cancer clinical trials of this size and scope that truly bring the promise of targeted treatment to patients whose cancers have specific genetic abnormalities. It holds the potential to transform cancer care."
Along with the adult trial, organizers are planning a Pediatric NCI-MATCH trial in conjunction with the Children's Oncology Group. The launch date and details of that effort are still being hammered out, but the enrollment for that trial is expected to start in late 2015 or early next year.
NCI has several other clinical trials underway in precision medicine, Barbara Conley, associate director of the NCI's cancer diagnosis program and NCI study co-chair, noted during a press briefing today.
These include a phase III randomized trial for non-squamous, non-small cell lung cancer, called ALCHEMIST; LungMAP, a phase II and III randomized trial for second-line squamous lung cancer treatments; a pilot study known as M-PACT that's focused on refractory solid tumors; and an Exceptional Responders Initiative.