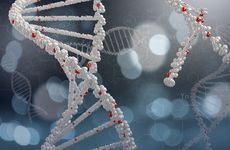 NEW YORK – New research suggests that early liquid biopsies based on circulating tumor DNA (ctDNA) genotyping can decrease the time to treatment for individuals with advanced non-small cell lung cancer (NSCLC) before a traditional diagnosis is made by next generation sequencing (NGS)-based tumor tissue testing.
The team reported results from the nonrandomized clinical trial, known as "Accelerating lung cancer diagnosis through liquid biopsy" (ACCELERATE), in JAMA Network Open on Tuesday.
"[W]e found that plasma ctDNA testing was able to accelerate time to NGS results and treatment in several patients," senior and corresponding author Natasha Leighl, a medical oncology lung site lead and researcher at the Princess Margaret Cancer Centre, said in an email. "We believe that incorporating this into the diagnostic workup for patients with suspected advanced cancer helps improve the patient's diagnostic journey and accelerates time to treatment."
For the study, the researchers used next-generation sequencing to assay for ctDNA in blood plasma samples from 150 individuals suspected of having advanced lung cancer based on radiologic imaging results. The individuals also received standard-of-care diagnostics, which included tissue biopsy sampling and sequencing.
"Our study demonstrated that plasma ctDNA testing before lung cancer diagnosis was associated with faster time to molecular results, more frequent identification of actionable targets than tissue testing alone, and accelerated time to treatment for all patients with nonsquamous NSCLC participating in the study," the authors wrote.
All told, the team diagnosed 90 of the 150 ACCELERATE participants with advanced nonsquamous NSCLC. The ctDNA genotyping results came back within a week on average, though specific tests took between six and nine days apiece. On the other hand, clinicians received results from the biopsy next-generation sequencing test some 18 to 28 days after tissue collection, with a median of 23 days.
The newly diagnosed patients received treatment within 27 to 52 days, with a median time to treatment of 39 days, the researchers reported, including 21 individuals who started a targeted treatment regimen even before a tissue-based diagnosis was made. In contrast, a reference group receiving standard tissue biopsy testing was treated within 44 to 82 days, with a median of 62 days before receiving treatment.
In paired samples from 104 advanced NSCLC patients who received both tissue biopsy and ctDNA testing for the ACCELERATE trial, meanwhile, the ctDNA approach unearthed actionable changes not found by tissue sequencing in 11 of the participants. Seven patients had actionable alterations detected by tissue testing only, while 35 patients had clinically actionable alterations found with both approaches.
Together, the team's results suggested that ctDNA can not only reduce time to treatment but may also help in identifying the types of targetable molecular markers that are currently being flagged during tumor genotyping and pathology testing at diagnosis.
"A significant proportion of patients with lung cancer do not have test results available at the time of oncology consultation, which can lead to prolonged wait times, worse outcomes, and defaulting to chemotherapy treatment in the absence of molecular results," the authors noted.
Even so, they cautioned that additional studies will be needed to confirm the current findings and to compare other factors — from related survival or quality of life patterns to cost-effectiveness — that may bolster or dissuade broader use of ctDNA testing to accompany standard tissue diagnostic strategies.
"Complementing standard tissue testing with plasma testing before diagnosis could increase access to precision medicine and may improve patient outcomes," the authors wrote. "Although we believe this is a promising strategy to improve the diagnostic journey and treatment decision-making for patients with advanced NSCLC, the effect of this approach on clinically meaningful outcomes, such as quality of life, survival, and cost-effectiveness, still needs to be demonstrated."
Leighl noted that she and her colleagues are currently working to boost the proportion of patients who might benefit from blood plasma testing or liquid biopsy during routine diagnostic protocols.