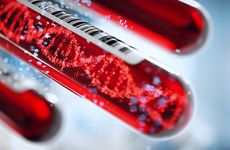 NEW YORK – A new report this month has added to a growing collection of data showing that HER2-targeted drugs can benefit metastatic colorectal cancer patients with HER2-positive tumors, and that liquid biopsy testing may offer advantages in identifying responders.
Published in Nature Medicine earlier this month, the study describes results from a prospective, multi-center Phase II clinical trial called TRIUMPH, led by investigators at the National Cancer Center Hospital East in Japan, which enrolled 30 CRC patients with HER2 amplification measured in either tumor tissue, Guardant Health's liquid biopsy assay Guardant360, or both, and treated them with pertuzumab plus trastuzumab (Genentech's Perjeta plus Herceptin).
According to the authors, the results demonstrate that Guardant360 is as effective in selecting patients for HER2-directed therapy as tissue testing, with the added benefit that it could later help assess which patients are responding to treatment and uncover potential resistance mechanisms.
HER2 drugs made their name in breast cancer, but in recent years, genomics-guided basket trials have generated data supporting the efficacy of these therapies in other cancer types.
According to Cathy Eng, codirector of GI oncology at Vanderbilt-Ingram Cancer Center, although evidence so far has been from small Phase II trials, the results were impressive enough that the National Comprehensive Cancer Network updated its guidelines in 2019 to endorse two regimens: pertuzumab plus trastuzumab and trastuzumab plus lapatinib (Novartis' Tykerb) in HER2-positive CRC patients. However, neither regimen has yet seen regulatory approval for this indication.
According to the TRIUMPH study authors, this could be about to change, at least in Japan.
In an email, Yoshiaki Nakamura, the paper's first author and a member of the gastrointestinal oncology department National Cancer Center Hospital East in Kashiwa, Japan, said that based on the results of the newly reported trial, the pertuzumab/trastuzumab combo was submitted to the Japanese Pharmaceuticals and Medical Devices Agency in April of this year.
"If things go well, this regimen will be approved in [the first or second quarter of] 2022," he said.
Guardant had highlighted early results from the study in 2019, showing that CRC patients with HER2 amplification detected by the Guardant360 assay had improved progression-free survival when treated with trastuzumab and pertuzumab.
The new report reiterated that earlier readout in terms of the performance of liquid biopsy vs. tissue testing. According to the authors, the efficacy of HER2-directed treatment was similar regardless of whether HER-2 amplifications were detected in tissue or in ctDNA.
The trial itself successfully met its primary endpoint, with a confirmed objective response rate for the two-drug regimen of 30 percent and 28 percent, respectively, in mCRC patients who were positive for HER2 amplification by either tumor tissue or ctDNA analysis.
Beyond that, the new report also added evidence for the ability of blood-based testing to identify putative resistance mutations and to assess patient response in real time.
In 28 patients tested at baseline and three weeks after treatment started, decreases in ctDNA from one time point to the other corresponded with both progression-free and overall survival. Guardant360 was also able to detect putative resistance mutations before treatment, and to identify likely drivers of emerging resistance on-treatment.
Interestingly, more than half of the potentially resistance-driving alterations found in baseline ctDNA were not present in archival tissue NGS results, a reiteration of findings from numerous studies that suggest that re-genotyping at the time of treatment initiation best identifies patients who will benefit from targeted agents — a potential boon to liquid biopsy over tissue testing.
The authors wrote that ctDNA analysis after disease progression also picked up potential acquired resistance alterations in common oncogenic pathways. These could potentially inform decision-making regarding salvage treatment options, they said. For example, the single most common resistance mechanism in the TRIUMPH cohort was loss of HER2 amplification, which has been correlated with lack of response to later-line HER2-directed therapies in breast and gastric cancer patients.
Overall, at least one actionable alteration emerged after disease progression in 16 of 26 patients.
"Physicians are interested in response monitoring as well as detection of resistance mutations by liquid biopsy in clinical practice," Nakamura said. "We want to discontinue the treatment that has no efficacy for the patient as soon as possible and believe that early change to effective therapy has a benefit for patients."
"Resistance mutations are known to [disappear] through systemic therapy … leading to restoration of efficacy for targeted therapies. Thus, monitoring resistance-related alterations would also be useful, especially when we consider the rechallenge for targeted agents," he added.
According to Eng, this remains a research question rather than a matter of concern for everyday oncology practice, though she added that monitoring of RAS status is particularly important in these patients.
"[This] can change over time, so I would repeat the ctDNA prior to consideration of [continued] therapy," she said in an email.
The study authors wrote that, based on the results, they would recommend the implementation of both ctDNA genotyping and tissue HER2 testing in clinical practice to identify CRC patients who are the best candidates for HER2 targeted drugs.
Nakamura said that oncologists should be cautious, however, of the approximately 20 percent of discordant cases seen in the study, which seem to indicate that HER2-positive patients with low-shedding tumors can be missed by blood-only testing.
That said, he and his team argued that this false-negative rate for ctDNA-based genotyping "is overwhelmingly outweighed by the increase in addressable population owing to genotyping success rates and rapidity."
Other limitations include the study's relatively small sample size and use of a registry control arm. But the authors wrote that the fact that the trial's efficacy data are consistent with what has been seen in similar Phase II trials, like MyPathway, lends it extra credence.
Guardant declined to comment on a potential path toward a US companion diagnostic approval for Guardant360 via any ongoing clinical trials, but Nakamura said he is aware that the assay is being used for exploratory analysis in other CRC HER2 studies, including one of trastuzumab deruxtecan (AstraZeneca's Enhertu).
Eng said that randomized trial data would be required to support US FDA approval of either a combination HER2 regimen, or of AstraZeneca's trastuzumab deruxtecan. Most US oncologists would probably opt for the latter these days, she added.
She also said that current recommendations call for the use of immunohistochemistry to confirm HER2 status and rule out potential heterogeneity in patients with an amplification identified by NGS. That said, she added, there is increasing data to suggest NGS amplification testing may be sufficient.