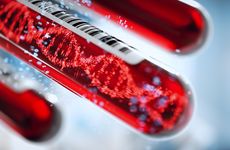 NEW YORK – Data from a trial of the PIK3CA inhibitor alpelisib (Novartis' Piqray) has provided new evidence that liquid biopsy testing could help oncologists better identify patients likely to respond to the drug by picking up resistance mutations that might otherwise be missed due to tissue heterogeneity.
Led by researchers at Memorial Sloan Kettering Cancer Center and published in Nature Cancer last week, the study analyzed genomic alterations in tissue and blood samples from patients in a small Phase I/II trial of the drug, searching for associations between both baseline mutations and treatment-induced changes with the presence of drug resistance.
According to the authors, the results indicated that blood-based profiling seemed to be able to detect alterations linked to treatment resistance that couldn't be found in tissue. Overall, the data show that resistance to combination PIK3CA and hormonal therapy may manifest "through genomic alterations that promote resistance to either component of therapy," the team wrote, adding that "sampling a single site of [this] highly heterogeneous disease … may result in an inadequate biomarker that precludes more robust patient selection strategies.
The value of using these mutations at all to guide a PIK3CA-hormonal therapy combo is far from solidified in clinical practice or professional guidelines. However, the recent findings may lay a path for developing new precision oncology strategies for this patient group.
For example, "excluding tumors with ESR1 mutations or PTEN loss might yield meaningful improvements in the response rates observed," and "patients with these specific alterations might be considered for trials of oral selective ER degraders (ESR1) and/or AKT inhibitors (PTEN)," the group wrote.
About 40 percent of hormone receptor-positive/HER2-negative breast cancers harbor mutated PIK3CA, and last May the US Food and Drug Administration approved alpelisib, in combination with the endocrine therapy fulvestrant, as a treatment for such patients.
At the time, the FDA also approved Qiagen's Therascreen PCR kit as a companion diagnostic to identify patients eligible for the treatment using either tissue or blood samples. The agency then followed that up in December by approving Foundation Medicine's tumor tissue sequencing panel FoundationOne CDx as a second official companion diagnostic for the drug.
Although the liquid biopsy findings from the latest study were notable, the effort was not designed solely to explore blood-based resistance mutations. The authors wrote that their goal was broader: to better understand the mechanisms behind the frustrating cases of resistance seen despite a clear benefit from this drug combination, at least in some mutation carriers.
"While the introduction of PIK3 inhibitors in combination with endocrine therapy has made a significant difference in improving progression-free survival, the findings of this new study indicate the need for more comprehensive genomic profiling in hormone receptor-positive metastatic breast cancer patients," Pedram Razavi, a lead study investigator, and a medical oncologist at Memorial Sloan Kettering Cancer Center, said in a statement.
According to Razavi, the team's new results provide persuasive evidence that "testing more broadly beyond PIK3CA can help identify potential mechanisms of resistance to therapy and determine those patients most likely to respond to a PI3K inhibitor."
In the study, the MSK investigators analyzed tissue sequencing results, mostly gleaned from its in-house MSK-IMPACT next-gen sequencing assay, along with longitudinal liquid biopsy samples using Guardant Health's Guardant360 assay, in a phase I/II trial of metastatic breast cancer patients treated with alpelisib plus fulvestrant.
Performed on cell-free DNA extracted from blood samples, Guardant360 is an NGS assay covering a panel of 74 genes. The test received a local coverage determination in December from Medicare contractor Palmetto GBA, for use under certain conditions across a variety of advanced solid tumors.
Guardant's assay is not an FDA-approved companion diagnostic for alpelisib or any PIK3CA inhibitor, but the gene is covered by its assay, and falls under the tumor profiling indication of its test, which Medicare now reimburses through the recently finalized LCD. And the company said that the assay is increasingly being used to guide treatment in metastatic breast cancer as the number of treatment-relevant genomic alterations in this tumor type has increased.
Overall, the MSK alpelisib/fulvestrant trial recruited 51 patients, 50 of whom had baseline tissue sequencing data. Among this group, Guardant's ctDNA sequencing was performed on pre- and post-treatment plasma samples from 47 patients.
The trial did not require PIK3CA mutation positivity for eligibility, but 88 percent of the cohort had activating hotspot mutations in tissue. Reflecting results from other PI3K inhibitor trials in HR+ breast cancer, benefit was only observed in patients with PIK3CA mutations. None of the evaluable patients with wild-type PIK3CA demonstrated durable, beneficial responses, the authors wrote.
Although most of the study subjects had clonal PIK3CA alterations, the researchers hoped to investigate whether the spectrum of PIK3CA mutation clonality might be linked to resistance. But while some patients with subclonal alterations failed to respond to treatment, others showed clinical benefit. In the end, the group concluded that the association between PIK3CA mutation clonality and treatment response was inconclusive, due to the small sample size.
They then began to search for co-occurring alterations that might be associated with clinical benefit or intrinsic resistance, "focusing on recurrent variants with established oncogenic potential in breast cancer."
Activating ESR1 mutations that confer aromatase inhibitor resistance were present in the baseline tumor samples of six patients, all of whom had no observed clinical benefit. These mutations were also not detected in the baseline samples of any patients who experienced clinical benefit. In addition, the team identified two patients whose tumors harbored concurrent clonal activating PIK3CA mutations and PTEN loss. "Both of these patients derived no clinical benefit," the authors wrote.
With the liquid biopsy data, the researchers hoped to also shed a light on the degree to which tumor heterogeneity might pose a challenge to the comprehensively understanding the genomic landscape of advanced breast cancers and reliably detecting alterations linked to treatment resistance.
"Individual needle biopsies may therefore not represent the full repertoire of tumor somatic alterations that influence clinical outcomes [and] ctDNA can potentially provide a more comprehensive picture of the tumor genome," the researchers wrote.
Paired pre- and post-treatment ctDNA samples from 32 patients were sufficient for ultradeep targeted sequencing, and the group first looked at the concordance between liquid biopsy PIK3CA results and initial tumor sequencing data, calculating that the Guardant assay correctly recapitulated the presence of a PIK3CA mutation for 89 percent of the patients.
They also looked at PTEN mutations and copy number alterations in ctDNA, identifying PTEN alterations in 25 percent of patients. This included three patients with loss-of-function alterations in pre-treatment samples who had rapid progression of disease despite being treated with the trial drug combination.
Notably, the group also saw PTEN loss-of-function mutations in post-treatment specimens from five patients, all of whom had no evidence of these alterations in their pre-treatment ctDNA or their tumor tissue specimens.
Analyzing mutant allele enrichment patterns, the researchers found that there was an expected increase in variant allele fractions (VAFs) of mutant PTEN in post-treatment versus pre-treatment ctDNA. However, there was also a significant increase in the VAFs of hotspot, activating ESR1 mutations. which the researchers noted was interesting given the known need for effective ER blockade during PI3K inhibition in HR+ breast cancer. Some functional follow up in experimental cell-line models further cemented this hypothesis, demonstrating that these ESR1 mutations do show evidence of contributing to tumor progression.
"Taken together, our findings indicate that resistance to alpelisib in combination with aromatase inhibition is a convergent phenotype, and that genetic alterations in components of either the ER or PI3K pathway may be sufficient to promote tumor progression," the researchers wrote.
According to the authors the data highlights the challenge for successful targeted therapy in this disease context as oncogenic drivers seemed to arise and promote resistance from multiple different oncogenic pathways; subclonally and often originating from different locations; and rapidly, often during the first few months of therapy.
"This biology of widespread and progressive accumulation of oncogenic alterations likely engenders substantial interpatient variability in duration of response to targeted therapy observed in this disease," they added.
Guardant highlighted that the results showed that its assay detected many of these putative resistance mutations that tissue genotyping missed, and noted that the data builds upon what researchers found in a previous breast cancer study, called plasmaMATCH, which also showed that liquid biopsy can provide a better view of genomic heterogeneity than tumor tissue analyses.
In an email, a Guardant Health representative said that the company's PMA application for Guardant360 is currently only intended to establish a defined companion diagnostic claim for the EGFR inhibitor osimertinib (AstraZeneca's Tagrisso) but an FDA approval would also establish Guardant360 CDx for a more general tumor profiling indication across a range of solid tumors, including breast cancer.
This tumor profiling use-case "does include detection of PIK3CA mutations with the corresponding level of evidence of clinical significance in breast cancer," the company wrote.
In general, Guardant described the utility of detecting resistance mutations in targeted cancer therapy treatment as helping to inform a treating physician "when to consider switching therapy." But the firm does recognize that this is not yet something that is established in the context of PIK3CA.
"In some cancers, next-generation therapies are available that overcome specific resistance mutations. In other cancers, these drugs may not yet be available, and the physician may choose to switch to chemotherapy, immunotherapy or other systemic treatments," Guardant wrote. "In the case of PIK3CA-positive breast cancer, there are no secondary therapies at the current time, but studies like this one will hopefully aid in the development of such drugs."
Authors of the study stressed that their findings in this small cohort have significant limitations, but added that the results provide "strong clinical support" for a growing set of preclinical observations in laboratory models on PTEN and ESR1, and can offer clinicians a glimpse into potential future precision strategies for this area of oncology.
"Going forward in HR+ MBC, deployment of biomarkers and therapeutic strategies taking into consideration heterogeneity and evolvability are likely to be essential tools for ultimately overcoming drug resistance," they concluded.