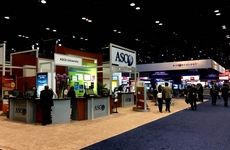 CHICAGO (GenomeWeb) – Results of a new prospective trial presented at the American Society of Clinical Oncology's annual meeting here this week have demonstrated much more definitively than previous studies that circulating tumor DNA can be used to identify cancer patients with minimal residual disease after surgical tumor resection who are highly likely to have a recurrence.
The results also showed that ctDNA as a marker of residual disease can help assess the efficacy of adjuvant therapy and improve the efficiency of clinical trials testing new or existing adjuvant regimens.
According to the authors — led by Jeanne Tie of the Walter and Eliza Hall Institute of Medical Research in Melbourne, Australia — the conventional approach for evaluating adjuvant therapies is to follow a large number of patients for long periods of time, with the hope that the eventual survival data will demonstrate improved outcomes in those who were treated compared to controls.
Based on the researchers' new results, it appears that liquid biopsies to detect ctDNA could improve clinical trials to assess the benefit of adjuvant therapy by enriching recruitment of patients with occult disease, and allowing an earlier indication or readout of either treatment benefit or treatment failure.
According to Tie, the use of adjuvant chemotherapy in Stage II colon cancer presents a "clinical dilemma."
Current practice is to offer adjuvant chemotherapy to patients whose tumors have pathological features that suggest they are at a higher risk of recurrence. But this approach, Tie said, involves treating a large number of patients for only moderate benefit.
Growing evidence that ctDNA can be a marker of residual disease after surgical removal of early-stage cancers in a variety of cancer types provided Tie and her co-investigators with a rationale to test this theory for the first time in a larger, multicenter prospective trial.
The study involved testing tumor tissue and then serial plasma samples from 231 patients with Stage II colon cancer starting between four and 10 weeks after their initial surgical resection. The team focused on detection of 15 genes commonly mutated in colon cancer, using a sequencing method developed by researchers at Johns Hopkins called the Safe-Sequencing System (Safe-SeqS), which relies on a barcoding strategy to distinguish amplification or sequencing errors from real variants.
Based on the tumor tissue test results, the group chose a mutation for each patient — whichever had the greatest prevalence — to look for in circulation. All 231 patients received an initial ctDNA test post-surgery, but only 167 were followed with additional blood sampling at three-month intervals.
About 23 percent of the patients were treated with adjuvant chemotherapy at the discretion of their physicians who were blinded to the ctDNA results. All the subjects were then followed with standard surveillance measures, and 15 percent (34 individuals) experienced recurrence.
When the group assessed the prognostic significance of the presence of ctDNA after surgery in patients not treated with adjuvant chemo, they found that after a median follow-up of two years, 11 of 14 patients (about 79 percent) with positive post-op ctDNA had recurred, compared to less than 10 percent of the ctDNA-negative group.
This difference remained significant even when the researchers divided the group into a clinical low-risk and clinical high-risk subcohort. Tie said during her presentation of the data at ASCO that this suggests, importantly, that ctDNA can identify patients at high risk of recurrence amongst an otherwise clinical low-risk group who would typically not be offered adjuvant chemo.
Finally, Tie and her colleagues assessed the accuracy of ctDNA in predicting three-year recurrence. "If ctDNA is positive, then the probability of having residual disease and subsequent recurrence at three years is 100 percent," Tie said. "For patients with negative ctDNA, the provability of being recurrence-free at three years is 91 percent," she added.
Reflecting on these results in a subsequent discussion session, Ramon Salazar of the Catalan Institute of Oncology in Barcelona highlighted the possibility that multiplex analyses of more than one target mutation, and/or using a different technology to improve analytical sensitivity could both potentially improve the 91 percent negative predictive value that Tie and colleagues achieved.
Their 100 percent positive predictive value, he said — as long as it can be further validated — blows out of the water most other available prognostic markers.
With their initial results in hand, the Melbourne researchers went on to try to assess how monitoring ctDNA over time might better measure the efficacy of adjuvant treatment than current imaging and biomarker tools.
Tie shared examples from the study showing serial ctDNA status in patients who underwent adjuvant chemotherapy, including two in which ctDNA dropped to an undetectable level during treatment, and stayed negative in follow-up — with both patients remaining recurrence-free at their last checkups.
In contrast, two other patients in which ctDNA remained persistently positive, continuing to rise after adjuvant treatment, had a clinically detected recurrence between 12 and 18 months after surgery, Tie said.
To support these findings, Tie also shared data from a separate study that she and her colleague conducted on 37 patients with resectable colorectal cancer liver metastases, in which the same patterns of durable ctDNA negativity and recurrence-free survival were demonstrated.
At a median follow-up of 27 months, all ten patients who were ctDNA positive at the end of treatment had recurred, compared to only four of 27 patients with negative ctDNA.
Also important for the possible impact of ctDNA analyses on clinical trials of adjuvant therapy, Tie said that she and her colleagues were able to detect ctDNA in patients who eventually recurred an average of five and a half months earlier than radiological imaging in their stage II cohort patients, and an average of three months earlier in the liver metastases patients.
"CtDNA could potentially improve clinical trial efficiency by enriching for high-risk patients and also providing early read out of treatment benefit," Tie concluded.
Based on the results, she said that she and her colleagues have recently initiated a randomized, ctDNA-driven clinical trial in stage II colon cancer, called DYNAMIC.