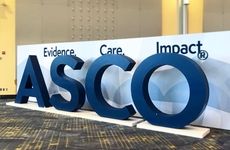 CHICAGO (GenomeWeb) – Following treatment with Merck's pembrolizumab (Keytruda), more advanced lung cancer patients, particularly those with high tumor PD-L1 expression, are alive five years after diagnosis than before immunotherapies came to market, according to a study presented here at the American Society of Clinical Oncology's annual meeting.
A second study, also presented at the meeting, demonstrated that patients with advanced stomach and gastroesophageal junction cancer were also living longer after receiving first-line pembrolizumab if they had tumors with high PD-L1 expression, compared to those receiving standard chemotherapy.
Long term data from the first study, KEYNOTE-001, showed that 23 percent of 100 treatment naive advanced non-small cell lung cancer patients and nearly 16 percent of 450 previously treated NSCLC patients were alive after five years after treatment with pembrolizumab. "The promise of immunotherapy is really the promise of having a long lasting and durable clinical benefit," said Edward Garon from the University of California, Los Angeles, in presenting the data at the meeting. However, he noted that in advanced NSCLC, patients have historically had very poor prognoses, with around 5 percent of patients surviving five years from diagnosis with standard chemotherapy treatments.  
The US Food and Drug Administration has approved pembrolizumab in combination with chemotherapy as a first-line option in all advanced NSCLC patients. In 2016, the agency approved the single agent as a treatment for advanced lung cancers that express PD-L1 in 50 percent or more tumor cells. The latest approval, earlier this year, expanded the biomarker-based indication for the drug, making it a front-line option for advanced lung cancer patients who have PD-L1 expression in more than 1 percent of tumor cells.
Pembrolizumab is already a blockbuster for Merck, and sales in the first-line lung cancer setting are driving the $4.15 billion in sales the drug netted in the US last year. The KEYNOTE-001 study allows the company to now claim that the immunotherapy could potentially extending the lives of lung cancer patients, particularly when patients' tumors express PD-L1 in at least 50 percent of tumor cells.
In the previously untreated population, nearly 30 percent of 27 patients with at least 50 percent tumor PD-L1 expression were alive after five years compared to 16 percent of 52 patients who had lower expression levels. In those who had received prior treatment, the five year survival rate was 25 percent among high expressors and 13 percent for those with lower expression levels. Among 90 previously treated patients whose tumors did not express PD-L1, the five year survival rate was below 4 percent.
Generally, patients receive pembrolizumab for two years or more in clinical trials, and in this study, 14 treatment naive patients and 46 previously treated patients received the drug for that long. More than 75 percent of patients in both groups were alive at five years. The longer follow-up data showed a slight increase in immune-related adverse events but didn't raise any new safety issues.
Researchers at the meeting said this follow-up data confirms pembrolizumab's potential to improve long term outcomes for treatment naive and previously treated advanced NSCLC patients. "With the use of immunotherapy in the appropriate patients, we have to start to think about dealing with our patients in different ways than we used to," said David Graham from the Levine Cancer Institute in North Carolina, who commented on the study ASCO-designated expert who commented on KEYNOTE-001. "In previous years, we'd see a patient with metastatic non-small cell lung cancer and unfortunately had to paint a pretty gloomy picture."
The KEYNOTE-001 data now suggests that one in four advanced lung cancer patients will be alive after five years, he reflected, and "that completely changes our mindset as we treat this."
Pembrolizumab competes on the market with Bristol-Myers Squibb's nivolumab (Opdivo), which garnered $1.14 billion in 2018 US sales. Earlier this year, BMS pooled long term overall survival data from four studies and reported that 14 percent of all Opdivo-treated patients were alive after four years. In patients with 1 percent or more PD-L1 expression, the four year survival rate was 19 percent, and it was 11 percent for those with no PD-L1 expression.
According to Graham, the KEYNOTE-001 study also highlights the importance of conducting longer term follow-up studies like this. Only by tracking patients over a period of time can the community learn that a group of patients are living longer after treatment with pembrolizumab, he said.
But there is still more research to be done to better understand why some long term responders experience a certain amount of tumor shrinkage with pembrolizumab but the drug doesn't entirely degrade their tumors. Richard Schilsky, ASCO's chief medical officer, pointed out that 85 percent of treatment naive and 91 percent of previously treated patients on pembrolizumab for two years or longer saw their tumors shrink, but most of them did not have complete responses. "This means that these are patients who are living longer in the presence of their disease," he said, which might suggest that in these patients a kind of "symbiosis" has been reached between the immune system and the tumor.
Garon said it's somewhat unclear what's going on in patients who have improved on immunotherapy but whose tumors haven't completely disappeared. Translational researchers at various institutions have biopsied some of these patients, he noted, and found that some have active disease, while others don't. What appears to be a tumor may just be a scar or a non-malignant mass, he said. There could also be something to the idea that the tumor and the immune system have waged a battle and are now at a draw, he said, adding that this is an active area of research.
New first-line option in gastric cancer
In another Phase III study presented at the meeting, KEYNOTE-062, researchers led by Josep Tabernero from the Vall d'Hebron Barcelona Hospital in Spain demonstrated the ability of pembrolizumab as a first-line treatment to extend the lives of advanced gastric and gastroesophageal junction cancer patients. Researchers specifically evaluated survival outcomes in two PD-L1 expressing biomarker subgroups — those with a combined positive score of 1 or more and those with a combined score of 10 or more.
The combined PD-L1 score was calculated based on the number of PD-L1 positive cells from biopsied tissues and the number of viable tumor cells. While studies suggest that patients with a combined score of 1 or more derive benefit from this drug, there is data showing that patients with a combined score of 10 or more may derive greater benefit.
In the 763-patient study, patients were randomized to receive either pembrolizumab, pembrolizumab plus chemotherapy, or just chemotherapy. For patients receiving pembrolizumab and chemotherapy, the overall survival and progression-free survival were similar, regardless of the PD-L1 score.
In patients receiving just pembrolizumab with a combined PD-L1 expression score of 1 or more, survival was non-inferior to those receiving chemotherapy, an outcome that Tabernero and colleagues had anticipated might occur.
Though oncologists cannot interpret this to mean that pembrolizumab is necessarily better than chemotherapy in this subpopulation, ASCO's Schilsky cautioned, it meets the prespecified criteria for not being worse. However, since patients receiving pembrolizumab had lower rates of serious adverse events than patients on chemotherapy, doctors may gravitate toward the immunotherapy. "It would be pretty clear to me that this would be a preferred treatment for this patient population," he said.
Patients with a combined PD-L1 expression score of 10 or more had a median overall survival of 17.4 months on pembrolizumab versus 10.8 months on chemotherapy. After two years of treatment, close to 40 percent of patients receiving the immunotherapy were alive compared to 22 percent receiving chemotherapy. While the design of the study didn't allow researchers to analyze whether pembrolizumab was statistically significantly better than chemotherapy in this setting, the data suggested the immunotherapy is likely superior in terms of its impact on overall survival, according to Tabernero.
This year, there will be around 27,500 new cases of gastric cancer in the US and more than 11,000 patients will die from the disease. The first-line standard of care is platinum chemotherapy plus fluoropyrimidine. Second line treatment consists of ramucirumab (Cyramza) plus paclitaxel and other chemotherapies.
The FDA granted accelerated approval for pembrolizumab as a third line option in advanced gastric or gastroesophageal junction cancers in 2017 for patients with a combined PD-L1 expression score of one or more who progressed on two or more prior lines of therapy.
Even with the available treatments, Schilsky, who for many years practiced as a gastrointestinal oncologist, said stomach cancers are tough to treat because patients tend to be older, frail, and malnurished. Until recently, cytotoxic chemotherapy was the only option, which many patients couldn't tolerate due to the severity of side effects. "This is a disease in desperate need of new approaches," he said, noting that the approval of Herceptin provided a "glimmer of hope" for 15 percent of stomach cancers with HER2 overexpression. "But that's the minority of this population," he added.
The potential for immunotherapy as a front line option would be an important advance for gastric cancer patients. While in patients with higher combined PD-L1 expression scores a statistical significance calculation couldn't be performed, "clinically, it's quite clear that pembrolizumab is superior to chemotherapy," Schilsky said, adding that in many cases, the immunotherapy should replace chemotherapy in the first-line setting, based on data from KEYNOTE-062.
According to Tabernero, researchers are currently analyzing the data to figure out why the addition of chemotherapy to pembrolizumab didn't improve survival in patients compared to chemotherapy alone, and to explore other biomarkers, such  as tumor mutational burden, to try to home in on best-responder populations.
File Attachments
img_20190601_163417351_burst000_cover_top.jpg