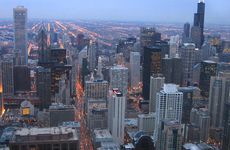 CHICAGO (GenomeWeb) - At the annual meeting of the American Society of Clinical Oncology here this week, companies and academic investigators reported continuing advances in the research and commercial development of liquid biopsy cancer tests and discussed the challenges ahead for the field.
News at the meeting included expansions of clinical utility data, new applications, and efforts in optimizing the accessibility of tests through improved readouts or automation. At the same time, oncologists participating in the meeting stressed the need to take care in establishing the validity of emerging technologies compared to tumor tissue genomics.
Actionability
In one conference session, attendees discussed the difficulty in determining whether cancer mutations are truly "actionable," highlighting the potential benefit of blood-based assays in elucidating the genetic heterogeneity of a patient's cancer, but also the challenges that remain for liquid biopsy in demonstrating that is presents a true and actionable picture of a patient's cancer.
During the session, researchers discussed one abstract on the use of Guardant Health's targeted sequencing-based ctDNA test Guardant360 to identify cancer mutations in the blood of a small cohort of pancreatobiliary cancer patients.
In the study, Eric Collisson and colleagues at the University of California, San Francisco recruited 25 patients and used Guardant360 to search for cancer mutations in their plasma. The team reported that the test identified cancer mutations in 21 of the 25 subjects, but provided actionable findings for only four.
Seventeen of the patients also had matched tumor tissue sequencing results that the group could compare to their liquid biopsy results.
"The first interesting finding ... was the fact that just going about our business sending tissue out for diagnostic biopsies for next-generation sequencing, we failed to obtain tumor sequence about a third of the time," Collisson said.
"Overall, there was 90 percent agreement between the two platforms when we could achieve both platforms technically," he added.
In several cases, though, there was discordance between the tumor and plasma sequencing results.
One example was a JAK2 hotspot mutation detected robustly in the circulation of a patient, but not in the patient's matched tumor. In further analyses, the researcher saw that while another KRAS mutation dropped in concentration when the patient was treated, the JAK2 mutated DNA continued unabated.
The group later confirmed that the alteration was actually from the hematopoietic compartment, not the tumor compartment, which Collisson said highlights the complexity in interpreting sequencing-based liquid biopsy tests in real time.
Growing evidence has strengthened the possibility that circulating tumor DNA can reflect heterogeneity that is impossible to see in a single tumor biopsy, especially in the context of metastatic cancer, where different lesions may have different molecular drivers or other genomic features.
In a study published in Nature this week, an Italian research team, led by the university of Turin's Alberto Bardelli, used ctDNA to genotype colorectal tumors and track clonal evolution during treatment with EGFR inhibitors. As patients acquired resistance to these therapies, the researchers were able to see alteration emerge in a variety of genes, including KRAS, NRAS, MET, ERBB2, and others.
Interestingly, the researchers could also see that KRAS clones that appeared  to emerge in the blood during EGFR targeting therapy subsequently declined when such therapy was stopped.
An abstract released online as part of the ASCO meeting also described a study by Biocept, a company advancing liquid biopsy testing of both circulating tumor DNA and circulating tumor cells. In this study, Biocept researchers saw in one patient a T790M EGFR mutation that was not present in the corresponding lung tumor tissue sample. After rebiopsy, the mutation was confirmed in another part of the tumor, and the patient was able to enter a relevant clinical trial.
Helmy Eltoukhy, CEO of Guardant Health, told GenomeWeb that Guardant believes liquid biopsy's ability to speak to a cancer's heterogeneity and especially its potential to change may greatly affect clinical practice.
"I think this is why this tool is going to be so powerful is [because] clinicians can now start using it to decide how they shift therapy in a way that makes sense not just to one disease site," Eltoukhy said.
Challenges
Reflecting on some of the roadblocks in translating these exciting possibilities to the clinic, Geoffrey Oxnard, a researcher at Dana Farber, said in the ASCO actionability session that while it's clear that liquid biopsy has the potential to offer information that is impossible to derive from tumor tissue sequencing, developers of broad panel-based liquid biopsy test must prove that the alterations they detect in blood that aren't present in a tumor are valid, let alone useful.
"I have to say liquid biopsies are cool," Oxnard said. "There are scientific advantages, [especially] the ability to reasses the cancer over time as it evolves in response to treatment and to overcome the spatial heterogeneity which exists to varying degrees in all cancers."
"There are scientific insights we can gain from liquid biopsies and not from conventional  biopsies," he explained. "But it is tricky."
The main hurdle, Oxnard argued, is in finding a way to validate these tests if tumor sequencing can't be used as a gold standard. "You need to know the truth about the patient as you develop a liquid biopsy that represents truth … sometimes a biopsy is not so good, and if you take a not-so-good tumor biopsy and submit it to comprehensive testing and generate results that are not trustworthy and then use those as your gold standard, you are going to find problems with your diagnostic," he said.
"Then when you have those false positives, you don't know whether the fault was in the tumor or the plasma," he added.
Oxnard said his team is exploring a way around the issue of the gold standard by validating larger and more complex liquid biopsy sequencing tests not against tumor genotyping, but against simpler, more sensitive, and definitively validated liquid biopsy assays.
For example, he highlighted data he and his colleagues shared earlier this year at the American Association for Cancer Research annual meeting, in which they compared droplet-based PCR assays for KRAS and EGFR against a novel ctDNA sequencing method being developed by a company called Resolution Biosciences.
The team could see clearly that when the liquid biopsy specimens were richer in tumor DNA, the two test methodologies aligned strongly, whereas in samples where DNA was more scant they were less concordant.
Oxnard and colleagues also presented a poster at ASCO reporting on a prospective validation of their quantitative droplet digital PCR-based EGFR and KRAS testing approach. The group wrote that it now plans to transition the assay to clinical use.
Following the ASCO session, an attendee asked whether liquid biopsy should be incorporated as a tool to recruit patients into targeted therapy bucket trials, such as Novartis's Signature Program, which was discussed earlier in the meeting.
A Novartis representative in the audience said that the company has its own exploratory programs investigating liquid biopsy, and that yes, it would potentially look at liquid biopsy-based profiling to direct entry into programs like Signature.
Guardant Health's Guardant360 is actually already being used to recruit patients in a targeted therapy solid tumor umbrella trial, as highlighted in an abstract published online only as part of the ASCO meeting.
In the trial, NEXT-2, which is being led by the Samsung Medical Center in Seoul, Korea, researchers are using Guardant's test to guide matched treatment for patients with refractory cancer who do not have sufficient biopsy material to undergo mutational testing of their tumor, or do not have feasible biopsy sites.
Guardant's test was also highlighted in several other presentations at the conference. In one, investigators from MD Anderson Cancer Center updated a study that was also discussed at the AACR meeting on the clinical utility of Guardant360 in guiding clinical trial enrollment for patients with metastatic colorectal cancer.
In their AACR presentation the investigators reported that ctDNA sequencing uncovered mutations in the vast majority of patients and that about 87 percent of the time doctors said that ctDNA testing improved the quality of care they then provided.
At ASCO, the MD Anderson researchers updated this analysis with more data on clinical trial enrollment based on ctDNA mutation status.
According to the authors, between June 2014 and January 2015, 120 CRC patients were enrolled to the study. Using Guardants cfDNA sequencing, 83 percent of the patient samples were found to have a cancer-associated genomic alteration of some kind, and 26 percent were found specifically to have an amplification in MET, EGFR, or ERBB2, with an average of about four mutations per patient.
The group compared this with tissue sequencing which found a mutation in 88 percent of the patients, with a lower average of 2.9 mutations per patient. The authors also reported that cfDNA sequencing allowed result to be returned within a median of 11 days, while tumor tissue sequencing took 14 days longer on average.
Overall, 54 percent of the cohort had a potentially actionable ctDNA mutation, and 66 percent could be matched to a clinical trial, the authors wrote. About half of these were actually able to enroll in the relevant trial, with the rest limited by other eligibility factors, lack of interest, or a lack of trial openings. Additionally, as of this new analysis, when asked, physicians participating in the study said they felt ctDNA results improved the quality of care they were able to provide in 75 percent of the cases.
Beyond research data, Guardant also debuted at the meeting a new testing feature it calls the Guardant360 tumor response map. Added to the company's basic readout, the map provides a graphic representation of changes in observed ctDNA concentrations at different sample time points. For example, it can show how the proportion of different mutations present in a patient's circulation changes over the course of a particular treatment.
"For so many years you could only get one or the other, either disease burden or genomic characterization. Now [with liquid biopsy technologies] there is a way of unifying it," Eltoukhy said, and for Guardant, a way of representing this information in an accessible graphic format.
Broad or narrow
While Guardant and other companies seek to build clinical utility evidence and clinician adoption for broad cancer mutation profiling in circulating DNA, the liquid biopsy field has also swelled with techniques, like the one from Oxnard's Dana Farber team, to detect the presence of single gene mutations or smaller panels of targets.
Another player in this area is Qiagen, which recently received a CE mark for its blood-based EGFR test, and is also developing an assay to measure expression of AR-V7 — a truncated form of the androgen receptor — in circulating tumor cells to guide therapy for men with metastatic castration-resistant prostate cancer.
Peter Krein, Qiagen's senior director of medical and scientific affairs told GenomeWeb at the ASCO meeting that the company is working now on automating both its CTC- and ctDNA-based testing platforms.
"What we want is to be able to take these blood samples and they'll come out the other end — be that PCR or the next-gen sequencing platform" Krein said.
"I think automating this is really going to enable us to decentralize this testing - so potentially community oncologist may be able to do this stuff that really exists today only in specialized centers," he added.
Krein also said that Qiagen eventually expects to move from single-gene tests to offer the kind of broader sequencing-based liquid biopsy testing that companies like Guardant have already begun to market. But, he said, the company is approaching building the validity data for this kind of an assay very methodically.
Reflecting many of the same points made by Oxnard, Krein said that the challenge is in establishing what the larger set of mutations picked up by liquid-biopsy sequencing really mean.
"I think we really have to be pushing with our partners to generate that data in a controlled setting … and we have to be diligent in how we start to interpret these larger panels," he said.
Other Advances
Other companies presenting new liquid biopsy data at the ASCO meeting included Exosome Diagnostics and Epic Sciences.
Exosome shared data in several posters and online abstracts highlighting the use of its technology, which focuses on both RNA carried in exosomes, and cell-free circulating DNA.
A poster authored by Exosome scientists and academic collaborators at MD Anderson, Massachusetts General Hospital, and Dana Farber, shared data demonstrating the superiority of the company's exosomal RNA plus circulating DNA platform over ctDNA alone in detecting somatic mutations in cancer patients using a targeted sequencing panel.
Another poster applied the company's combined platform and sequencing panel specifically to patients with metastatic melanoma, measuring the presence of BRAF mutations in circulation before and during therapy with a BRAF inhibitor and showing that the combined assay could detect the reduction of BRAF in response to targeted treatment with a higher sensitivity than in circulating tumor DNA alone, and could detect early disease progression months before the appearance of clinical signs.
Based on these and earlier data, Exosome Diagnostics said this morning that it plans to commercialize its solid tumor panel as a laboratory-developed test in its certified CLIA laboratory this year.
The firm said in a statement that the sequencing assay, which covers 26 genes and 1,000 associated mutations in the most significant cancer pathways, including EGFR/MAPK and PI3K, will initially be made available to pharmaceutical companies as a clinical development tool.
Epic Sciences also shared new data at the meeting on its platform for isolating and analyzing circulating tumor cells. Earlier this year at the AACR meeting, Epic released its first report of genome-wide sequencing of a single circulating tumor cell.
At ASCO this week, Epic researchers, with collaborators from the Memorial Sloan Kettering Cancer Center, shared a poster reporting on the individual sequencing of 147 CTCs from nine metastatic prostate cancer patients.
The investigators wrote that using this technique, they were able to identify between two and five different clonal populations in each patient by comparing copy number patterns of the individual CTCs.