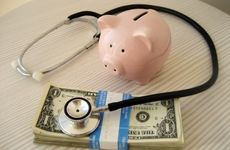 CHICAGO – An alternative payment model proposed by the American Society of Clinical Oncology during its annual meeting includes measures that would compensate doctors for services and consultations that are critical to the delivery of personalized, molecularly informed cancer care, but which are unaccounted for under the current fee-for-service payment system.
The fee-for-service system of payment has been long pilloried for increasing healthcare costs in the US, since it incentivizes payment to practices for the volume of care, not the quality of care doctors provide. ASCO is hoping, however, that its Patient-Centered Oncology Payment (PCOP) framework will shift the emphasis to quality and providing more personalized care.
ASCO proposed its PCOP as Medicare and private payors, under pressure to reduce costs as a result of the Affordable Care Act, have begun experimenting with alternative payment models using a variety of strategies. With the recent passage of the "Medicare Access and CHIP Reauthorization Act of 2015" (MACRA), the US Congress repealed the Medicare payment system for doctors and included measures intended to nudge oncology practices toward adopting alternative payment models. "The transition from volume to value is upon us," said University of Chicago's Blase Polite at a session on ASCO's PCOP plans.
However, physicians have been skeptical of such schemes, said Harold Miller of the Center for Healthcare Quality & Payment Reform, because these systems are created by payors with very little input from doctors, the very people responsible for delivering care. Typically, payors ask doctors to meet certain quality measures under pay-for-performance programs, Miller noted, but don't provide the resources practices need to meet those standards. Then, when doctors fail to meet payors' performance metrics, they are penalized.
In contrast, ASCO developed the PCOP over two years with significant input from oncologists, including those from community practices where the majority of cancer patients are treated. In speaking to oncologists, ASCO discovered that under current payment schemes oncologists get paid for face-to-face interactions with patients and for in-office chemotherapy infusions, but there is limited or no compensation for the plethora of other activities necessary for providing quality care.
This gap is particularly apparent when it comes to precision oncology care. Although molecularly targeted cancer drugs, such as those for patients with HER2 overexpression or ALK rearrangements, are options for only a subset of cancer patients, ASCO developed its PCOP approaches with an eye toward a future where such drugs will be more commonplace.
According to Robin Zon, chair of ASCO's Clinical Practice Committee, administering personalized cancer care adds layers of complexity on top of an already challenging and time-intensive physician-patient interaction. "As more and more cancers become a collection of 'rare' diseases, this will intensify even further," said Zon in an email to GenomeWeb.
The rapidly advancing field of molecular medicine necessitates that oncologists spend more time reviewing the literature and discussing cases with pathologists or laboratories. Doctors also spend a lot of time ordering and interpreting results from complex genomic tests, designing treatment strategies based on an individual patient's circumstances, and discussing test results and treatment options with patients and their families.
"If adequate time is not spent to ensure that appropriate tests have been performed accurately, that the most current evidence is used to determine the appropriate treatments, and that patients understand the benefits, risks, and costs of their treatment, decisions may be made that are bad for patients and costly for payors," Zon said. "However, Medicare and most health insurance plans will not pay for most of this time and assistance; payments are only made for the time physicians spend in face-to-face visits with patients."
Under PCOP, ASCO is proposing a basic payment plan that would pay doctors $750 per patient for crafting a treatment strategy; $200 per patient for managing care every month during the treatment process; and $50 for monitoring each patient for each month during a break from treatment or up to six months after treatment. The PCOP plan would even compensate doctors $100 per month while a patient is getting treated within a clinical trial and for six months after study completion. These payments would be on top of those that oncologists already receive for chemotherapy infusions and face-to-face interactions.
Since many molecularly targeted drugs are being studied in clinical trials, providing payment to docs for taking the time to find a study their patients can enroll in would help advance the field of precision medicine, suggested Moffitt Cancer Center's Howard McLeod. He further noted that payment for monitoring services could encourage doctors to track patients' drug resistance and cancer recurrence using new blood tests entering the market, such as those that assess circulating tumor DNA.
Interactions around obtaining tissue from patients for genomic analysis is another overlooked service within current payment plans that might be better addressed by a program like ASCO's PCOP. "Most oncologists' offices do not store tissue from a patient's previous procedures or have the in-house expertise to perform biopsies for needed tissue," McLeod, founding medical director of Moffitt's Personalized Medicine Institute, told GenomeWeb. "This requires coordination with pathology departments, arrangement with interventional radiology for a new biopsy, or similar efforts."
Moreover, in the relatively new and fast-moving realm of personalized medicine, it's not uncommon for doctors to expend a lot of energy arguing with payors about why they decided to prescribe a kinase inhibitor "off label" based on a patient's molecular test results, he reflected. Because targeted cancer drugs are costly, many carrying a monthly price tag of $10,000 or more, healthcare providers often help patients garner financial assistance. In addition, more time is required for staff members within an oncology practice as they navigate payors' labyrinthine prior authorization programs on behalf of patients. "This, again, consumes large amounts of time for oncologists and other members of the staff, time that is not compensated," Zon noted.
Miller estimated that the PCOP basic plan on average would compensate oncology practices $2,100 more per patient on top of fee-for-service payments so they could provide these patient-centered services. "That would be a 50 percent increase than what practices are getting today," he said, further maintaining that this wouldn't add much more to payors' costs.
Miller cited CMS data showing that only around 5 percent of Medicare cancer care spending six months after initiation of chemotherapy actually goes to the oncology practice. As such, in this context, even a 50 percent increase in payments to oncology practices, would result in a 2.5 percent bump up in Medicare oncology spending. And Miller believes this uptick in spending could be balanced by cutting wasteful costs in other areas.
By paying oncologists more for critical services that they don't get compensated for now, ASCO is hoping that doctors will be able to cut unnecessary spending in areas that they can impact, such as reducing hospital stays and emergency room visits, limit the use of unnecessary tests and drugs, coordinate care, and prescribe lower-cost interventions when the evidence supports it.
Recognizing that the basic plan may not be the right model for the diverse range of practices in the country, ASCO also proposed two other alternative models: a consolidated payment scheme and a bundled option. The first plan would whittle the 58 CPT codes oncology practices currently use to bill for infusion services down to a dozen codes divided into three categories: new patient payment, monthly treatment payment, and monthly active monitoring payment. The new codes are meant to better align with the resources practices expend during specific stages of a patient's treatment continuum.
The bundled payment plan would involve a target spending level that would compensate for the services of the oncology practice but could also include other categories, such as drugs, hospital admissions, or lab tests. According to ASCO, this plan would allow oncology practices to have more flexibility in the way they deliver care to patients compared to the traditional fee-for-service model.
Miller noted that oncologists will have to partner with payors to make PCOP plans a reality. The practice and payor have to agree to meet certain performance or adherence rates, and if the practice fails in this regard, the payor can cut payments for new patient treatment planning or monthly care management. If adherence rates remain low for more than a year without special circumstances, Zon said, the practice would not be allowed to participate in the PCOP until it developed a plan with the payor to improve its performance.
University of Chicago's Polite believes that oncologists should advocate for a payment system like the PCOP, which rewards them for restraining unnecessary costs that are within their control and for providing high-quality, evidence-based care. Cancer drugs, particularly newer personalized treatments, carry a high price tag, but oncologists don't have any sway over that. Moreover, a patient could derive much benefit from an expensive precision drug when there is evidence backing its use.
And yet, reviewing the details of an alternative payment scheme proposed by Medicare, several experts at the ASCO meeting said it could push doctors to withhold expensive but necessary treatments.
"Many pay-for-performance programs have been created based on the incorrect notion that physician practices need financial incentives to deliver better care," Zon said. "The real issue is that the current payment system creates barriers to high-quality care, by failing to pay for important services, and by financially penalizing physicians for managing care more efficiently."
Under PCOP, "payments would be made in a way that gives practices more flexibility than they have today to tailor services to the unique needs of individual patients."