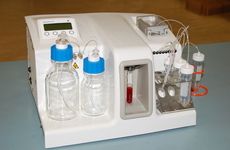 NEW YORK (GenomeWeb) – Angle, a UK-based medical diagnostics firm focused on circulating rare cell detection and analysis, is increasing its focus on the women's health arena as it seeks to push its flagship Parsortix cell separation system into clinical use.
To that end, the company is making a concerted effort to establish research collaborations in Europe and the US to apply the technology to the detection, isolation, and molecular analysis of circulating tumor cells in cancer types such as ovarian and breast, Peggy Robinson, US vice president for Angle, told GenomeWeb recently.
One such collaboration has already yielded early positive results: at the American Association for Cancer Research annual meeting last month in Philadelphia, researchers from Angle and academic collaborators at the Medical University of Vienna presented a poster demonstrating Parsortix's potential as a tool for early detection and optimizing treatment in ovarian and breast cancer.
Angle as an entity has been in existence for about two decades. It began as a management and venture company with the goal of commercializing new technologies, but several years ago began working with Philadelphia-based medical device company Parsortix, which was developing a platform to capture and harvest rare cells from patient samples.
According to Robinson, after seeing the promise of this technology, Angle essentially went all in on Parsortix, acquiring a majority stake in the firm, renaming it Angle North America, and supporting further development of the CTC platform. In December 2013, the platform received CE IVD marking, and in March 2014, Angle submitted the system for US Food and Drug Administration approval. Angle is still working with the FDA to obtain clearance for the platform, and therefore it is available for research use only in the US.
Parsortix uses a patented microfluidic technology in a disposable cassette to capture and harvest CTCs from blood based on their less-deformable nature and larger size compared to other blood components. The disposable cassette is placed in a clamp, and the benchtop Parsortix system automatically processes the patient sample. Captured cells can be fixed and stained for in-cassette identification and enumeration, or can be recovered for external staining and molecular analysis with qPCR, sequencing, or a number of other techniques.
Robinson told GenomeWeb that the company stresses that Parsortix has the ability to capture and harvest rare cells of all kind, "because we know it's more than just circulating tumor cells. The cells can be epithelial or endothelial in origin; they could be mesenchymal, they could be cancer stem cells, et cetera. And it's agnostic to the phenotype of the cells."
That degree of flexibility, she noted, enables many potential clinical applications, and Angle has been exploring several avenues in the CTC realm, in particular.
For example, last September the company forged a relationship with the University Medical Center Hamburg-Eppendorf to evaluate Parsortix for the capture and downstream analysis of CTCs in order to detect metastases in patients with breast, bladder, colon, and lung cancers.
In addition, the company has forged similar relationships with Barts Cancer Institute in the UK for prostate cancer patients; and with MD Anderson Cancer Center in the area of colorectal cancer.
However, in recent months the company and its collaborators at the Medical University of Vienna have made significant progress specifically in ovarian and breast cancer.
In the study presented at AACR, the partners demonstrated the combination of Parsortix and a modified qPCR method to detect CTCs using specific mRNA markers in breast and ovarian cancer patients. The researchers explained how, in previous studies, they identified mRNA markers that allowed CTC detection in 29 percent of breast cancer patients and 24.5 percent of ovarian cancer patients at diagnosis.
However, "the detection of cancer cells was hampered by the large number of contaminating leukocytes from existing CTC enrichment technologies, which provide only low purity," the researchers wrote in their poster abstract. "By improving the purity of cancer cells and PCR analysis we sought to increase both sensitivity and specificity of the diagnostic procedure."
Indeed, by applying the Parsortix technology and using seven out of 30 pre-selected RNA markers, the team was able to achieve significantly higher detection rates of CTC-related transcripts in ovarian cancer in a group of 24 patients — 80 percent at diagnosis and 78 percent at relapse. Further, by adding the remaining 23 mRNA markers, they identified 92 percent of the overall cancer patients and 100 percent of ovarian cancer patients in a 42-patient cohort.
The group has already begun an effort to validate its results in a larger cohort of ovarian cancer patients provided by a multi-center study, the researchers noted. Here, they will evaluate Parsortix and qPCR to monitor responsiveness to a new drug by analyzing CTCs.
Robinson said that of about 200,000 women in the US annually that present with ovarian masses, about 16,000 have ovarian cancer, "so you have a lot of benign masses." A blood-based test that would allow physicians to see, with a high degree of sensitivity and specificity, whether a mass was likely to be ovarian cancer "would allow the appropriate triaging to the appropriate type of surgeon for a surgical procedure," Robinson added. "That's a potential clinical application. It's still in the early stage, so the poster has a relatively small [sample size], but the intent is to continue to work with that and take it into the appropriate clinical trials and commercialize it as a clinical diagnostic."
The platform in its current state is relatively simple to use in a clinical setting, Robinson noted. It's about the size of a desktop printer, and the workflow basically comprises taking up to 10 ml of whole blood, putting it in a tube, placing the tube in the system, and pushing one button.
"There is a disposable, and that is the microfluidic cassette," which is the size of a microscope slide specifically so users can take the cells and examine them under a microscope post-isolation, Robinson said. "If someone wants to harvest the captured cells, they need to use an Eppendorf tube and basically turn a valve," she added.
"I don't see it as being a complex system to use today," she said. "In the future, as other applications come out, questions about further automation and/or greater throughput" may need to be addressed, she said.
Further, the platform can be used with a variety of downstream analysis methods, including simple immunohistochemical staining, FISH, qPCR, and next-generation and whole-genome sequencing.
In February, Angle raised around £8.8 million (about $13.8 million) in a combined stock offering to new and existing shareholders, and noted that it would use the funds to, among other things, progress its collaborations with the Medical University of Vienna and MD Anderson, in particular; to market its platform for research use to support drug trials and companion diagnostic development, and for general working capital purposes.
"We will continue to do work with rare cells in the women's health arena, and so that lends itself to some other nice relationships … whether it's in the cancer arena or other women's health diseases that utilize rare cells," Robinson said. "And there are some other publications … in other cancers that should come out in the next two to three months."