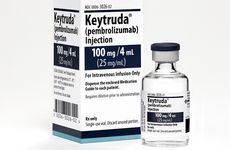 NEW YORK (GenomeWeb) – Agilent Technologies announced that the US Food and Drug Administration has granted expanded approval to the firm's companion diagnostic for the Merck PD-L1 inhibitor Keytruda (pembrolizumab). The Dako PD-L1 IHC 22C3 pharmDx test can now be used to determine expression status and inform treatment in a broader range of metastatic non-small cell lung cancer (NSCLC) patients.
Yesterday, the FDA announced that it had approved Keytruda for first-line treatment of metastatic NSCLC with high levels of PD-L1 and previously treated patients with tumor proportion score of 1 percent or more. The drug had previously only been approved as a second-line treatment. By extension, the companion diagnostic is approved for use in a greater number of patients.
"With the approval of both the medicine and companion diagnostic to include first-line evaluation and treatment, and the broadening of the Dako PD-L1 IHC 22C3 pharmDx label in the second-line and later treatment setting, we now have the opportunity to help many more patients with this devastating disease," Merck Research Laboratories Senior VP Roger Dansey said in a statement.
Agilent subsidiary Dako developed the Keytruda companion diagnostic in collaboration with Merck to detect the PD-L1 protein that allows the drug to work. According to the American Cancer Society, NSCLC accounts for about 85 percent of all lung cancers — approximately 190,000 new cases every year. Dako also makes the FDA-approved companion diagnostic for Bristol-Myers Squibb's anti-PD-L1 drug Opdivo (nivolumab).
In August, Agilent announced it had received CE marking for the Keytruda companion diagnostic.