In recent years, as immunotherapy has gained prominence as a potential breakthrough for cancer patients, researchers have turned to a range of biomarker profiling methods, including proteomic studies, to help explain variations in response rates to these drugs.
Immunotherapies have brought remarkable results for some types of cancer, including tumor shrinkage, improved survival rates, and remission, even in patients who have not responded to other therapies. However, response rates are highly variable between patients, tumor types and therapies, with only a subset of patients responding to most therapies.
For example, recent results from the Javelin 100 clinical trial, which added the PD-L1 inhibitor avelumab to chemoradiotherapy for head and neck cancer, failed to show any benefit in progression-free or overall survival. Even in one of the more successful immunotherapy trials, the Keynote-189 study of pembrolizumab in lung cancer, just under half of patients responded to treatment.
Furthermore, patients receiving immunotherapy can experience severe adverse events, particularly when used in combination with other treatments. For example, nearly twice as many patients on the IMpassion130 trial in advanced triple negative breast cancer discontinued treatment with atezolizumab and nab-paclitaxel compared with chemotherapy alone.
Although low-grade immune-related adverse events can indicate a response to treatment and have been associated with increased survival, such side effects of immunotherapy need careful monitoring.
Current approaches for identifying likely responders are insufficient
Variations in response rates are often attributed to differences in cancer physiology and the patient's underlying immune system. As a result, better patient profiling could help identify who is most likely to respond to a given therapy, avoiding giving unnecessary treatment that could do more harm than good.
The use of genetic screening or protein expression levels to stratify patients has improved response rates in some cases.
For example, the Keynote-001 study of pembrolizumab in non-small cell lung cancer (NSCLC) demonstrated median overall survival of 34.9 months in treatment-naive patients with tumors that express PD-L1 in 50 percent or more tumor cells, compared to 19.5 months for those with tumors with low PD-L1 expression. Another study showed an 80 percent response rate to nivolumab in NSCLC for patients with PD-L1 amplification, compared with less than 20 percent in those without.
However, even the best genetic biomarkers still give variable results in clinical practice. These difficulties arise because the genome and transcriptome are not always representative of the full biological phenotype.
Current stratification strategies also fail to identify which patients may experience severe side effects and, as a result, adverse events remain unpredictable.
Searching the proteome for immunotherapy biomarkers
Beyond conventional genomics and transcriptomics methods, recent advances in proteomics now enable deeper study of the underlying biology to search the entire proteome for predictive, prognostic, and patient monitoring biomarkers in immuno-oncology.
Next-generation proteomics technologies, such as the data-independent acquisition (DIA) mass spectrometry methods pioneered by Biognosys, provide an unbiased way to measure the entire proteome of tissues and biofluids such as blood plasma with unprecedented depth and scale.
Proteomic analysis is therefore a promising tool for uncovering relationships between the proteome and response to therapy for better patient screening and stratification.
Correlating protein signatures in samples collected from patients prior to treatment with clinical outcomes can reveal relevant biomarkers and build a profile of patients who are likely to respond to therapy.
Furthermore, collecting further samples during treatment and tracking changes to the proteome can support the discovery of biomarkers for monitoring responses and managing immune-related adverse events.
Biomarker signatures associated with immunotherapy response and adverse events
Proof-of-concept studies in patients with non-small cell lung cancer and melanoma treated with PD-1 blockades have demonstrated the power of next-generation proteomics for discovering biomarkers for predicting response and managing toxicity.
In a study published at the 2021 meeting of the American Society of Clinical Oncology, performed by Biognosys in collaboration with melanoma researcher Paolo A. Ascierto and colleagues at the Instituto Nazionale Tumori IRCCS Fondazione G. Pascale, tissue samples were taken from patients with late-stage melanoma before treatment with anti-PD-1 therapies.
Biognosys combined unbiased proteomic analysis with transcriptomics to identify protein and mRNA biomarkers associated with response to treatment in patients with late-stage melanoma treated with anti-PD1 therapies.
The study identified 64 proteins and ten mRNA biomarker candidates associated with treatment response, providing a more comprehensive picture than either proteomics or transcriptomics alone.
In a further study presented at the 2021 American Association of Cancer Research conference, the researchers combined the proteomic data from this analysis with information on clinical outcomes.
A panel of 15 proteins were identified that were predictive of therapeutic response and toxicity, related to vesicle transport, metabolism, inflammation, and immune response. Of these 15, eight were shared with the prognostic melanoma signature from The Human Protein Atlas (see figure 1).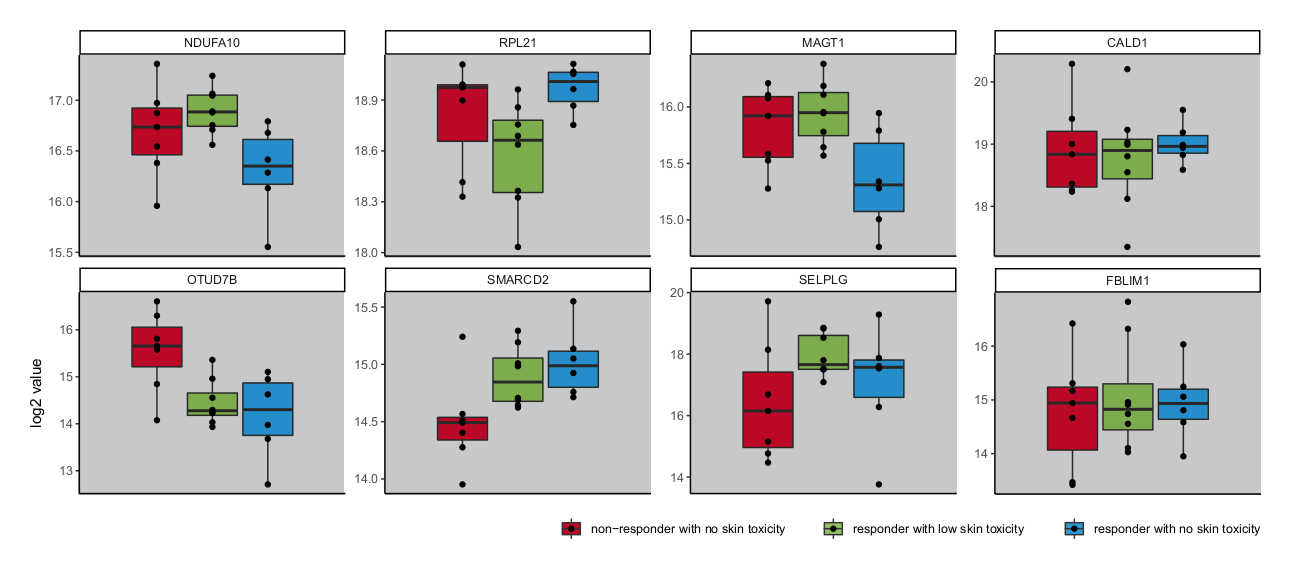 In collaboration with Emanuela Romano and colleagues at the Curie Institute and San Luigi Gonzaga Hospital, Biognosys also examined the proteomes of patients with non-small cell lung cancer using plasma samples collected before and during treatment with anti-PD-1 immune checkpoint inhibitors.
Presenting their findings at the 2021 AACR conference, the team identified 13 proteins that displayed potential prognostic value for predicting response to therapy and immune-related adverse events, representing key biological processes including acute immune responses, lipid regulation, and glycosylation.
Next-generation proteomics goes beyond identifying biomarkers
Taken together, these studies demonstrate the power of next-generation proteomics in identifying new prognostic biomarkers in immunotherapy. Large-scale, unbiased proteomic techniques can identify predictive biomarkers for virtually any clinically relevant outcome by matching protein signatures at time zero with clinical measurements.
But the potential for deep proteomics in immuno-oncology does not stop there.
By matching tumor proteomic signatures with plasma protein signatures, it is possible to correlate plasma and tumor biomarkers, enabling less invasive monitoring for patients and removing the need for frequent biopsies.
Furthermore, complementing more conventional tools in the drug discovery toolbox, such as transcriptomics and genomic analysis, with next-generation proteomics can give a complete picture of a patient's profile and the likelihood of response to immunotherapy.
Finally, unbiased proteomic data can be used for "reverse translation," providing new insights into the underlying therapeutic mechanism of action and pointing toward novel combination strategies with existing or pipeline assets that would benefit non-responders.
Major players in the immuno-oncology space are increasingly turning to next-generation proteomics to support better patient stratification, more successful clinical trials, and, most importantly, more favorable outcomes for patients.
View and download the posters summarized in this article presented by Biognosys at the 2021 AACR and ASCO congresses.