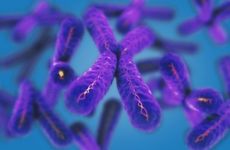 NEW YORK (GenomeWeb) – As most cancer testing labs continue to focus on tests that detect cancer-associated mutations in DNA, Canadian firm 3D Signatures has harnessed an alternative zoomed-out approach, using proprietary methodology to examine the spatial patterns of chromosomes by tagging and imaging their telomeres.
The firm has collected data in multiple disease indications, focusing on specific clinical areas of need where current diagnostics or biomarkers fall short, such as PSA in prostate cancer. The data identifies predictive telomere signatures that speak to things like cancer aggressiveness or risk, and can help inform clinical decisions regarding therapy choice or surgical intervention.
3DS has identified specific clinical niches, where physicians either lack tests to personalize treatment at all, or where it believes its technology can do better than existing genetic or other assays — for example in determining prostate cancer aggressiveness to help avoid unnecessary surgeries.
"We recognize that there are diagnostic techniques out there for these patients right now, whether [its] a prostate cancer patient with PSA, or in Hodgkin lymphoma with lymph node tissue … The gap we fill in is what do you do with this patient, how you then personalize their treatment," 3DS CEO Jason Flowerday, said this week.
At its essence, the telomere imaging strategy is a way of capturing the presence of genomic instability at a much more macro level than genomic approaches that measure specific biomarkers or even overall mutational load.
"There is a lot of NGS going on looking for a whole list of mutations, but that doesn't, itself, explain things. All those mutations have to combine, and the chromosome rearranges itself, and once that happens you have a lead indicator, which is what we are looking at," Flowerday said.
"We're not drilling in to specific mutations. We know there are hundreds, if not thousands, of mutations in some cases driving genomic instability. We are looking at morphology, and the changes that result from that," he explained.
The firm's approach involves tethering a fluorescent probe to telomere regions of chromosomes within a cell's nucleus and then using that as an imaging marker. The firm takes a stack of about 40 incremental images, and then uses them to create a 3D rendering that reveals the spatial orientation of the tagged telomeres — a map of how the nucleus of a cancer cell is organized.
"We can see disorganization and big holes or aggregation of telomeres," Flowerday said. "And our proprietary software then looks at six different characteristics and derives a scoring model."
Although the methodology lends itself to minimally invasive tests using circulating tumor cells, the company is also developing tissue-based tests. For example, the firm's first assay, for Hodgkin lymphoma, will use cells isolated from diagnostic lymph node biopsies.
In its early validation work, Flowerday said that 3DS has demonstrated that its proprietary analysis of telomere arrangement could predict, at the time of diagnosis, which HL patients are likely to respond to chemotherapy and which are not, allowing physicians to drive those individuals to second-line immunotherapy or other interventions.
3DS also announced today that it has received its first blood samples for analysis as part of a prostate cancer clinical trial called PRECISE.
The company's prostate cancer test uses a circulating tumor cell capture technology from French firm ScreenCell to isolate CTCs for its telomere structural imaging.
According to Flowerday, 3DS has already completed a study in which it followed newly diagnosed prostate cancer patients for three years as they received active surveillance and needle biopsies. Fifty patients from this cohort were referred for a radical prostatectomy after pathology returned a Gleason score of 7 in one of these biopsies.
But based on the company's (blinded) 3D signature analysis, only 21 of these patients actually had aggressive cancer, Flowerday said. Then, when the patients' resected prostate tissue was analyzed, pathology confirmed the 21 patients in question did, indeed, have less aggressive disease, and could have avoided the surgery.
In the prostate cancer space, 3DS will be up against existing genomic assays including Myriad Genetics' Prolaris, Genomic Health's OncotypeDx Prostate, and more recently, a pre-prostatectomy version of GenomeDx's Decipher.
But Flowerday argued that the predictive accuracy it is seeing in its validation work puts it in a very strong position, relative to existing approaches.
Beyond prostate cancer, Flowerday said that 3DS is also working through validation of tests in lung cancer and myeloma, supported by funding the firm has raised since going public last September.
In total, the company has identified 13 cancers in which it is advancing tests. It is also developing an assay for Alzheimer's disease.
The firm plans to launch its Hodgkin lymphoma test in about 12 months, and is now conducting a final retrospective validation in 400 patients to set the cutoff point that will be used in reports returned to ordering physicians.
Though its initial plans are to offer tests under an LDT model, Flowerday said 3DS intends to eventually seek US Food and Drug Administration approval.