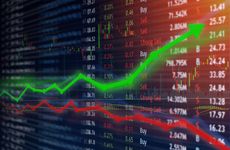 NEW YORK – Molecular diagnostics and omics stocks were down across the board in April, following the downward trend in the broader market.
Overall, the GenomeWeb Top 40 was down 12 percent. In comparison, the Dow Jones Industrial Average was down 5 percent month over month from March, while the Nasdaq was down 13 percent and the Nasdaq Biotech Index closed down 10 percent. Of the 40 firms tracked by GenomeWeb, 39 saw their stock prices drop month over month with almost three quarters of those posting double-digit declines. Just one company, Cue Health, posted a month-over-month increase.
Proteomics firm Seer led the decliners, down 52 percent. The company, which traded roughly flat in March, appeared more a victim of the broader market sell-off than any specific in-house developments. In its Q4 2021 earnings report at the end of February, it posted a nearly tenfold growth in revenue year over year while beating the consensus Wall Street estimate.
Castle Biosciences posted the second largest drop in stock price, down 50 percent month over month, perhaps driven in part by uncertainty surrounding the company's acquisition of pharmacogenomics testing firm AltheaDx, which Castle purchased in April for $65 million upfront and as much as $75 million in additional milestone payments. AltheaDx's lead product is its IDgenetix test, which assesses pharmacogenomic loci associated with response to drugs prescribed for depression, anxiety, and other mental health conditions.
In a note to investors, SVB Leerink Analyst Puneet Souda said that his firm finds "it challenging to see AltheaDx differentiating itself in the mental health market despite producing unique drug-drug interaction reports."
Canaccord Genuity Analyst Kyle Mikson said in a note to investors that he was "optimistic that Castle's capital and sales and marketing experience should enable the IDgenetix to reach its potential." However, Canaccord lowered its priced target for Castle to $80 from $94, though it maintained its Buy rating.
Castle also announced during the month that the Veterans Health Administration has expanded its US Federal Supply Schedule contract to include coverage for all of the company's skin cancer tests, effective April 15.
NanoString Technologies posted the third largest decline during the month, down 46 percent. The company reported preliminary Q1 2022 revenues of $31 million, well under its previous guidance of between $34 million and $38 million. In a statement, NanoString President and CEO Brad Gray said the shortfall stemmed from "uneven sales execution" and "changes made to realign our expanded commercial team early in the year."
In a research note following the preannouncement, Cowen Analyst Dan Brennan said the bank had lowered its full-year 2023 revenue projections for the company to $232 million, down from $235 million, and lowered its price target from $65 to $50.
Turning to what, in a month of red ink, passes for the bright side, Cue Health's stock saw a 4 percent upswing, making it the only company in the GW Top 40 to post a gain in price. That followed a 22 percent month-over-month decline in the company's stock price in March.
At the end of March, the San Diego-based testing firm posted a massive jump in Q4 and full-year 2021 revenues, with Q4 revenue jumping from $13.3 million in 2020 to $192.5 million in Q4 2021. Full-year revenue for 2021 was $618.1 million compared to $23.0 million in 2020.
In April, the company announced a partnership with Major League Baseball (MLB) to expand the use of its tests in MLB's leaguewide COVID-19 testing program, providing testing for teams and the league office using its Cue Health Monitoring System. Cue also announced that it will provide its tests to BioReference Laboratory's customers, including through healthcare providers and point-of-care clinics.
| | | | | |
| --- | --- | --- | --- | --- |
| GenomeWeb Top 40 |   |   |   |   |
| Company | Ticker | 30-Apr-22 | 31-Mar-22 | % change |
| Adaptive Biotechnologies | ADPT | 8.25 | 13.88 | -40.56 |
| Agilent Technologies* | A | 119.27 | 132.33 | -9.87 |
| Becton Dickinson** | BDX | 247.19 | 259.33 | -4.68 |
| Berkeley Lights | BLI | 4.98 | 7.11 | -29.96 |
| Bio-Rad Laboratories | BIO | 512.06 | 563.23 | -9.09 |
| Bio-Techne | TECH | 379.69 | 433.04 | -12.32 |
| Bruker | BRKR | 57.49 | 64.30 | -10.59 |
| Burning Rock Biotech | BNR | 5.51 | 9.29 | -40.69 |
| CareDx | CDNA | 30.44 | 36.99 | -17.71 |
| Castle Biosciences | CSTL | 22.34 | 44.86 | -50.20 |
| Cue Health | HLTH | 6.70 | 6.45 | 3.88 |
| Danaher | DHR | 251.13 | 293.33 | -14.39 |
| Exact Sciences | EXAS | 55.05 | 69.92 | -21.27 |
| Fulgent Genetics | FLGT | 54.88 | 62.41 | -12.07 |
| Ginkgo Bioworks | DNA | 2.90 | 4.03 | -28.04 |
| Guardant Health | GH | 61.70 | 66.24 | -6.85 |
| Hologic | HOLX | 71.99 | 76.82 | -6.29 |
| Illumina | ILMN | 296.65 | 349.40 | -15.10 |
| Invitae | NVTA | 5.31 | 7.97 | -33.38 |
| Meridian Bioscience | VIVO | 25.59 | 25.96 | -1.43 |
| Myriad Genetics | MYGN | 20.50 | 25.20 | -18.65 |
| NanoString Technologies | NSTG | 18.78 | 34.75 | -45.96 |
| Natera | NTRA | 35.12 | 40.68 | -13.67 |
| NeoGenomics Laboratories | NEO | 9.45 | 12.15 | -22.22 |
| Pacific Biosciences | PACB | 6.34 | 9.10 | -30.33 |
| Personalis | PSNL | 5.60 | 8.19 | -31.62 |
| PerkinElmer*** | PKI | 146.61 | 174.46 | -15.96 |
| Qiagen | QGEN | 45.37 | 49.00 | -7.41 |
| Quanterix | QTRX | 22.19 | 29.19 | -23.98 |
| Quantum-SI | QSI | 4.38 | 4.68 | -6.41 |
| Quidel | QDEL | 100.62 | 112.46 | -10.53 |
| Seer | SEER | 7.28 | 15.24 | -52.23 |
| SomaLogic | SLGC | 6.32 | 8.02 | -21.20 |
| Sophia Genetics | SOPH | 6.43 | 7.73 | -16.82 |
| Thermo Fisher Scientific | TMO | 552.92 | 590.65 | -6.39 |
| Twist Bioscience | TWST | 28.84 | 49.38 | -41.60 |
| Veracyte | VCYT | 20.47 | 27.57 | -25.75 |
| Waters | WAT | 303.02 | 310.39 | -2.37 |
| 23andMe | ME | 2.99 | 3.83 | -21.93 |
| 10x Genomics | TXG | 47.76 | 76.07 | -37.22 |
| GenomeWeb Top 40 Average |   | 90.25 | 102.89 | -12.28 |
|   |   |   |   |   |
*Agilent Technologies paid a dividend of $.21 on April 4
**Becton Dickinson announced a 1025:1000 stock split on April 1
***PerkinElmer paid a dividend of $.07 on April 21