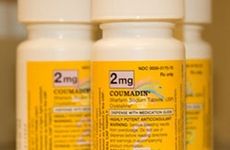 NEW YORK (360Dx) – A Bluetooth-enabled meter that allows patients to take blood tests at home and send results through a phone app to their clinics may improve clinical outcomes for patients who are taking anticoagulation therapy.
The technology, a Bluetooth-enabled version of a meter Roche has been selling to clinics, "moves care closer to patients, and provides benefits for their quality of life," said Pierre Hazlewood, director, point of care, at Roche Diagnostics. He added that there may also be clinical benefits to patients who self-monitor, and self-testing could allow clinics to free up scare resources.
Roche launched the next-generation device, called CoaguCheck INRange meter, in Europe this month, coinciding with the release of a patient survey conducted by the Atrial Fibrillation Association and sponsored by Roche, which found that among about 1,000 patients on warfarin surveyed in the UK and the US, 87 percent agreed that by self-monitoring, "they would gain much more freedom when traveling for work or pleasure." Seventy-nine percent agreed that they would prefer self-monitoring over attending clinics.
The CoaguCheck INRange meter is currently available only in Europe, though Roche officials said it is currently under 510(k) review with the US Food and Drug Administration. A timeline for the product launch in the US has not yet been determined, Matt Manley, vice president of marketing, point of care diagnostics, at Roche Diagnostics, said in an email.
However, Roche recently launched a Bluetooth-enabled solution for results-reporting in the US, for patients who self-test their prothrombin time/ international normalized ratio (PT/INR) levels with a CoaguChek meter and are enrolled with CoaguChek Patient Services. "The CoaguChek XS mPOC app allows patients to use their own iOS device to use the Bluetooth-enabled PT/INR reporting offered by CoaguChek Patient Services," Manley said. 
Among the advantages of the use of point-of-care devices is that they can allow patients to perform PT/INR tests by themselves at home, and then communicate with healthcare professionals about dose adjustment, said Nicoletta Riva, a specialist in internal medicine who works in the faculty of medicine and surgery at the University of Malta.
Patients, as a result, can avoid the time-consuming and potentially expensive process of frequently attending clinics.
Riva was coauthor of a paper published last week in the International Journal of Laboratory Hematology that provided a comparative study of three different INR monitoring methods for thrombin generation in patients who were on vitamin K antagonist treatment, or anticoagulation therapy.
The main finding of the study was that the Roche CoaguChek XS Plus point-of-care test showed one of "the highest correlation coefficients" with thrombin generation, when it was compared with two laboratory INR methodologies. The researchers concluded that "POC assays are an accurate and reliable alternative" to doing laboratory-based INR testing for patients undertaking VKA treatments.
"Literature shows that patient self-testing can also increase the percentage of time within the therapeutic range," Riva added.
She noted that eliminating traveling is a key driver for patient self-testing, and that, in turn, can "have a positive impact in coagulation monitoring."
Aside from clinical benefits, self-monitoring is just more convenient for patients. According to Trudie Lobban, founder and CEO of the AFA, the main finding of the survey it conducted with Roche is "clearly the number of people who are keen to self-manage and self-monitor, which would improve their quality of life and would also reduce the cost of providing health services."
When the association's executives heard about the launch of the new Bluetooth monitor, they wanted to assess what patients, who are at risk of atrial fibrillation and who were taking the anticoagulant warfarin, thought about self-testing.
At first, AFA requested that only people who are currently prescribed warfarin complete the survey, but then it received requests for participation from people who at one time took warfarin, but had stopped because of "the number of clinic checkups, time off work, or challenges getting transportation to clinics," Lobban said. "We then amended the survey so that anyone currently or previously prescribed warfarin could participate."
Warfarin is also sold under its brand names Coumadin and Jantoven.
Patients taking warfarin often attend clinics for testing once a month, and sometimes as frequently as once a week. Based on a patient's results within a therapeutic range, they may be required to adjust the dose of the drug.
Taking the correct dose is crucial for effective anticoagulation treatment. The proper dosage is established by measuring the prothrombin time (PT), or how long it takes blood to clot. The international normalized ratio (INR) "harmonizes" prothrombin time results from different test methods, the firm added, and the amount of time that INR values are between the upper and lower target value is called the time in therapeutic range.  
The more time that patients are within range, the lower the risk of complications, such as blood clots or excessive bleeding, said Roche, which noted that more convenient testing should help patients adhere to their prescribed PT/INR testing frequency.
Data show that 50 to 60 percent of patients can be expected to remain in their target range if monitoring of INR occurs monthly; 77 to 85 percent if monitoring occurs weekly; and up to 92 percent if monitoring occurs every three days, Roche said, adding that patients who spend a greater than 70 percent of time in the therapeutic range achieve better clinical outcomes.
Citing a study published in 2008 in the journal Circulation, Roche said a 5 percent improvement in patients' remaining within a recommended therapeutic range while attending UK anticoagulation clinics could prevent between 400 and 500 strokes per year.
The study also evaluated how differences in the amount of time that patients remained within the therapeutic range measured in various test centers and in different countries affected the outcomes of oral anticoagulation therapy.
Staying within range, the study said, is influenced by patient-specific factors such as genetic polymorphisms, age, and compliance with medications. "[P]hysician- and medical system–related factors also contribute, particularly because the dosing of oral anticoagulants is variable between patients and often requires ongoing adjustment."
According to CoaguSense, the maker of a PT/INR monitor that competes with Roche's systems, 2 million new people start taking warfarin every year.
Hazelwood said that upward of 950,000 people in the UK take warfarin, most likely for atrial fibrillation, an irregular and often rapid heart rate that can increase the risk of stroke, heart failure, and other heart-related complications.
Roche said that patients have been using its coagulation monitoring systems since 1993, and more than 1 million of its CoaguChek XS meters are used worldwide. Patients test with more than 250,000 CoaguChek XS PT test strips each day.
Over the past 10 years, about 80 percent of people in the UK have moved to near-patient testing, Hazlewood said. These patients at one time attended clinics, took blood tests, and waited a couple of weeks to have their test results returned. They still attend clinics, but because of advances in testing technology, they can get results and adjust doses almost right away if needed, Hazlewood said.
Although this option leads to faster results, patients still must endure the inconvenience of frequent visits to clinics. Once you're taking warfarin, you are most likely on it for the rest of your life, Hazlewood said. "[I]f you're looking ahead at a decade of visiting a clinic every month, or so, then the benefits of self-testing are pretty clear."
In moving to self-testing from near-patient testing in the clinic, patients in the UK will use Roche's new Bluetooth-enabled CoaguChek INRange and move away from using the firm's professional version of the meter. While smaller than the professional version, the home-based self-monitoring system uses the same base technology used in the clinic.
"There are differences among them with respect to connectivity, but beyond that, the technologies are the same," Hazelwood said.
He said that offering home-based monitoring is reflective of a strategic move for Roche in the market for coagulation monitoring.
"It feels like the modern way to manage patients," he said, "as it gives them the opportunity to manage themselves with the proper clinical support."
He noted that self-testing also provides benefits for resource-strapped clinics, which are under pressure, especially in the UK, from a scarcity of funding and increasing capacity requirements.
Coagulation monitoring, he said, appears to be headed in the direction of home-based testing. Patient self-monitoring has penetrated about 5 to 6 percent of the total market for coagulation monitoring in the UK, "but we expect it to accelerate quickly in the next few years," he added.
According to a study published in the Journal of Medical Economics, if 10 percent of patients in the UK switched to point-of-care coagulation monitoring devices for 10 years, its national health service (NHS) would save more than £112 million ($145 million) during that period.
According to Roche, the benefits of coagulation monitoring are reinforced in guidance for INR self-monitoring published in a September 2014 report by the National Institute for Health and Care Excellent (NICE), which provides national guidance and advice to improve health and social care in the UK.
The guidance recommends use of Roche's CoaguChek XS meter, a CLIA-waived system for home or professional use, for self-monitoring coagulation status "in adults and children on long-term vitamin K antagonist therapy who have atrial fibrillation or heart valve disease" — if the person prefers this form of testing, and the person or the care giver "is both physically and cognitively able to self-monitor effectively."
A second test reviewed by NICE — the Alere InRatio2 PT/INR monitor — has been withdrawn from the market and is not available to the NHS or elsewhere.
In April, Alere settled a lawsuit that alleged the company misled consumers by selling them inaccurate blood test monitoring systems used in the home.
"Although there is greater uncertainty of clinical benefit for the InRatio2 PT/INR monitor than for the CoaguChek XS system, the evidence indicates that the precision and accuracy of both monitors are comparable to laboratory‑based INR testing," the NICE guidance reported.
In October 2016, NICE updated its report, indicating that it "is aware that the INRatio2 PT/INR monitor (Alere Ltd) has been withdrawn from the market and is not currently available to the NHS."
Alere's coagulation-monitoring woes aside, patient testing for coagulation monitoring at home is not completely free of challenges.
"Patients willing to perform self-testing need to be adequately trained on the use of the POC device and the correct procedure" to obtain a capillary sample, Riva said. "Furthermore, an external quality assessment of the performance of the patient's POC coagulometer should be performed periodically."
The 2014 NICE guidance report also noted that patients and caregivers should be trained in the effective use of the point-of-care testing devices, "and clinicians involved in their care should regularly review their ability to self‑monitor."