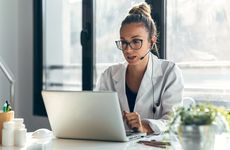 NEW YORK – The University of Florida College of Pharmacy has launched MyRx, an education service that is intended for people who have received pharmacogenetic testing and want help interpreting the results, but who aren't necessarily getting care within the UF Health system.
The program, a UF Health service run by the College of Pharmacy, is ramping up after a soft launch last year, with plans to begin marketing efforts next month. MyRx provides a way for patients to book video-based educational consultations with pharmacists specializing in pharmacogenetics and learn how they might respond to drugs they're on or might be taking in the future based on genetic variants they harbor. Individuals don't have to be a UF Health patient to use the service; as long as they live in Florida or New Jersey and have gotten PGx testing from an approved laboratory, they can use MyRx to make sense of those results.
To schedule an appointment, consumers register through an online patient portal developed in-house at UF Health. Patients are prompted to upload their medication history and PGx test results from laboratories such as Labcorp, Quest Diagnostics, 23andMe, and Mayo Clinic, among others. Interested patients who haven't already undergone PGx testing can request a PGx panel-based test through MyRx. In those cases, individuals will collect a cheek swab at home, though UF Health patients can request an in-person blood draw. Samples are analyzed by UF Health's pathology laboratory.
While a MyRx pharmacist will help patients interpret their PGx results and discuss implications for their medications, he or she won't recommend specific medication changes. Instead, the pharmacist will deliver a medication plan informed by a patient's PGx test results to their healthcare provider after the video visit.
The PGx-guided medication plans are based on guidelines from the Clinical Pharmacogenetics Implementation Consortium (CPIC), an internationally recognized guidelines body, and the US Food and Drug Administration. MyRx's consultation services are most useful for guiding decisions about drugs for depression, anxiety, attention-deficit/hyperactivity disorder, chronic pain, and various heart conditions, said Emily Cicali, clinical director for MyRx and clinical assistant professor at the UF College of Pharmacy's pharmacotherapy and translational research department. But the service "could be for anyone who's curious," she added.
UF Health for years has offered PGx testing and consultations to its own patients. Clinicians could order PGx testing and request help interpreting the results from experts in the health system's precision medicine program. MyRx will expand on this by creating a process for a broader set of patients to access PGx services, explained Cicali, who is one of four UF pharmacists who staff MyRx's video consultation service. "MyRx was born out of trying to help patients outside of UF Health," she said.
As PGx testing became more broadly accessible through online direct-to-consumer testing providers like 23andMe, UF recognized that people wanted help applying the results to their healthcare. The UF College of Pharmacy's Center for Pharmacogenomics and Precision Medicine would sometimes get cold calls from people who were frustrated with their medications and had learned about PGx or had recently undergone PGx testing but didn't know how to use the results, Cicali said. At the time, the center didn't have a way to offer services to patients who weren't getting care within UF Health. "We would help them when we could, but we really didn't have a mechanism in place to help patients more broadly," she said.
Now, after more than a year spent building a consumer-facing program, MyRx is up and running. One challenge in setting up the service was figuring out a payment model, since pharmacists usually can't bill insurance for consultations the way that other healthcare providers can, Cicali said. UF College of Pharmacy has set a $199 one-time flat rate for a video consultation and a $599 fee for both PGx testing and the video-based education. UF Health patients may be able to have some of the testing cost covered by insurance.
MyRx also plans to launch a subscription service, through which patients can have multiple consultations over the course of a year, to attract those interested in receiving ongoing support as their medications change. MyRx has not posted how much that service will cost.
Cicali is optimistic that between 300 and 500 patients will register for the MyRx program this year. She declined to share whether MyRx expects to see revenue from the program in 2023.
Those in charge of the program stressed that while the service is consumer-facing — meaning any person who has had an eligible genetic test, and not just UF Health patients, can access the educational support services — the service isn't direct-to-consumer. If a patient is interested in receiving PGx testing through MyRx, it will need to be ordered by a provider, either the patient's own or someone at UF Health, and medication recommendations will only be shared with patients' providers.
"The patient can self-refer and go through that educational consult, but any actual changes to their medication will still come from their provider," explained Emely McKitrick, associate director of MyRx.
To get the word out about MyRx, UF Health plans to launch a marketing campaign in March, which will involve digital ads on search engines and social media. "We're really now trying to get in front of patients who this would benefit so they can self-refer [from] outside of UF Health," McKitrick said. In a second phase of the marketing campaign, however, the health system will also advertise MyRx to pharmacists and physicians outside of UF Health who wish to direct patients to the service.