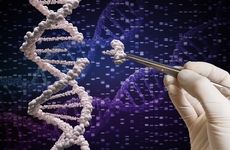 NEW YORK – Startup VedaBio claims to have developed a novel CRISPR-based technology that enables highly sensitive one-minute nucleic acid detection at room temperature without the need for target amplification, making it a potential challenger to real-time PCR, the gold standard of molecular testing.
The core technology enabling these remarkable claims is a method called CRISPR Cascade. VedaBio CEO Anurup Ganguli said he developed this proprietary approach along with company Cofounder Rashid Bashir, his graduate adviser and current dean of the engineering school at the University of Illinois Urbana-Champaign.
"We have removed the need for target amplification from the equation completely," Ganguli said in an interview. Instead, "we use very unique and specific CRISPR enzymes for both the target detection step and the signal amplification step," he said.
In bacteria and archaea, the CRISPR-Cas system is analogous to the mammalian adaptive immune system, with different clustered regularly interspaced short palindromic repeats, or CRISPR, proteins cooperating with different CRISPR-associated, or Cas, proteins to identify and cleave non-host nucleic acids.
CRISPR-based diagnostic technologies typically use Cas12a to detect DNA targets or Cas13a to detect RNA targets. To date, however, the technologies described have required an amplification step prior to the detection, although the specificity of the CRISPR reaction potentially allows it to be combined with isothermal amplification methods that can be somewhat less specific than PCR.
The VedaBio team has developed an approach that uses proprietary engineered complexes it calls CRISPR-Cas ribonucleoproteins, or RNPs, to detect nucleic acids of interest and subsequently amplify signal.
A first RNP, called RNP-1, contains a guide RNA that is complementary to the sequence being targeted for detection. "It is designed to find your target of interest, and it can use a Cas12a enzyme for DNA targets or a Cas13a enzyme for RNA targets," Ganguli said.
In the CRISPR Cascade technology, binding with the targeted nucleic acid sequence in the sample instigates the trans-cleavage activity of the complex such that it begins to cut any nearby DNA or RNA.
The VedaBio chemistries include a reporter molecule that is cut by the activated RNP-1 to release a fluorescent signal. They also include an abundance of a second RNP complex called RNP-2 Cas as well as a so-called blocked nucleic acid target dubbed BT2.
The BT2 contains complementary target sequence that, when cleaved by RNP-1, binds RNP-2s, according to a white paper from VedaBio. When the complementary target released by the BT2 in turn binds to the RNP-2, it creates an RNP-2 complex that can then begin cleaving more reporter molecules and more blocked RNP-2 targets.
The resulting exponential reaction generates a robust signal almost instantaneously, according to VedaBio.
The cascading aspect of the positive feedback loop is the inspiration for naming the method CRISPR Cascade, not to be confused with a protein called CRISPR-associated complex for antiviral defense, or Cascade, which is thought to serve as a surveillance system within some bacteria.
The amplification of signal rather than target nucleic acids differentiates the method from typical molecular diagnostic techniques.
And, "these enzymes cleave at about 10 cuts per second," Ganguli said, which results in a very fast reaction.
Ganguli and his team do not yet have any published peer-reviewed descriptions of the technology, but he said they will submit studies in the coming months.
In terms of sensitivity and specificity of the reaction, VedaBio claims CRISPR Cascade is on par with PCR.
A figure in one of the firm's patents specifically describes room-temperature detection of three copies of a molecule of methicillin-resistant Staphylococcus aureus (MRSA) DNA in one minute. 
Assays using the chemistries are also potentially straightforward to develop as "there are no primers and no polymerases in the equation anymore," Ganguli said.
Multiplexing with the CRISPR Cascade platform at this stage in development can be done spatially, by sequestering sample into many individual reactions, as well as by using a pooled method whereby the readout detects but does not distinguish between many targets.
The latter can be useful for screening tests to rule out the presence of many targets at once, Ganguli said, adding that the method has limited cross-reactivity between targets because the sequence-specific portion of the guide nucleic acid is tucked inside the enzymes of the RNP complexes.
Ganguli and Bashir founded VedaBio two years ago in Illinois, then moved to San Diego last year, in part inspired by the access to talent in the area. The firm emerged from stealth mode this week by announcing $40 million in Series A financing.
Although sensitive and specific one-minute nucleic acid detection at room temperature seems to be an extraordinary claim in the genomics industry, VedaBio has attracted a number of seasoned diagnostics veterans to join its team.
Frederic Sweeney, the firm's chief operating officer who was previously an exec at MeMed Diagnostics, BioMérieux, and T2 Biosystems, was originally brought in by investment firm OMX to do due diligence on VedaBio. "It's a good sign of a positive diligence that I ended up joining the company full time," he said.
Among the 26 people currently on staff, the firm counts more than 150 years of experience in the molecular detection industry, Sweeney said, adding that many members of the team have worked together previously at other firms.
VedaBio has hired Christine Ginocchio, a molecular diagnostics expert who left a career in the clinical lab for a position at BioMérieux, as chief medical and scientific officer.
Other hires include Phil Belgrader, who helped develop the first Cepheid GeneXpert cartridges, as VP of systems integration, and Kim Dorans, who previously worked at MeMed and Sherlock Biosciences, as director of strategy and corporate development.
VedaBio VP of Engineering Don Masquelier previously developed platforms at QuantaLife, 10X Genomics, and Inscripta, while Executive Director of Clinical and Regulatory Affairs Kristen Kanack previously served as the head of the regulatory science division at Qiagen, senior VP of R&D and programs at BioMérieux/BioFire Diagnostics, and senior VP of regulatory and clinical affairs at BioFire Diagnostics. Meanwhile, VP of Strategic Marketing Will Harris previously led marketing and product management efforts at MeMed, Amazon Robotics, and T2.
While in stealth mode, the firm pushed the technology to the point where it was able to generate intellectual property, he said, and now 80 percent of its efforts will be on building a product, with the remainder focused on demonstrating the power and features of the platform. The firm also plans to make an announcement related to partnerships by the end of this year.
"Our timelines are very aggressive based on the fact that our average senior executive has about 20 to 30 years of experience," Sweeney said.
In terms of what exactly will be commercialized first, Sweeney and Ganguli said that VedaBio is exploring different options for its molecular detection technologies, but among its potential applications are industrial uses and clinical tests, which will likely be developed in-house as well as through partnerships.