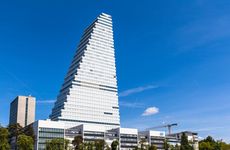 NEW YORK – On its conference call to discuss its fourth quarter and full-year financial results, Roche explained its plans to further expand manufacturing capacity and broaden its diagnostics portfolio, with additional tests for both SARS-CoV-2 and other diseases.
Roche Diagnostics CEO Thomas Schinecker said the firm not only expects its COVID-19 portfolio to grow significantly throughout the year, but also its non-COVID-19 business will grow. Although immunodiagnostics and clinical chemistry sales decreased year over year during full-year 2020 , point-of-care immunodiagnostics, virology, LightMix, and point-of-care molecular sales increased, due largely to Roche's SARS-CoV-2 launches in 2020. Schinecker emphasized that the firm "didn't neglect the rest of our portfolio" and 2021 would be a "fantastic launch year." 
"Whilst we have been heavily investing in COVID-19, we did not stop working on our new platforms and on our menu of assays," Roche CEO Severin Schwan said. CFO Alan Hippe noted that the firm saw $2.6 billion in COVID-related sales.
So far this year, Roche has received CE marking for its rapid nasal antigen test, which Schinecker said allows for easier sample collection and will provide the opportunity to open up more of society and control infections much better. In December it received CE marking for the Elecsys SARS-CoV-2 Antigen test, an automated immunoassay for the qualitative detection of the nucleocapsid protein, returns results in 18 minutes and can run 300 tests in an hour, Schinecker said. The test has a sensitivity of nearly 95 percent and a specificity of nearly 100 percent and is available on the Cobas e analyzers, which have an installed base of more than 40,000 systems.  
The firm is planning on launching three new systems in 2021: the Cobas Pure, a low- to medium-throughput serum work area solution; a new, high-throughput version of the Cobas Pro; and the molecular Cobas 5800, a fully automated, low-throughput PCR system. All three instruments are still in development and not yet available for commercial use, Roche said. "Many of our peers, they play maybe in one of the segments mostly, but to really have a family approach across all segments is really what our customers need because they think in networks, Schinecker said. 
The company has also doubled its installed base of the Cobas 6800/8800 systems, Schinecker said, and is working to develop a test on the system that uses PCR to determine SARS-CoV-2 variants in positive samples for the virus.
In addition, Roche expects to launch the Cobas Pulse, a point-of-care system and the successor to the Accu-Check Inform II, as well as the Avenio Edge System, an instrument for automated sequencing library preparation and target enrichment.
For core lab assays, the company plans to launch intended-use extensions of the Elecsys NT-proBNP IU in heart failure and atrial fibrillation. It is also planning claim extensions for the Elecsys TnT-hx 3 in coronary arterial disease. 
In the molecular lab space, Roche intends to launch the Avenio FoundationOne kit, a decentralized kit version of the FoundationOne test that currently is for research use only, and the Kapa HyperPete kit, a targeted sequencing portfolio using primer extension for small targets.
The company also has a combined SARS-CoV-2 and influenza A/B rapid antigen test in development.
Roche also has plans for a variety of digital solutions for pathology, core labs, and diabetes care. In the years before 2020, the firm launched an average of five assays per year, and in 2021 Roche expects to launch 17 assays, Schinecker said. "I believe 2021 will be huge and also this will drive our growth in the following years," he added.
Manufacturing capacity expansions were another point of emphasis for Roche during the call. Schinecker said the company has invested more than CHF 600 million ($664 million) to increase supply chain capacities. It has added 60 new manufacturing lines for consumables, with 17 new locations, and 20 new manufacturing lines for reagents, along with four major facility expansions. Roche has also added eight new manufacturing lines and one new biotech facility for raw materials, and one new manufacturing space for instruments.
The first of the 90 manufacturing lines came online at the end of last year, he added. The ramp-up will result in a doubling of PCR capacity by the end of the first quarter of 2021, going from 20 million PCR SARS-CoV-2 tests per month currently to 40 million tests per month.
Schinecker said that by the end of the first half of 2021, Roche should have the capacity to manufacture up to 70 million PCR-based tests per month, with a mix of 60 million high-throughput tests and 10 million Magna Pure and LightCycler tests for SARS-CoV-2. He added that he expects PCR testing to be sustainable longer than antigen testing, since one of the reasons for antigen testing was a lack of PCR capabilities. However, he said he knows testing sales can be impacted by the rollout vaccines, different variants and mutations, and pricing.
Schinecker said Roche expects demand for its instruments and testing products to continue because its systems have a high level of automation and as demand decreases, people will switch to Roche systems because it's easier and requires less pipetting and other manual operations. He also said demand will still be higher than what Roche can supply. 
Despite Schinecker's confidence, the second half of 2021 is still a question mark that depends on the vaccine rollout, the presence of different variants, and the level of vaccine rate required to get to herd immunity, he said. "The first half of the year is very clear, this is where we have most of our sales in terms of COVID sales for 2021, and then the second half of the year, we'll see how certain things develop," Schinecker continued. "We will definitely see very strong testing … simply because this virus is endemic, and so we will have to deal with it. It mutates frequently so we will have to monitor this. With regards to the level of testing, that's very hard to predict, but definitely a lot more than we would see today with influenza testing."
Schwan echoed Schinecker's comments, adding that there were two underlying factors contributing to the confidence in sales for the first half of the year: the pandemic will still lead to big demand, and the base effect from Roche's weaker H1 showing in 2020. Price pressure is also a key consideration in the H2 sales growth, but Schinecker noted Roche is well protected on price and volume compared to other companies, with lower prices and highly automated machines, because people won't want to run more manual instruments.
Once the pandemic is over, there will be durable use cases for Roche's instruments, said Karl Mahler, head of investor relations. Schwan said now that investments have been made in expanding molecular and core lab solutions because of the pandemic, it should help to reduce the hurdle to use these platforms for other disease indications, such as human papillomavirus, hepatitis C, and tuberculosis. He said this could be an "opportunity to have a structural shift in the diagnostics business."